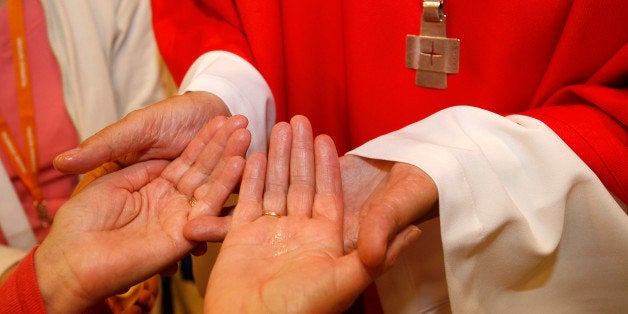 Lifelong Catholic Ronald Plishka wasn't sure that he that he would survive when an ambulance brought him to the emergency room of Washington, D.C.'s Washington Hospital Center to treat his heart attack, so he requested a priest to give him communion and administer last rites.
Plishka told The Blade that Coelho offered to take his confession before proceeding with communion and sacramental last rites. "We started talking and I told him I was so happy with this new pope because of his comments about the gays and his accepting the gays," Plishka said. "And I mentioned that I was gay. I said it and then I asked him does that bother you? And he said, 'Oh, no, that does not bother me.'"
The Washington Post reported that the conversation was interrupted by another person coming into the room, which Plishka shared with another patient. Plishka said that after his revelation, Coelho simply "would not continue" with the anointing of the sick sacrament or administration of communion, offering Plishka no explanation.
"He said, 'I will pray with you,' but that's all he'd do. That was it." Plishka was shocked and angered by Coelho's reaction. He told The Blade, "He wanted to pray. That's what he wanted to do. He said well I could pray with you. And I just told him to get the f*** out of here — excuse me. But that's what I told him."
Coelho has not responded to media requests for comment and the Archdiocese of Washington has said he is not doing interviews. He is an employee of the Archdiocese, not the hospital.
Washington Hospital Center was recognized last year as a "Leader in LGBT Healthcare Equality." A spokesperson for the hospital, So Young Pak, released a statement to the Huffington Post that said, "MedStar Washington Hospital Center has taken our patient's concerns very seriously. While the priest is not an employee but rather is assigned by the Archdiocese of Washington to provide spiritual care at our hospital, it is our expectation that all who support our patients adhere to our values. This includes offering pastoral and spiritual support to all patients, regardless of their faith traditions."
Pak continued, "Our hospital was recognized last year as a "Leader in LGBT Healthcare Equality" by the Human Rights Campaign Foundation. We want to hold true to this important commitment to the LGBT community and to all of our patients. Our Department of Spiritual Care has reinforced our expectations with this particular priest and his superiors."
After Plishka told Coelho to leave, "The doctors came in and told me to calm down or I'm going to have another heart attack," he said.
Plishka has attended Sunday Mass at the Basilica of the National Shrine of the Immaculate Conception for many years, and he phoned a priest there to administer the sacramental rites to him, as they have a priest on call. He said he faced with similar treatment after that call. Pliska told The Blade that a priest at the parish agreed with Coelho's decision, "He said unless you're willing to change and basically become somebody you're not, then this priest had every right to do that, to refuse you communion and to refuse you the last rites of the church."
The Catholic Church is currently having high-level meetings about issues such as contraception, cohabitation, gay marriage and whether divorced Catholics who marry outside the church can receive communion. Pope Francis has advocated a pastoral approach which may lead to greater official changes in the future.
The hospital sent a Methodist pastor to Plishka's room, who prayed with him and gave him communion. However, Plishka noted that "it's not the same. It's not my religion, you know? I've been a Catholic all my life and for them to refuse me a sacrament and to refuse me communion? It destroyed me."
Plishka chose to speak out about the experience in the hopes of making a difference. He said, "I think there comes a time when as a gay man you have to take a stand, you know? It's just intolerable to be treated like you're nothing. And I could have died. And all I did was ask for the rites of the church that are due to me. But because I'm gay I'm denied that."
Calling all HuffPost superfans!
Sign up for membership to become a founding member and help shape HuffPost's next chapter
BEFORE YOU GO
PHOTO GALLERY
Statements On LGBT People From Faith Leaders