Ronald Poppo, 66, is "living happily and adjusting to his new life," according to a press release from doctors at Jackson Memorial Perdue Medical Center, a long-term care facility where Poppo has been since about a month after the attack.
"He's had a long year, but has managed to cope quite well," Jackson Memorial Hospital plastic surgeon Dr. Woody Kassira said at a press conference Tuesday morning, describing Poppo as "a pleasure to work with."
He has also put on roughly 50 pounds and has learned to dress and feed himself, shower and shave after working with an occupational therapist.
Poppo's caregivers released the above video of Poppo thanking the community because "people in my predicament need to be helped out, and I'm sure there's other people also that have the same type of predicament. I thank the outpouring of people contributing, I'll always be grateful for that."
Messages can be sent to Poppo using the Twitter hashtag #Wishes4Poppo, and a nurse will read them to him next week. (Story continues below.)
Poppo has undergone four surgeries already. Kassira said there is further reconstructive work that could be performed, including prosthetics, but that Poppo is "content" with "how his life is now."
"He was a simple guy before this, and a simple guy now ..." said surgeon Urmen Desai. "He's older, he is blind, he can't see what he looks like, and it's not important to him how the world sees him."
"He wants the world to know he's not traumatized by this ... and that he's happy and grateful for being alive after such an incident," said Desai, later adding, "Things are very positive for Mr. Poppo."
Poppo has been in hospital care since a year ago May 26. He was lazing on the MacArthur Causeway's exit ramp sidewalk when attacked in broad daylight by naked 31-year-old North Miami Beach resident Rudy Eugene, who had stripped his clothes off as he walked over the bridge from South Beach.
"[Eugene] was like a zombie, blood dripping, it was intense," witness Larry Vega told the New York Daily News. "The closest thing I've seen to it? 'The Walking Dead.'"
Nurse manager Adolfa Sigue said Poppo doesn't talk much about the incident: "The only thing that he always tells me is, 'I'm sure that that man had a bad day that day,'" she said.
Poppo, who had been homeless in Miami since the 1970s, is "fully funded" by Medicaid, according to Jackson staff. A hospital-administered fund had raised $100,700 in the seven weeks following the incident, and a second fund at giveforward.com was to contribute $24,406. The funds are available for Poppo to use, according to hospital administrators.
Nursing assistant Patricia Copalko said Poppo played the guitar 40 years earlier in a band, but hadn't played again until recreational therapists purchased one for him. He has also been speaking to his sister by phone, though he declines to have visitors and resists staff's attempts to get him to walk outside for exercise by continually promising, "Maybe tomorrow."
"He's a wonderful person," Copalko said. "I couldn't ask for a better patient. He's never negative ... he's got a heart of gold."
Poppo doesn't turn on the TV but enjoys listening to the radio. The Miami Heat, the caregivers said, "are the love of his life."
View new images of Poppo released by hospital staff on Tuesday: (WARNING: Slideshow contains graphic photos)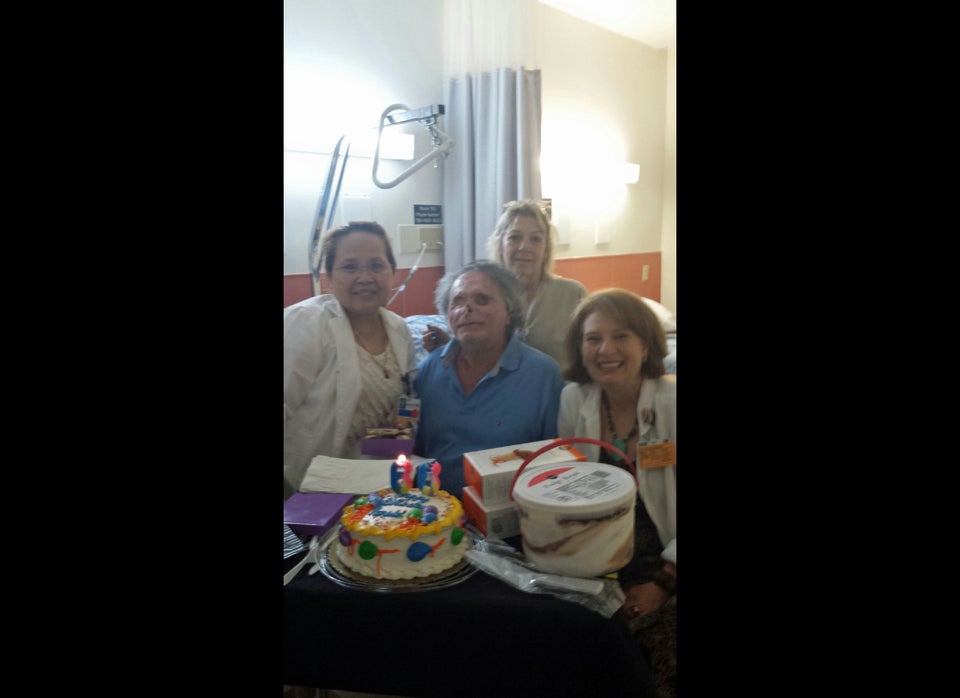 GRAPHIC PHOTOS: Miami Causeway Attack
Popular in the Community