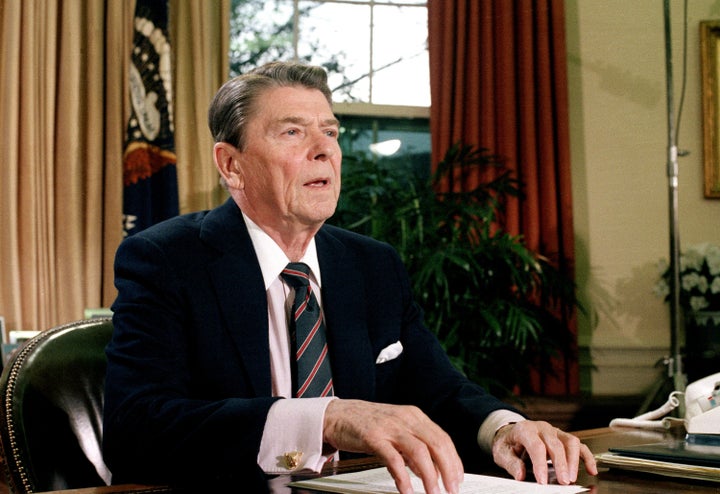 WASHINGTON -- Democrats have a new icon these days: Ronald Reagan.
That's because, unlike many Republicans in the House, the fiscally conservative late president believed it was essential for the United States to make good on its all obligations and raise the debt ceiling.
And Democrats across the spectrum on Wednesday have been holding the conservative hero up to Republicans as an example they should follow.
"I find myself these days quoting Ronald Reagan," said Sen. Barbara Boxer (D-Calif.) at a news conference Wednesday. "'The full consequences of a default,' he said, 'or even the serious prospect of a default by the United States are impossible to predict and awesome to contemplate. Denigration of the full faith and credit of the United States would have substantial effects on the domestic financial markets and the value of the dollar in exchange markets. The nation can ill afford to allow such a result.'
"That's Ronald Reagan," Boxer emphasized, suggesting that Republicans recall that model. "All they have to do is look at their icon, Ronald Reagan, and understand you don't play with fire when it comes to the full faith and credit of the United States of America."
Members of the Congressional Progressive Caucus sent a letter to all the Republican members of the House to remind them of the Gipper's feelings as expressed in a 1983 letter to then-Senate Majority Leader Howard Baker (R-Tenn.) -- the same letter Boxer quoted.
"President Reagan was a staunch conservative whose views sharply differ from Progressives' in nearly every respect," wrote the CPC members to Republicans. "Yet, Reagan understood that the American people have invested their trust in our ability to be wise stewards."
"We hope you will take President Reagan's message to heart and put what's best for America's economy ahead of gaining a short-term political advantage," they added. "Let's not hold the jobs and economic security of the American people hostage to an agenda that will only cause long-term harm to our great nation."
The Senate Democratic message shop took a sneakier approach, blasting out an e-mail headlined with a paraphrase of the famous Reaganism. "There they go again," it said. "GOP Lawmakers ignoring Reagan, still downplay consequences of a default."
House Speaker John Boehner (R-Ohio) has said the debt ceiling must be raised, but he has also stuck to the postion of his caucus that it cannot be raised with out major cuts. His spokesmen did not immediately respond to a request for comment.
Popular in the Community