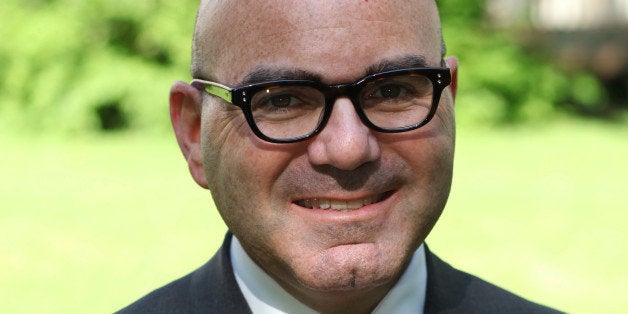 Huffington Post Gay Voices and RaiseAChild.US are collaborating in an 10-part "Let Love Define Family" series for November's National Adoption Month. Each series installment will introduce you to another aspect of fostering and adoption. Together we will meet foster youth, hear from culturally competent foster and adoption agency leaders, chat with cast members from the ABC Family television series "The Fosters," and celebrate LGBT parents and the successful and healthy families they create across the United States. -- Jason Cook, RaiseAChild.US
Ronald Richter is the Commissioner of New York City's Administration for Children's Services (ACS) and an openly gay man with a commitment to all foster children. RaiseAChild.US spoke with Ronald about ACS's LGBTQ Policy & Practice Initiative, the agency's comprehensive approach to helping LGBTQ youth, its work with LGBTQ parents, and why ACS is partnering with RaiseAChild.US to host a special event for LGBTQ prospective parents at The LGBT Community Center in New York City on December 3.
Why are you so passionate about helping build LGBT families through fostering and adoption?
With my own experiences having been a young gay person, although not in foster care, I can only imagine how difficult it must be for our LGBTQ youth in foster care, young people who are disproportionately African American and Latino. Therefore, I am a staunch believer that we need to do whatever we can to support LGBTQ young people, including finding them LGBTQ and ally foster homes. I am also well aware of the findings that show the disproportionality of LGBTQ youth coming into the child welfare and juvenile justice systems, and the urgency needed to address the lack of acceptance sometimes faced by LGBTQ youth in both.
Please tell us about the history of New York City's Administration for Children's Services? Who does the Administration for Children's Services serve and how does it work?
The Administration for Children's Services (ACS) is the city agency responsible for child welfare, early care and education, and juvenile justice services. ACS strives to protect, support, and promote the safety and well being of the children, youth, and families of New York City. It offers preventive services to families, allowing them to remain safely together when possible, and provides a loving, safe, and supportive environment to children who come into foster care. We run the largest publicly funded early care and education system in the country. In addition, ACS oversees an array of services and programs for youth at every stage of the juvenile justice process. The agency works to promote services that strengthen family connections, keep youth engaged in their communities, and ensure that the young people continue to make educational and other developmental progress while in the juvenile justice system.
How does ACS help LGBTQ youth?
We have made it a top priority to work with our provider networks and community-based organizations to focus on serving LGBTQ young people; this includes securing over a quarter-million dollars from philanthropic organizations to enhance our efforts. Existing data suggests that LGBTQ young people enter into the child welfare and juvenile justice systems at disproportionate rates due to discrimination and mistreatment at home, in school, and in social settings. Eight years ago, the ACS LGBTQ Action Group was formed to address service gaps and needs for LGBTQ children, youth, and families involved with ACS. As Deputy Commissioner for Family Legal Court Services in 2005, I brought the idea of establishing the position of an LGBT Coordinator at ACS to then Commissioner John Mattingly. Commissioner Mattingly asked for a strategic plan to be formulated, and in collaboration with ACS LGBTQ Action Group, the 2006 LGBTQ Strategic Plan was published. This plan articulated the actions necessary to improve overall services for LGBTQ children, young people, and families across the child welfare system. This plan was instrumental in informing the recently published 2012 LGBTQ child welfare and juvenile justice policy.
Why is ACS reaching out to LGBTQ-headed families?
We want to recruit foster parents that represent the diversity of our great city. To meet that challenge, we initiated our "Be The Reason" foster parent recruitment campaign, which included outreach and recruitment efforts for LGBTQ and ally adults throughout New York City. As a result of this aggressive recruiting, we were able to host 70 prospective LGBT foster parents at a July foster parent informational forum – typically at these forums we host between 20-30 prospective parents. To further engage these prospective parents, we are co-sponsoring an event with RaiseAChild.US, the New York City LGBT Community Center, and the Ali Forney Center to directly connect prospective parents with our 31 foster care agencies. ACS continues to welcome and encourage all affirming and prospective LGBTQ and ally parents interested in being foster parents.
How does ACS serve LGBTQ people who want to become parents?
ACS works with the NYC LGBT Community Center (the Center) through our Foster Care Project to increase the number of affirming homes for all youth, including LGBTQ youth in foster care, and to ensure the implementation of the ACS policies and practices specific to support LGBTQ children, youth, and families. The ACS Office for LGBTQ Policy and Practice also works with staff at our 31 foster care agencies that are directly charged with recruiting prospective foster parents. We have developed resources with specific questions and competencies that enable these recruiters to better assess and certify LGBTQ affirming homes.
What is your dream for ACS in terms of outreach to the LGBTQ community?
Through our policy and practice, I want our agency to send a clear message to our LGBTQ children and young people that ACS and our provider partners are here for you, that we are sensitive to your struggles, that we know our society can be cruel and unfair but we will not tolerate intolerance. We are committed to working tirelessly on your behalf, and we will not stop until your needs are met.
How do you see a partnership with ACS and RaiseAChild.US benefiting both LGBTQ families and children in care, as well as LGBTQ youth?
RaiseAChild.US, like so many local community collaborations, helps us get our message out that we are welcoming and encouraging LGBTQ prospective parents to foster and adopt with us. It is our goal to have a significant number of LGBTQ and affirming foster parents prepared to support and meet the needs of all of our children and youth. By preparing our entire pool of foster parents to be LGBTQ affirming, we can better support LGBTQ youth before, during, and after they come out to their families.
Jason Cook is the Parent Advocate at RaiseAChild.US, a nonprofit organization that believes all children deserve a safe, loving and permanent home. We educate and encourage the LGBT community to build families through fostering and adoption to answer the needs of the 400,000 children in our nation's foster care system. RaiseAChild.US works with foster and adoption agencies that have received training in LGBT cultural competence through the Human Right's Campaign Foundation's "All Children – All Families" initiative [link: http://www.hrc.org/resources/entry/all-children-all-families-about-the-initiative] and received its Seal of Recognition. RaiseAChild.US is leading a five-city tour of special events for prospective parents for National Adoption Month. We are capping successful events in Chicago, Los Angeles, and Kansas City with upcoming events in New York City tonight (December 3) and San Francisco (December 5). To RSVP, visit www.raiseachild.us or email info@raiseachild.us.

REAL LIFE. REAL NEWS. REAL VOICES.
Help us tell more of the stories that matter from voices that too often remain unheard.