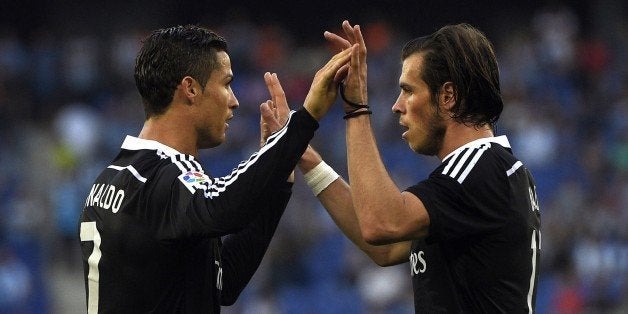 Google search volume regarding the possible transfers of Cristiano Ronaldo and Gareth Bale out of Real Madrid reached its highest point of the year in the second half of May. However, while things appeared to be calming down for the Welsh player this past week, the opposite seemed to be true for the Portuguese player, whose "transfer buzz" currently doubles that of his teammate. With head coach Carlo Ancelotti now officially sacked, either of the team's valuable superstars could very well be next. If you're a Real Madrid fan, this is where you start getting nervous.
As the 2014/15 European soccer season comes to a close, most teams are either getting ready for their big final (Barcelona and Juventus), celebrating the trophies they've already won or surrounded by an air of tranquility as they plan their summer vacations. Not Real Madrid, though, because when Florentino Perez's club goes a year without winning any trophies heads start rolling (figurative heads, that is) and this year is already proving to be no exception to the rule. Just last week, the club fired Ancelotti, the Italian coach that led them to win their longtime obsession, "La Décima", and now it's the club's star players, Cristiano Ronaldo and Gareth Bale, that are finding themselves in the transfer spotlight.
Last Monday, Florentino gave Ancelotti a taste of the same medicine he gave Vicente del Bosque almost a decade earlier. The medicine is called "I don't care what you helped us win last year, if we don't repeat it this year you're fired!" and the club's president usually prefers to prescribe it publicly, in highly publicized -and dramatic- press conferences.
First, it is important to emphasize the importance of what Ancelotti helped them achieve last year. In mid 2014, Real Madrid won the UEFA Champions League for the tenth time, more than any other team in history (although many were won under a different format than the current one). This was neither easy nor cheap for the soccer club. It took them 12 years, 12 coaches and about 835 million euros in signings to achieve such accomplishment... and they still canned the Italian mastermind that got the job done.
The following graph shows the pronounced recent spike in online interest for both English and Spanish Google searches for "Real Madrid coach":
This uptrend comes as no surprise, at least not when talking about Real Madrid. Being one of the most powerful soccer clubs on the planet comes with a hefty price tag, both literally and figuratively, as Real Madrid must live under constant scrutiny from worldwide press. Every move "Los Merengues" make quickly travels around the world and has the potential to create headlines left and right, especially when the news is controversial, such as a potential transfer or the empty trophy rack so far for 2015. These events hardly go unheard; they resonate and spread throughout media outlets quicker than wildfire. Whoever it was that said there's "no such thing as bad publicity" probably never found himself in Ancelotti's shoes, having to painfully watch his squad's failures get rubbed in his boss's face 24/7. Now that seems like a stressful work environment.
"Adios" Ronaldo and/or Bale?
With head coach, Ancelotti, being dismissed so soon after La Liga's end, plenty of time is left for more restructuring before the 2015 transfer window closes, about three months to be exact. A lot can happen in three months, especially in Real Madrid, which is seen by many as the soccer equivalent of the New York Yankees because of their reputation for big-money, big-name, market-disrupting transfers. This year, however, is proving to be no exception. Aside from the ceasing of Ancelotti, there is still plenty of speculation regarding transfers surrounding the club, some are highly expected and won't be too disruptive, but others could put the soccer world on its toes.
The following graph shows the current rally in transfer buzz surrounding Ronaldo and Bale, when measured by the volume of Google searches for the topic:
I won't go into too much detail about the De Gea/Casillas transfer possibilities, but I do think it's worth pointing out that this is a move that Florentino can't take all the responsibility (or blame) for, as part of the own club's fan base has expressed it's disapproval of the legendary goalkeeper by scolding and whistling at him in recent matches. However, Casillas is not the only Real Madrid player to get this negative fan treatment recently, as Gareth Bale has also been highly reprimanded for his lack of goals and defensive efforts. Ronaldo's approval, on the other hand, is very high amongst the club's fan base but unknown in regards to the club's president.
The Portuguese player has a history of publicly voicing his concerns in order to get his way. Back in 2012, Ronaldo made headlines around the world after stating that he "wasn't happy" with his situation at Real Madrid. That comment alone generated major online buzz around his potential transfer out, but finally the club ended up surrendering to his wishes and he stayed. This time, however, he may have gone too far, after openly siding with Ancelotti through this highly publicized Twitter post just days before Florentino announced the coach's dismissal:
REAL LIFE. REAL NEWS. REAL VOICES.
Help us tell more of the stories that matter from voices that too often remain unheard.