Although the latest edition of El Clasico was completed without eye gouging on the touch line or much violence on the pitch, it was not without controversy. With Real Madrid trailing Barcelona 1-0 and pushing for an equalizer deep into the second half, Cristiano Ronaldo had his shouts for a penalty denied by referee Alberto Undiano.
In the 72nd minute, the 28-year-old Portuguese attacker was running onto a pass from Angel di Maria in the penalty area but was knocked down by contact from Barcelona defender Javier Mascherano. Despite Mascherano seemingly to bundle over Ronaldo without any true play on the ball, Undiano was unmoved by the contact and let play continue.
"That's a penalty for me Phil [Schoen]," beIN announcer Ray Hudson bellowed to his play-by-by partner upon seeing a replay of the disputed no-call. "I'm sorry. It has to be called and it is not. Mascherano gambles. Cristiano cannot believe it. And I'm in his corner, carrying his spit bucket on that one."
Ronaldo agreed with Hudson and was apoplectic.
Compounding the cost of the missed opportunity for Madrid, Alexis Sanchez scored Barcelona's second goal minutes later. Before play resumed after that score, Ronaldo talked his way into a yellow card as he continued to harangue Undiano.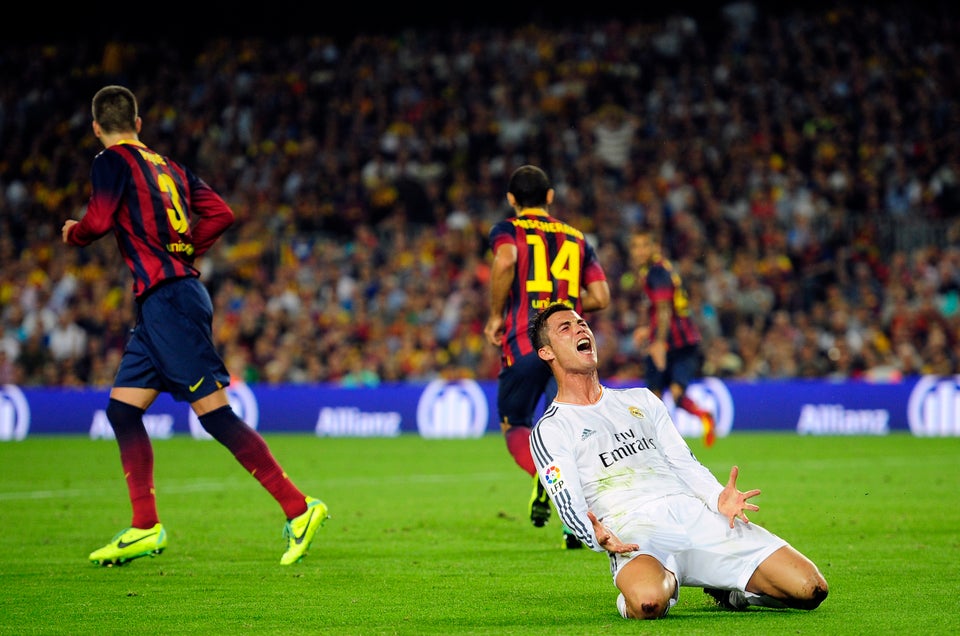 PHOTOS: Angry Ronaldo Is Not Happy