At the end of a thrilling, contentious night in the Spanish capital, Real Madrid still had zero major trophies on the season. In lieu of silverware, los Merengues had picked up a pair of ill-timed ejections. Both Cristiano Ronaldo and Jose Mourinho were absent from the field at Bernabéu when the final whistle sounded in Atletico Madrid's 2-1 win over Real Madrid in the Copa del Rey final.
Ronaldo was shown a straight red card in the 114th minute of extra time of the final for an altercation with Gabi. After the two players came together vying for the ball, Ronaldo awkwardly -- and, in the officials' view, intentionally -- swung his foot up toward Gabi's head. The tackle and ensuing red card touched off a fracas on the sideline. As the pushing and shoving intensified along the touch line, Ronaldo lingered on the field. Having had his back turned when the referee first brandished his red card, Ronaldo initially seemed unaware that he had been sent off. Eventually, he got the message.
WATCH RONALDO'S EJECTION ABOVE
The start to Ronaldo's night was far brighter than the finish. The Portuguese striker opened the scoring in the intra-city final with a powerful header in the 14th minute. Ronaldo rose above a crowd and nodded home a corner kick from Mesut Ozil.
WATCH: RONALDO'S SCORES OPENING GOAL
In between Ronaldo's opening goal and his closing kick, Mourinho was sent to the stands in the 76th minute for arguing with the referee. It was an awkward exit in what may prove to be Mourinho's penultimate appearance at the Bernabéu as the home manager. The "Special One" is widely rumored to be leaving Madrid and returning to Chelsea at the conclusion of the campaign.
"This is my worst season. I have never not won an important title. You can say I failed this season," Mourinho said after the loss, via The Associated Press. "With one final, a semifinal, a second-place finish, and a Spanish Supercup, for many other coaches it would have been a good season. For me it's the worst."
Amidst the Real histrionics and near misses, Atletico scored an equalizer through Costa Diego in the 35th minute and the winner on a header by Miranda in the 98th.
WATCH: Miranda SCORES WINNING GOAL
Before You Go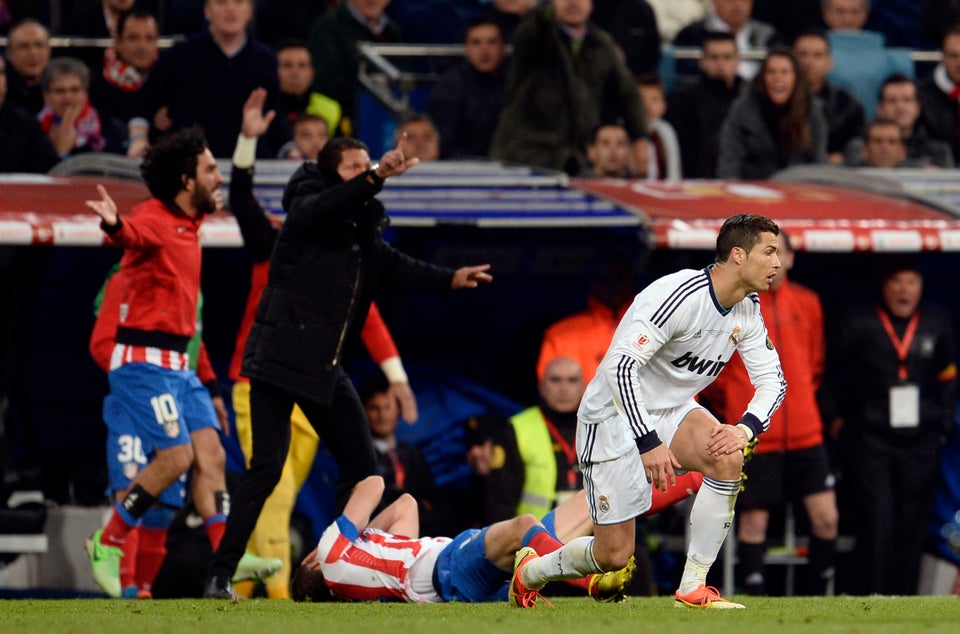 PHOTOS: Copa Del Rey Final
Popular in the Community