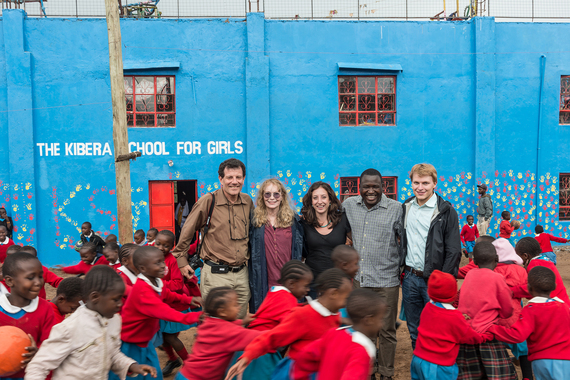 Left to Right: Nicholas Kristof, Mia Farrow, Jessica Posner, Kennedy Odede and Ronan Farrow. Photograph by Audrey Hall.
On February 9, 2015, the last of the three part series, A Path Appears, will air on PBS. One of the featured stories in this last episode is about a school called Shining Hope for Communities, which provides free education for impoverished, at-risk girls and a network of empowerment and poverty alleviation programs in one of Africa's largest slums. The show features a visit to the school by Nicholas Kristof, Pulitzer Prize-winning author and New York Times writer, along with award-winning actress and humanitarian Mia Farrow, and her son Ronan, an accomplished journalist and talk show host.
One of the most striking featured highlights of the school is the young man who started it, Kennedy Odede. Mr. Odede was born in Kibera, a slum in Nairobi, Kenya, and lived on the streets from the tender age of ten. He witnessed his family and community suffocated and devastated by a poverty from which there was no escape. In such circumstances, he taught himself to read, and one day, while in his teens, he received some books from a visiting American about Nelson Mandela and Dr. Martin Luther King. After reading the books, Mr. Odede decided that he wanted to dedicate his life to the fight for social justice.
In his native Kibera, he faced a seemingly insurmountable hurdle of social issues. Young women in Kibera were contracting HIV at a rate five times that of their male counterparts. And, by the age of 16, 66 percent of girls were routinely trading sex for food. Education for girls was often undervalued in Kibera, and the lack of access to quality health care and resources prevented female students from staying in school. Odede knew that educating girls would have a tremendous impact on the entire financial and social community. And, in fact, studies show that educating a girl in places like Kibera usually means that she will earn more, invest 90 percent of her earnings in her family (and so the community), be three times less likely to become HIV positive, and have fewer, healthier children more likely to live past age five.
In 2004, Odede started Shining Hope for Communities, through the simple act of purchasing a single soccer ball. The 20 cent price tag was daunting, but he was ready to make the investment because he had complete faith in the potential of the people in Kibera to come together to improve their community. Over time, he went from running an informal soccer league to building one of the largest community-run organizations in Kibera, which now includes AIDS education, female empowerment, health and sanitation, microfinance and theatre.
Last year, I had a chance to meet Kennedy Odede and Mia Farrow at an event for Shining Hope. At the end of the evening, Mia Farrow asked that we not leave the event feeling hopeless, because the extreme poverty and suffering in Kibera and the rest of the world is so overwhelming. She encouraged us all to hold tightly to hope, because hope is the foundation of real lasting change. She made an impassioned case, showing that Shining Hope is a wonderful example of what is good and possible when people care and get involved in making our world a better place.
If you tune in Monday night and watch the last part of this incredible PBS series, you will be amazed how the children at Shining Hope are thriving, and maybe they will inspire you to have more hope for all the possibilities in your own life, and for rest of the world!
Popular in the Community