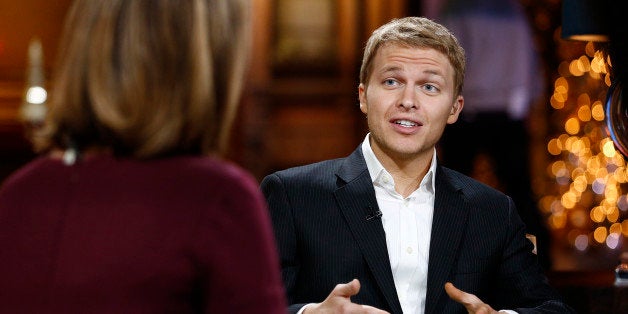 Earlier Wednesday, the New York Post's Page Six reported that MSNBC host Ronan Farrow, who is set to receive the "Cronkite Award for Excellence in Exploration and Journalism" from an organization called Reach the World, had imposed some rather stringent conditions on journalists covering the event. Specifically, journalists were cautioned to ask no questions about Farrow's family's ongoing Woody Allen psychodrama. Obvious ironies were noted. However, Farrow's camp is denying the story.
"The theme of the evening is global education and service," it says. "All press are required to stay strictly on message. Any press who ask guests or Mr. Farrow about off-message topics will be immediately escorted out of the event."

A rep for the event further explained, "We would like you to sign the form or indicate by return e-mail that you understand our goals to stay completely on message given the surrounding circumstances. We will not tolerate press questions about personal or family affairs related to Mr. Farrow in any circumstance at this event. Farrow is not doing interviews and the rules come from his team direct to you."
Well, not so fast. A spokesperson for Farrow is denying all of this. In a statement given to Gawker's J.K. Trotter, a rep for Farrow said, "Ronan and his team did not request any restrictions on reporters' questions." Trotter further reports that a "source at MSNBC added that the 'tip sheet' was created and distributed, without Farrow's knowledge, by a 3rd-party public relations firm hired by the ceremony's organizers." Furthermore, Heather Halstead, executive director of Reach the World, confirmed that statement, telling HuffPost's Michael Calderone that the nonprofit -- and not Farrow or his staff -- came up with the stipulations for press coverage.
Obviously, it's not in the best interests of Reach the World for the event to be laden down with the ongoing Allen-Farrow mishegas. But Farrow has, as they say, "opened the door" to this line of inquiry through his own public comments on the matter:
What's more is that during his Feb. 20 appearance on "The Daily Show" with Jon Stewart, Farrow specifically cited his "crazy family" as something that informed and inspired the work for which Reach the World will be honoring him. "My siblings were adopted from really tough backgrounds from all over the world," he told Stewart, adding that he felt the need "to give back in a lesser way because I may be less awesome, but I want to be of some use."
With that in mind, it would have been an odd choice for the host of a news show to try to place some sort of prior restraint on journalists on a topic he's willingly discussed in the past.
You may at this point be wondering if it's also odd for someone who has only been at his teevee news gig for about three days to be receiving something called the "Cronkite Award for Excellence in Exploration and Journalism." Well, sure! But in fairness, Farrow's eligibility for the award appears to hang more firmly on his pre-MSNBC career as a UNICEF spokesperson for youth and as the director of the State Department's Office of Global Youth Issues -- jobs that place him firmly in the wheelhouse of Reach the World, an organization dedicated to global mentorship and education programs.
Still, it's a pretty remarkable achievement. On my third day on the job, I only managed to receive my own key to the men's washroom. For which I'm grateful! (And besides, it was a beautiful ceremony.)
Calling all HuffPost superfans!
Sign up for membership to become a founding member and help shape HuffPost's next chapter