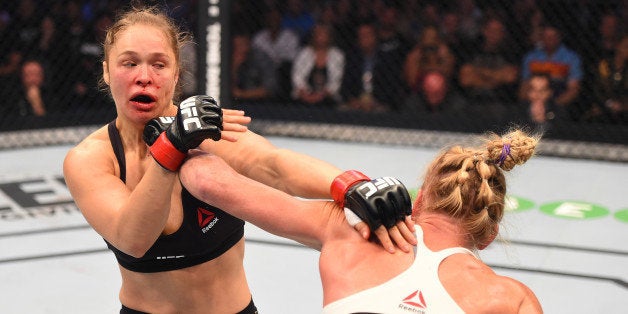 Rowdy v the Preacher's Daughter, UFC 193 might have forever changed the face of Women's MMA. The sport's biggest star went from unbeatable to badly broken, breaking wide-open the debate as to whether Rousey was all along overhyped. While Rousey's loss to Holm changed the narrative, it set up a few new and incredibly intriguing storylines, not the least of which: understanding the truth on Ronda Rousey's Legacy, the rising star of Holly Holm and what will happen in a rematch.
Enter Mike Straka, author of Rowdy Rousey, a biography on the fighter published less than two weeks before the epic match. Without the help of a crystal ball, Straka offered what was easily one of the most accurate predictions on the fight in his recent book (view page here and another one here).
With all the post-fight chatter, this veteran MMA journalist weighed-in on UFC 193 along with his advice to Rousey on a possible rematch and assessing her impact on the sport as a whole.

While profiling Rousey in your recent book Rowdy Rousey, what were some of the challenges and surprises you found during your research?

The process of writing this book was very quick. The publisher, Triumph Books, needed a quick turnaround on the project, and I ended writing the entire book over one week after work in a Little Italy restaurant called Margherita where they let me use the wifi. Thankfully I finished before the San Genero festival because they would have surely kicked me out. I wrote the book mostly from my own interviews with Ronda throughout the the years. As host of a few mixed martial arts news shows on various TV networks, I have vast knowledge of the space, and have been covering the sport since 2001, so I was able to put the phenomenon of Ronda Rousey into perspective and what she means to the sport. I used quotes from some of my past interviews with her, and I knew where to look to find the best research. Plus, my friend Tom Gerbasi, a prolific combat sports writer, was able to provide me some great help by simply making sure I got the facts right.
What was the most standout moment, or moments, that came about during the writing process? Are there any unexpected twists or anecdotes that you can share?

I was very careful when writing about any possible outcome of her fight with Holly Holm. While I did a good job in hedging Holly's chances, I did end the section by saying that she would likely be another test that Rousey would pass in quick an violent fashion. Well it did. But Holm won. That being said, while I was writing the book and in the weeks leading up to its publication (just one week before the fight), Rousey was all over media. She was definitely stretched and I was concerned she didn't put the same training in for this fight as she did for all the others. I also learned that Ronda the person is quite the opposite of Ronda the personality.
There are so many nuances to her, and I think her competitive nature is a guard for her fear of failure. I think like most people, or perhaps even more than most people, Ronda could have doubts about her ability to live up to the pressure of being a role model, of being a pioneer and of being a mega-star.That would take its toll on anybody, let alone someone who gets punched in the face and cuts extraordinary amounts of weight and who trains to whole body failure for a living.
What does Ronda Rousey mean to the UFC?
Ronda has transcended the sport like no other athlete in the organization. While Conor McGregor is a force, he's mainly just a force in Ireland. Ronda is a worldwide phenom. The UFC organization has spent tens of millions of dollars on advertising and marketing, yet it takes a once-in-a-lifetime tsunami of talent, personality and looks to do what Ronda has done for them. Even if Rousey never fights again, the mark she has left will last forever.
Has Rousey's star fallen as a figher in the wake of her loss in the Rousey v Holm fight or is this a "win some, lose some" moment as Floyd Mayweather described?

I think Ronda's star will only grow from here. If I were to give her public relations advice, I would tell her to keep her media appearance very low, and when appearing, to congratulate Holly profusely -- no matter what she really thinks, and just give Holm credit she deserves. I would focus on doing her movie obligations, then get back to training and do it quietly. She needs to let her grappling do the talking next time around. But no, Ronda is perhaps a bigger star today than she was just a week ago.
Does the Rousey v Holm fight conjure up memories of Rocky III? Would Rousey need to take the Rocky approach back to the title?
Hahaha, it wouldn't hurt, although I doubt we'll see Ronda chopping firewood in Siberia. But yeah, you know, it's hard to speculate on the people around her not being right for her. I don't think that's the case. I think Ronda did too much outside of the gym for her career in preparation for this fight. I don't think she got soft. I don't think she is victim to sycophants, like so many others have been saying.
I just think Ronda is a good employee who understands the more attention she gets, the more money everyone makes. Perhaps now she has enough money not to need it more than to avenge the loss.
Many analysts and critics feel Rousey has been exposed as a one-dimensional fighter, relying on grappling, armbars and her ground game, while having little strength in her standup game. What is your take?

I think she is one dimensional but that one dimension is so far above anyone else's "well rounded" fight game that she hasn't really needed to adjust. Don't forget, everyone else Ronda has fought has known the arm bar was coming yet they could do nothing to prevent it. Holly is just the first person to figure out how to avoid it but that doesn't mean she will figure it out every time she fights Ronda.
Ronda needs to just believe in that arm bar and not let her ego in the way. There was a lot of ego in her loss She wanted to prove to the world that she could beat Holly at her own game and she came up short. If she simply went for the judo throw and arm bar i think we would have seen a different fight play out.
Do you believe there will be a rematch and how would you predict a rematch to play out?
There will be a rematch and I believe Ronda will not let Holm be the counter-puncher she was in the first fight. Ronda needs to be patient and to execute what she is expert at. There's no need to try to beat a boxer at boxing. Just take her the f--- down and finish the fight.
In an age when we seem to worship riches, the question remains does Rousey's success open doors for women? How far does her influence reach?
Ronda's biggest triumph is the doors she has opened both for herself and for other women fighters. Actually, for all MMA fighters period. No longer will some uncle say 'what the hell is mma?' Now when some one says I'm going to be an MMA fighter people will say 'Oh, like Ronda Rousey? I get it.' Ronda announced her Holm fight on GMA. Holm was interviewed on GMA after she beat Ronda. GMA! Not FS1. Not MMA Noise. GM Fucking A. Let that sink in.
Could it be argued that Rousey's behavior leading up to this fight was a step in the wrong direction as a role model? The petulance with Holm, the rush to the media spotlight and seeming lack of focus on her core career as a fighter?
It's easy for me to speculate about why Ronda lost, and it wouldn't be fair nor would it be genuine, so I won't even contemplate that question.
Does Holm's "Preacher's Daughter" persona provide a better role model than Rousey's "Rowdy"?
Both personalities are worthy of greatness.
Where does Holly Holm fall in the spectrum of great fighters? Is she getting enough credit to where perhaps this win begins her legend? This is also considering her success at age 35. Does that further prove athletes can in fact maintain their prime into their 30s and beyond?
Holly has one big win in her MMA career. Let's let her career play out before we rush to judgment. That said, even at 35 she has a long career ahead of her. She has taken significantly less damage than most fighters her age. She has experience which, in MMA, oftentimes trumps youth. I love Holly. I think the rematch will be a blockbuster.
Rousey is slated to do a ton of movies and press over coming months. Clearly she wasn't expecting to lose this fight. In the wake of the loss what career direction would you recommend to Rousey?
Just do your movies and study the craft of acting. Heal up. Train. Stay low. Don't do ANY press leading up to your next fight. Let the champion handle those duties. Diversify your camp. Visit Firas Zahabi in Montreal. Train with Ricardo Almeida and Frankie Edgar and Mark Henry in New Jersey. Live at Renzo Gracie's house in Holmdel, NJ while you're training for the rematch. Be around champions. Be around ex champions. Learn that losing is just part of the journey. Then go out and get what's yours again.
Calling all HuffPost superfans!
Sign up for membership to become a founding member and help shape HuffPost's next chapter