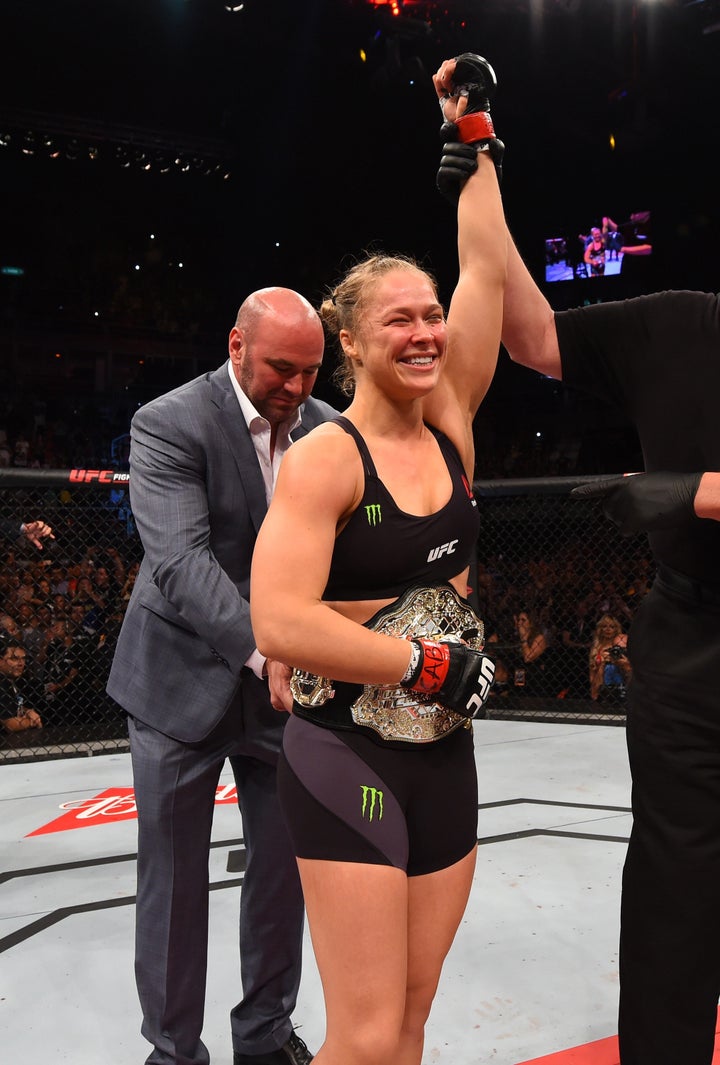 34 seconds and good night. That was all the time it took for UFC star Ronda Rousey to knockout Brazilian opponent Bethe C0rreia in the highly-anticipated UFC 190 title fight.
Rousey is now another step closer to a perfect career, after claiming her sixth UFC title.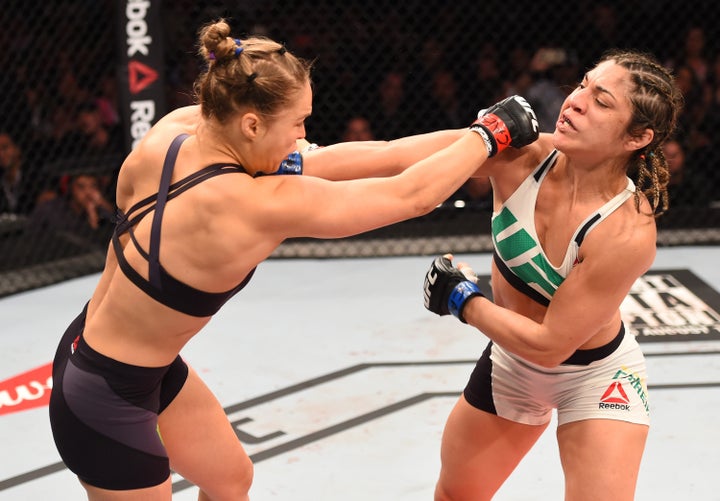 As the American ace is wont to do, she dispatched the trash-talking Correia (9-1) in the first round. But in a departure from her norm, Rousey finished her with punches, rather than her signature armbar.
It was a Rousey right that hit the lights for Correia.
The women's bantamweight title bout was the main event during Saturday's event in Rio de Janeiro, and Rousey's first fight outside of the U.S. Packing a heavy quiver of advantages, the heavily-favorited American handed Correia her first loss in stunning fashion. Rousey moved in fast, landing several punches, and then some uppercuts, driving Correia into the cage. Then came the right.
"Instead of forcing a clinch, I planned to overwhelm her striking first so she would want to clinch," Rousey said after the fight. "And that's exactly what happened."
As if Rousey's 12-0 career record wasn't impressive enough, the ferocity of her fighting lays to rest any question of why she is the UFC's biggest star. All but one of her 12 fights ended in the first round, and nine lasted less than a minute. She took down Alexis Davis in 16 seconds, and in February defeated Cat Zingano by submission in 14 seconds in addition to the 34 needed to knockout Correia.
She is stronger, bigger, quicker, and next to deadly if she breaks out her signature armbar when the fight goes to the mat. But she didn't even need the armbar Saturday.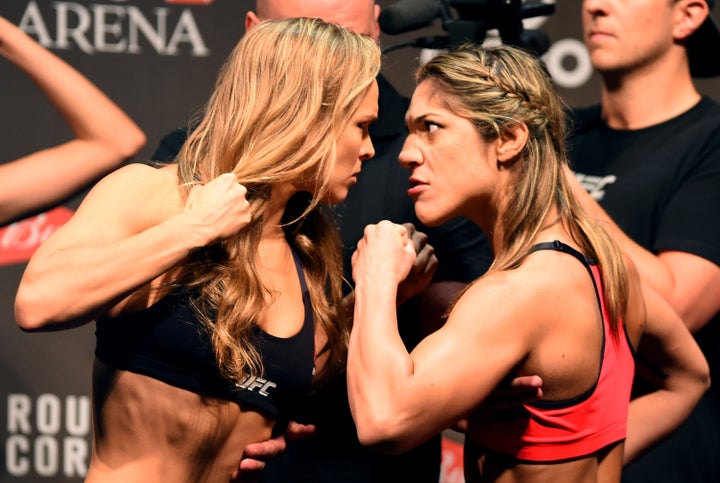 Correia, 32, is by no means a fighter without her own merits. She earned the shot at the title by beating two of Rousey's training partners, Jessamyn Duke and Shayna Baszler. Nicknamed "Pitbull," Correia is an aggressive boxer known for her striking strength. But she hasn't shown as much skill grappling and when fighting off her feet. On Saturday, those deficits kept her from making it past the first round.
Rousey, 28, roared into the bout in Brazil, fueled for battle after Correia appeared to reference Rousey's father's suicide during a spat of trash-talk. Rousey was seeing red. "Here's pretty much the plan: I'm going to beat up Bethe," she said. Purposefully chosing to have the fight in Correia's backyard, she claimed she would "embarrass" the Brazilian.
Rousey delivered on her promise in Rio.
Another title to her name is sure to only brighter Rousey's star. A 2008 Olympic bronze medalist in judo, she has become a pop icon, showing up on magazine covers, television shows and movies. Rousey advocates for women to confront issues with body image, while brushing aside comments that she looks too "masculine." Unbeaten in the cage and with a personality of gold, she won the "Best Fighter" award at the ESPYS. Holding the trophy, she took a jab at fellow fighter and known domestic abuser Floyd Mayweather Jr., after he slighted her by saying he didn't know of her.
"I wonder how Floyd feels being beat by a woman for once; I'd like to see him pretend to not know who I am now," Rousey said.
In addition to the main card Rousey-Correia fight, UFC 190 featured renowned Brazilian fighters Mauricio "Shogun" Rua and Antonio Rogerio Nogueira, along with other bouts. For a full list, visit MMAJunkie.
Related