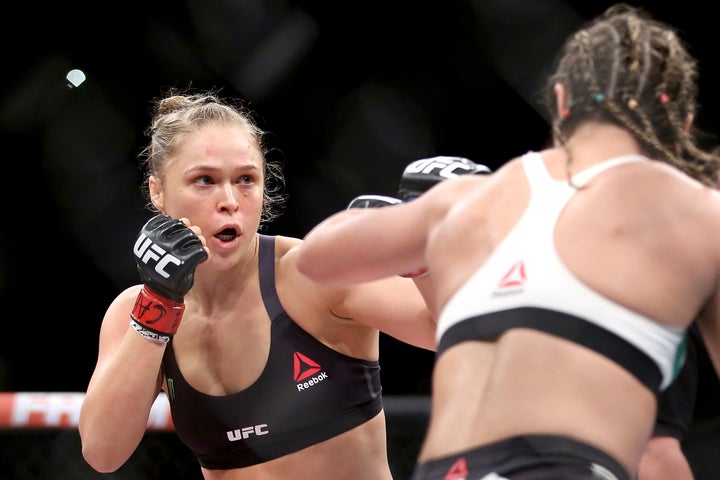 Floyd Mayweather is out of the ring, and now, out of Ronda Rousey's mind. 
After Mayweather beat Andre Berto on Saturday night to bring his career record to 49-0, the 38-year-old boxer confirmed his retirement. He's moving on with his life, and Rousey, as she relates to Mayweather, is as well.  
"I'm not trying to provoke anything. With everything going on, I don't need his name for attention. I'm getting plenty of attention doing other things," she said to RingTV.
But she's also savvy enough to know that, yes, hitting Mayweather with barbs is a sound strategy to get her name in more headlines. She's got fights to sell and a personal brand to promote. And as the preeminent female fighter today, her strong voice and individual willpower naturally act as a foil to Mayweather's macho declarations and wannabe mafioso mentality. 
Rousey, however, recognizes that needlessly trading quotes with Mayweather is counterproductive. At a certain point, the act becomes tired.
"If anything, it's getting a little bit repetitive to the point where it's just like, 'What am I getting out of it?' Nothing," she said.
Never lacking in self-awareness, Rousey also pointed out to RingTV that she's been criticized by Mayweather's fans for using his name to seek attention for herself -- an unfair judgement in her mind. Rousey insists that his actions precipitated their back-and-forth. She's just been fielding questions. 
"I still think he's one of the greatest boxers of all time. I'm more of a response kind of a person," she said. "I felt disrespected at a point, it needed a response, and I responded to it. I respond to questions that I'm asked. I responded to his actions."
The disrespect that Rousey is referring to stems from an interview Mayweather did in July 2014, in which he pretended to not know who Rousey is, saying, "I don't even know who he is." 
"I don't think any co-ed combat sports event is a good idea," Rousey told RingTV.
Co-ed sports beefs, however -- now that's just fine. That is, until the flame runs out, of course. But if her latest interview is any indication, Rousey is so over talking about Mayweather. 
PHOTO GALLERY
Ronda Rousey Beats Bethe Correia In 34 Seconds
Calling all HuffPost superfans!
Sign up for membership to become a founding member and help shape HuffPost's next chapter