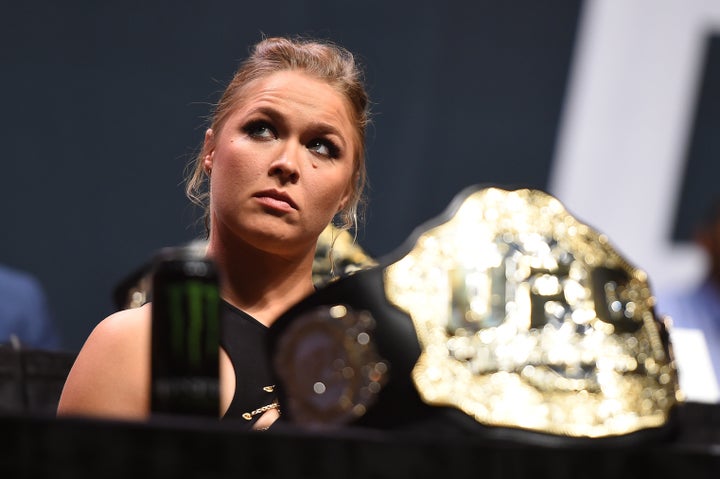 Undefeated UFC bantamweight champion Ronda Rousey is jovial as she bounces around her hotel room in midtown New York City, getting her hair done for an upcoming photo shoot. Her blond locks are quickly transformed into flowing bundles of curls -- their brightness reflects in her light blue eyes. It's an unusually hot October afternoon in the city and Rousey, outfitted in a skintight maroon dress for the shoot and the day's forthcoming media appearances, is worried about getting super sweaty.
"Can you dry off my thighs? My butt is getting sweaty," she laughs, moving through the room as a stylist grabs a hair dryer to attend to Rousey's situation down under.
In Rousey's world lately, she's been finding that more and more people -- fight opponents, overeager media, enemies -- are reacting to the world she makes for herself, not the other way around. As she sits down with The Huffington Post for an interview in advance of her headlining UFC 193 bout against Holly Holm on Nov. 14, she closes the room's curtains, complaining that the bright Manhattan sunlight hurts her sensitive eyes.
With the lights dimmed to her comfort, Rousey spoke to HuffPost about how her anxiety affects her pre-fight preparation, what makes a "real man," how she feels a mutual respect for Serena Williams and much more.
That bright sunlight really bothered you. Do you wear special protective sunglasses? Like the big wraparound ones old people sometimes wear that make them look bug-eyed?
I saw my mom wearing one of those for the first time ever and I was like, "Oh, you're officially old." No, no I don't though. I usually just tough it out a lot of the time. I wear sunglasses almost all the time outside -- not because I think I'm really, really cool, but because of the rays.
So how do the bright lights above the octagon affect you when you're fighting?
It's so bright! I kind of just block it out at the time, but it really sucks. I really had to deal with it when I started acting. Because the lights are so bright, it's hard for me to keep my eyes open. One of my problems that they had to correct was that I blink a lot because of the light. I'm trying to keep my eyes open, trying not to blink, and then I realized that I can make myself cry in anything now, because I was just inadvertently pouring tears out of my face. It'd be easy to cry a river.
"I really cry all the time.""
Have you had to cry in any acting roles yet?
No, I haven't, but I definitely will for the biopic, because I really cry all the time. I'm gonna be playing myself, so I gotta be bawling a couple times.
Everything. Especially during fight week. You're supposed to be going super ninja death mode, but I'm really the most emotional ever. If I spill milk, I will cry.
Is it the anxiety leading up to the fight that puts you on edge?
You go through every single inch of the emotional spectrum on fight week. You're the most stressed out you've ever been, you're the most pressured you've ever been, you're the happiest you've ever been -- it's hard. It's exhausting. That's why these fights will sometimes be a couple seconds, but I'll still walk out and feel sore from my head to my toes. Just because I've had my shoulders held up for weeks on end and they finally drop [after a fight]. I always feel really, really sore in my shoulders afterward because that's where I hold all my anxiety.
What's that post-fight release like?
Oh my God. It's like the biggest relief and falling in love all at the same time. You instantly fall in love with all the people in the room. It's love at first sight with 18,000 people -- or in the case of the next fight, 70,000 people -- and it's the greatest relief ever. It's like you just heard you don't have cancer, and you meet the love of your life, all at the same time. Like the doctor just told you, "You don't have cancer, will you marry me?"
"By the time I'm 30, I'd like to be moving on with my life and finding something else to do.""
What do you do after a fight to wind down then? Is there a routine you get into?
I have to eat hot wings. I have to. It's a really big deal to me -- something I've cried about before. After I defended my title the first time when I beat Sarah Kaufman, I went back to my room and my friend ordered all these trays of hot wings. They came into the room and the little hotel sheet thing was draped over it and I go to open it up, and it's breaded and boneless. I cried. I got everybody together like, "We're going on a reconnaissance mission. We are finding hot wings tonight!"
How do you want your hot wings then?
For some reason, it's something I crave all of camp. My favorite thing to go with it is cider beer. It has to be naked wings -- meaning no breading -- hot, with chunky blue cheese on the side and a cider beer. Then I have some sort of dessert à la mode with it. It's easy to be super disciplined on your diet if you have an end game. That's why I keep telling myself, "OK, I'm going to beat this bitch's ass, have some hot wings, have a beer, and life is gonna be great."
And then that's what happens. I beat the girl up and then I go have my hot wings and beer and then I'm like, "Oh my God, life is amazing, we've done so many amazing things." I block it out all the rest of the time. There's something so zen-like and grateful of just ripping a hot wing apart and getting it all over your face and everyone's happy. I love that atmosphere.
Let's take a moment to revel in the greatness of hot wings. It's impossible to not like hot wings. We agree on this.
The thing is, I have to abstain, because it's about the earned rest and the earned gluttony. Some people sit out and eat hot wings and do nothing every day. But they could not possibly enjoy it as much as I do in that one day, because of all the work that went into having that moment. It's an earned moment -- not something that I'm spoiling myself with.
With your career advancing so much, so rapidly, does your undefeated record put pressure on you?
No, the pressure is what I put on myself. From the first fight I ever did to now, it's just as much pressure. It reminds me of like, if you don't win the first round of the Olympic trials, you're not going to get to the Olympic finals. If you don't win the quarterfinals of the trials, you're not getting to the finals. If you don't win the finals of the Olympic trials, you're not going to the Olympic finals. If you don't win the first round of the Olympics, you're not going to get to the Olympic finals.
The retiring undefeated [goal] is the Olympic finals, but every single fight leading up to it is just as important as the Olympic finals, because I need to win that in order to get there. Every single fight is just as important as the one before it to retire undefeated.
How far off are you from attaining your goal of retiring undefeated? How long do you think your career as a fighter can go for?
I don't think I'm going to fight into my 30s. I'm 28 now, but it's not so much about how many fights or how long. It's about how much fight time you have in you. People forget that I had a 10-year judo career before I started doing this. I've had arthritis since I was 19. My doctor went and checked out my leg before this and was like, "You have an impressive amount of arthritis for your age," and I was like, "Thank you!" I don't have as many miles left in me as the average 28-year-old athlete.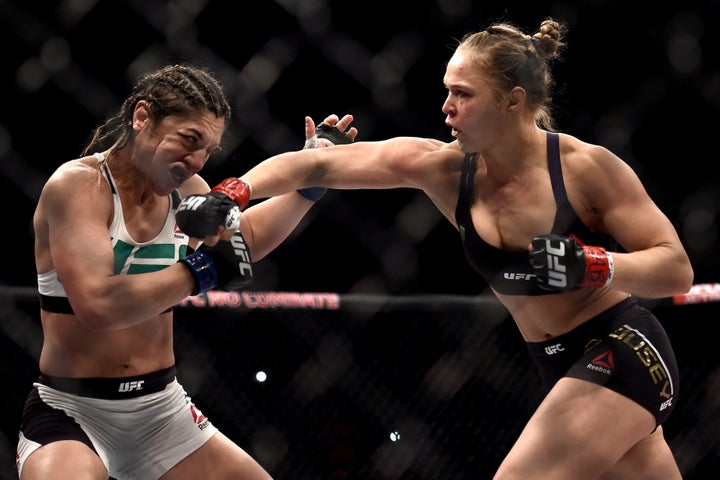 That's certainly different. Usually age 27 or 28 is the prime of some athletes' careers and they can look forward to years of health after that.
I'm in my physical prime right now, but by the time I'm 30, I'd like to be moving on with my life and finding something else to do, because there's so many cautionary tales of fighters around who just couldn't move on, stuck around a little too long and they're paying for it. I want to be the one who made her mark and got away scot-free. It's possible.
Are you also concerned about the mental condition that so many hits to the head can leave you with?
With boxers, it's more dangerous for them. I'm just worried that there are so many people who try to retire and just can't live without that rush. That's why I really try to put so much time and energy into the acting, because I need to find that new quest to go on that will be just as fulfilling in its own way, but without taking so much risk and so much anxiety.
It's not really physically that I'm worried about myself, because I know I can take care of myself when I'm in there. I know what I'm capable of, but it weighs on you, the waiting [for the next fight]. Every single night, when I go to bed, I replay the million different ways this fight could go over and over and over in my mind. Every single time, I start the fight from beginning to end and when it goes a different way, my heart races while I'm laying in bed and I can't stop. That's what puts more miles on me than anything physical. There's a lot of mental exhaustion.
"A real man is one that doesn't feel the need to dim the light of his woman in order to make himself feel brighter.""
When you do these mental study sessions or fight projections in your mind, does a worst-case scenario ever creep in and consume you?
No, I start from the beginning. I start from all the possible things the person could do and all my possible reactions. Every single time, it's a different path to how I finish the fight. It's more reactions to them trying to solve me. It's never a bad situation. I never picture anything going wrong, because it won't go wrong, so I'm not going to even let my mind entertain it.
Busy mind, busy life. You recently landed on the cover of Men's Fitness Australia, becoming the first female to do so. Still, you faced backlash from people who felt that a woman wasn't an appropriate choice to star on a men's health and fitness magazine.
There's plenty of women who have been on the cover of GQ and Esquire and those are men's magazines. Just because I'm not a man, it doesn't mean I can't have helpful input about what could be related to the health of a man. I'm a fighter and the principles of fighting are applicable to everyone.
On your cover, the headline reads, "How Ronda Rousey Will Make You Tougher." How do women UFC fighters like yourself make the men in your lives tougher?
An ambitious woman makes the man in her life step up his game. It's easy to be lazy and not push yourself when you're with a woman who doesn't challenge you at all. I think that's why some men are intimidated by successful women, because they're intimidated by that challenge and that comparison and really having that in their lives, having someone to pursue achievements with. It's hard -- I've had relationships where it turns into a competition and that's not a good thing at all.
But it's amazing when you have somebody that's just as ambitious as you are and they're hustling just as much as you are. You feed off of their energy and their ambition, and it makes it so much easier to get up in the morning and go and handle everything in your day, because you have a partner in this endeavor.
"Just because I'm not a man it doesn't mean I can't have helpful input about what could be related to the health of a man.""
Sometimes I feel like I'm about to take over the world, and if I have somebody there with me who feels exactly the same way, there's no better feeling. It's more like, you get up in the morning like, "Let's do this!" It's hard to lay in bed if your partner is jumping up like, "Let's take over the world today!" And you're like, "No, I just want to play Madden" -- it's hard to feel good about yourself that way. You have to really push yourself and earn your self-esteem if you're with somebody like that. You have to find somebody who's up for the challenge instead of shying away from one.
What do you think makes a "real man"?
A real man is one that doesn't feel the need to dim the light of his woman in order to make himself feel brighter.
"It's really an honor to be a woman in sport at the same time that Serena Williams is really making her mark.""
We've had such a banner summer for women's sports. The NFL, NBA and MLB all hired their first female coaches, the Women's World Cup was such a success and Serena Williams' had an historic run. What's been your reaction to it all?
I'm seeing a really positive trend in sports. The presence of women is becoming so routine that hopefully we'll get to a point where it doesn't need to be mentioned anymore. We don't need to mention the fact that a man did this and a man did that, because people are used to it. I think we're getting closer and closer to the point where there's so many women doing amazing things, it's going to be an old story and it won't need to be mentioned anymore. We're going to be mentioning the accomplishments of people instead of the accomplishments of women.
Have you been thinking about what Serena Williams did this year? She was so dominant.
Serena's amazing. She's one of my favorite people ever. It's really an honor to be a woman in sport at the same time that Serena Williams is really making her mark. I really think that we are in a special and pivotal time. I almost feel like even though we're in entirely different sports, I kinda get this feeling from far away we're partners in the same endeavor and I couldn't respect her more.
This interview has been edited and condensed.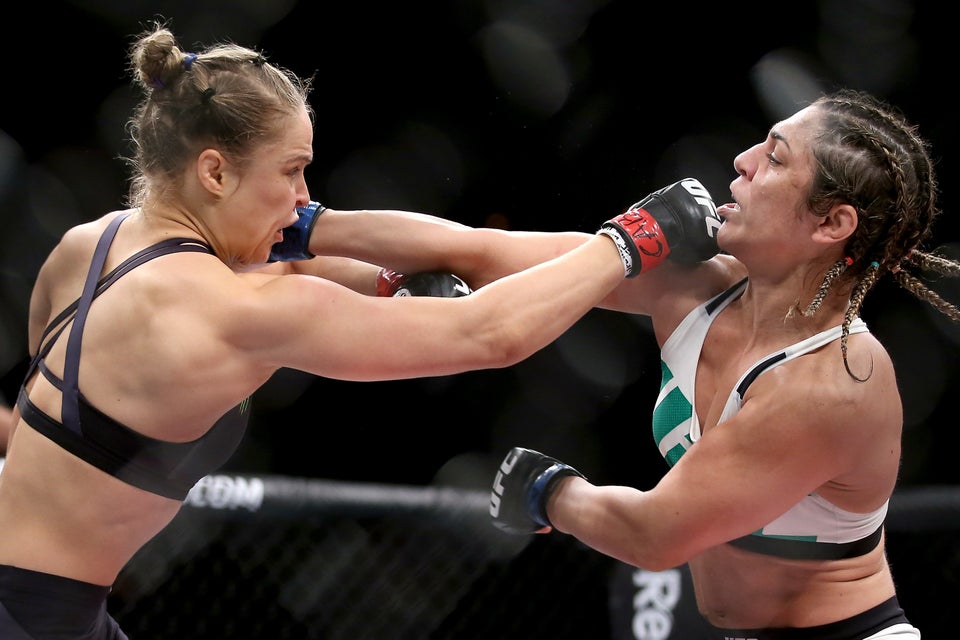 Ronda Rousey Beats Bethe Correia In 34 Seconds
Related