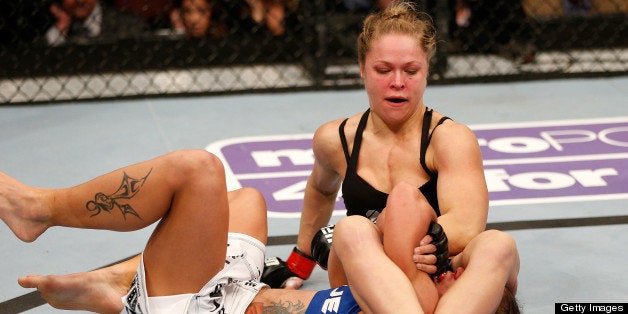 Ronda Rousey has started her UFC career off with seven consecutive victories, all of them by way of submission. Rousey, who has been deemed "the queen of the UFC," was also the youngest judo competitor in the 2004 Olympics, when she captured a bronze medal, becoming the first American woman to win a medal in the sport since it was incorporated into the Olympics. Now 26 years old, she let The Huffington Post in on the ins and outs of mixed martial arts and the challenges of making her own path as a female fighter.
As a female in a male-driven business, what has been the biggest obstacle to overcome?
I think the biggest obstacle is complete lack of security and lack of guidance, making everything out and doing it alone.
MMA is well known for its trash talking. Coming from judo, how hard has it been to incorporate that into your fighting?
I mean, it's hard when it's not genuine; but if I genuinely don't like a person, then it's much easier to pretty much connect with them. And it's even fun when it's encouraged. But some people, they're just cool. Like the last two girls I have fought I liked a lot and I didn't do any trash talk or smack talk or anything like that. It's just that when I do do it, I do it so well so people remember me for it all the time. It's not like I'm constantly doing it.
In terms of the actual fighting, you have both the judo and the boxing style. Has that fit in well with MMA?
Yeah, it definitely has. The style I have in judo is very unique ... One big advantage a judo player has is they have very good posture and -- like wrestlers, they show when they're about to do a take-down ... which judo players don't, and so I kind of incorporate the boxing style with a judo grip and finishing that way. They actually really do blend together extremely well ... it's just perfect for judo.
You have had seven fights and seven wins by submission. Is that something that you are constantly thinking about, or does it happen once the fight starts?
It just happens. I'm always looking for the finish as soon as possible. I don't expect it to be there immediately or in the first five minutes, but people forget that when I did judo, I only had seven minutes. ... I set the pace because I'm used to that first round being all the time that I have.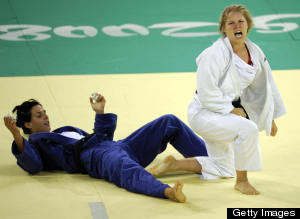 Rousey (shown here during the 2008 Olympics) was the first U.S. woman ever to win a medal in judo when she debuted in Beijing. (Getty Images)
Coming from the Olympics, the elite level of any competition, how does the excitement for a fight and the overall atmosphere compare to the UFC?
Nothing can really compare to it ... The Olympics is a once-in-a-lifetime thing. I was lucky enough to go twice, but most people only get one chance. And in judo you can train your whole life and it'll come down to a split second: You can lose everything or win anything. In MMA it's a lot less intimidating because it's not like you get one shot at a title every four years. You get a title shot every couple of months ... With the Olympics, you don't always have this, so there is so much more pressure involved.
You didn't really have a clear path, as a female. Has fighting always been the one thing you wanted to pursue as a career?
I always wanted to win the Olympics in judo. That was something that was a goal of mine: just to win the Olympics in general. A year and a half before my last Olympics, the idea of doing MMA started creeping into my brain, and I was purposefully trying to suppress it and not think about it and not even entertain it, because I knew it was ridiculous. And it was only after the Olympics when I faced the realization that judo wasn't really for me anymore. I really allowed myself to look at the whole MMA thing seriously and I decided to give it a try.
What type of nutrition plan are you on and what does it do for you as an athlete?
I'm kind of like a middle mix between a warrior diet and a Paleo diet, so I only eat once a day and it's at night -- so kind of like interval fasting. But I eat until I'm full, I eat as much as I want, and I really don't eat anything that you couldn't find, you know, 10,000 years ago.
Lots of vegetables. No artificial anything, no high fructose corn syrup for me and stuff like that. The human diet has changed a lot in the last 50 years, [more] than it has in the past several thousand years. I'm on the diet today to make my body the most efficient as an athlete, not so I can eat as much as possible and be as skinny as possible. People hear about my diet and go, 'Oh, you're crazy.' But it's just like, 'Look, my body is more efficient when I'm training on a empty stomach, so it's what works for me.' It's not like I'm telling anybody what to do. But it's working pretty well so far.
Email me at jordan.schultz@huffingtonpost.com or ask me questions about anything sports-related at @Schultz_Report.
Popular in the Community