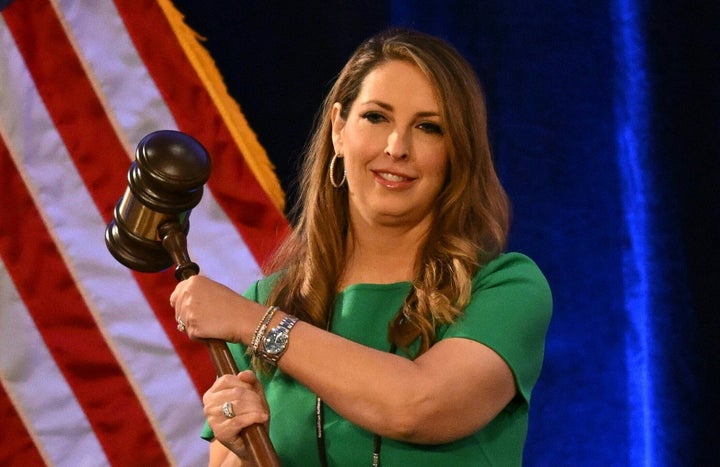 DANA POINT, Calif. — Ronna McDaniel fended off an aggressive challenge Friday to win a fourth two-year term as Republican National Committee chair, persuading enough of the members that the three consecutive bad elections for the party were not her fault.
McDaniel, who led the Michigan state party when coup-attempting former President Donald Trump installed her as national chair, defeated California RNC member Harmeet Dhillon 111-51 in the secret-ballot vote. Pillowmonger-turned-election conspiracy theorist Mike Lindell won 4 votes. Lee Zeldin received one vote, although he was not an official candidate.
After her unexpectedly big margin was announced, McDaniel brought Dhillon and Lindell on stage with her. Voice cracking, she thanked them and pledged to work together.
"We need all of us," she said. "With us united and all of us together, the Democrats are going to hear us in 2024."
Dhillon, speaking to reporters afterward, said she had promised to work with McDaniel if she lost and would honor that pledge.
But in describing why she lost, she repeated her criticisms of McDaniel's reelection effort, claiming that the chair used her position to bribe members with plum committee assignments and other perks and used the RNC's staff and apparatus to help secure her victory.
She also said that McDaniel and committee members who voted for her should expect to face criticism from grassroots activists in their home states, who overwhelmingly wanted new leadership.
"She's getting a wakeup call this morning from outside the building," Dhillon said. "The party is not united outside the building."
The race was the first contested election for the top job since 2011, when then-Wisconsin state chair Reince Priebus unseated Michael Steele. That race, though, was not nearly as contentious as Dhillon's campaign against McDaniel.
Indeed, a number of members said that Dhillon's use of strident voices like Turning Point USA's Charlie Kirk or election-denier and failed Arizona gubernatorial candidate Kari Lake harmed more than it helped.
Ohio RNC member Jim Dicke, a McDaniel supporter, said Dhillon's campaign, which also relied on local activists to flood members with calls and emails demanding that they oust McDaniel, did not even seem designed to win the chairmanship. "It felt like she was not running for chair, but for something else," he said. "Like running for a show on Fox News or something."
Local party activists have threatened to vote out RNC members who did not vote for Dhillon, a threat that Dhillon positively referenced in interviews. Kirk, who stages high-profile conservative youth conferences, said before the vote that if McDaniel won, his support for the RNC would end.
"If she wins, I can't in good faith tell my audience or our students to support the RNC financially or otherwise," he said. After her reelection, he said he stood by that statement.
How McDaniel will handle the GOP's biggest problem — the continued influence of Trump in the party — remains unclear. Republicans lost the House in 2018, the Senate and the White House in 2020, and barely won back the House while losing another seat in the Senate in 2022, when they expected to have a strong year. In all three elections, exit polls showed that Trump was a strong motivating factor in turning out Democrats and persuading swing voters to cast ballots against Republicans.
Republican leaders generally, and in the RNC this week, remain divided on how to deal with the former president — who is, to date, the only announced candidate for the GOP nomination in 2024. Party officials see that his unpopularity with key blocs of swing voters makes him a poor choice in a general election but, with some notable exceptions, agree that the party cannot win without his hardcore supporters.
One RNC member said on condition of anonymity that a secret poll today of the committee would find that most are ready to move on from Trump. "That was not true a year ago," the member said.
Trump, who early on said he backed McDaniel for a fourth term, remained officially neutral in the final weeks, although many of his top allies — among them former White House counselor Kellyanne Conway and the current head of Trump's political operation, Susie Wiles — have publicly endorsed McDaniel.
Dhillon, meanwhile, won the backing of both pro-Trump and anti-Trump voices within the RNC membership as well as from Florida Gov. Ron DeSantis, who on Thursday said the party needed new leadership.
Dhillon, an elections lawyer who represented Trump in his successful effort to run out the clock on a subpoena from the House Jan. 6 committee, dealt with the Trump question by playing both sides of it. She has criticized high-profile Republican-leaning law firms for failing to represent Trump in his many lawsuits that tried to overturn his 2020 election loss ― but then has also boasted that she refused to get involved with those same post-election lawsuits.
New Jersey RNC member Bill Palatucci, among the few RNC members publicly advocating a break from Trump, nevertheless endorsed Dhillon. He said McDaniel's failure to admonish Trump for his racist attacks on his own transportation secretary, Elaine Chao, and his insults against Republican governors Glenn Youngkin in Virginia and DeSantis in Florida was unacceptable. "You can't be a political enabler," he said.
McDaniel's new term lasts through the 2024 presidential election, meaning she will have to guide the party through what's likely to be another crowded presidential primary while continuing to deal with Trump, who could well face criminal charges based on his Jan. 6, 2021, coup attempt as well as his refusal to turn over classified documents even in the face of a subpoena.
Popular in the Community