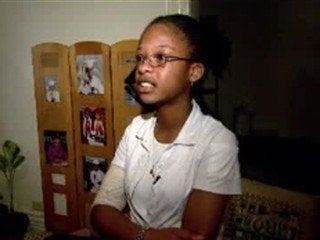 UPDATE: Ronnie Walker's social worker, Carolyn Taren, informed The Huffington Post today that the 14-year-old and her family will soon be moving into an apartment in Oak Park, Ill., and that she is now listed on the lung transplant list.
One generous donor, funeral home executive Spencer Leak, Sr., has offered to pay rent for Ronnie and her mother for a full year.
The Loyola University Health System is planning fundraisers, and interested parties are still encouraged to write checks to Ronnie's benefit fund. The address and details are listed in our original article below:
Ronnie Walker and her mother Kimberly Covington have been virtually homeless for months. They're moving from place to place -- a lifestyle that's even more taxing given Ronnie's condition. She's 14 and has a rare pulmonary disease. She desperately needs a lung transplant, or she'll probably die.
Right now, she can't get on the organ transplant list, as it's critical that she has a stable home after the surgery to recover. Without this environment, doctors won't give her the transplant. It's medication that currently keeps her alive.
As Change.org points out, families like Ronnie and her mother are a segment of the homeless population that are difficult to quantify. They don't live in shelters and have subsisted on the generosity of friends and neighbors.
Ronnie is being treated by Dr. Robert Love from the Loyola University Health System. She has Medicaid, and thus is able to continually see a doctor despite her other financial hardships. Carolyn Taren is a Licensed Clinical Social Worker for the medical center, and she's been working to find Ronnie and her mother a stable place to live. According to Taren, having that stability post-surgery is essential.
"What keeps people alive is how they take care of themselves afterward," she said. Once this living situation is solidified, Taren believes that Ronnie will quickly move to the top of the Pediatric Donor List. Once she's on that list, she could have a donor within a year.
The problem is that rent is hard to come by. If you're interested in making a contribution to Ronnie and her mother to pay for their first few months rent, you can send a check to:
Community Bank of Oak Park
Make the check out to: Ronnie Walker Transplant Fund
Calling all HuffPost superfans!
Sign up for membership to become a founding member and help shape HuffPost's next chapter