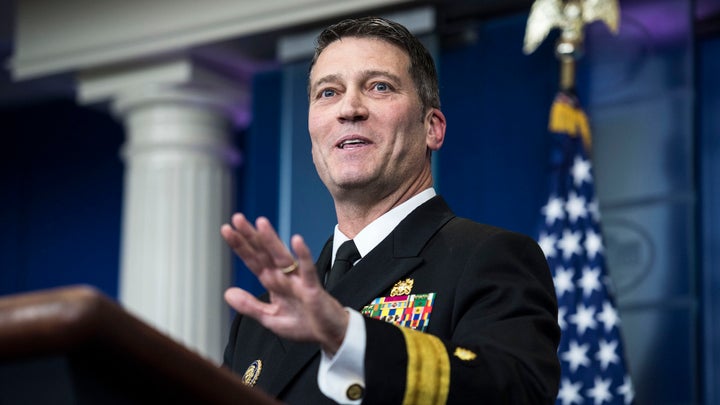 Dr. Ronny Jackson, the White House physician nominated to be the next head of the Veterans Affairs Department, is facing new allegations about his professional behavior that put his confirmation into jeopardy.
Jackson reportedly became so intoxicated at a Secret Service party that he "wrecked a government vehicle." On another occasion, he could not be reached when needed because he was passed out drunk in his hotel room.
Jackson also allegedly gave a White House Military Office staffer a "large supply" of Percocet without going through the proper procedures, sending the White House Medical Unit staff into a "panic" because they didn't know what happened to the prescription opioid pills. Jackson's nickname was "Candyman" among White House staff, because he would give them prescription medications whenever they wanted without paperwork.
The summary of the serious allegations against Jackson are laid out in a new document released on Wednesday by the office of Sen. Jon Tester (D-Mont.), the ranking member on the Senate Veterans Affairs Committee.
Democratic staffers conducted interviews with 23 of Jackson's colleagues and former colleagues. They "have raised serious concerns about Jackson's temperament and ethics" and "cast doubt" on his ability to lead the VA, the second-largest government agency.
Jackson has been the White House physician under Presidents George W. Bush, Barack Obama and now Trump, and has garnered praise from both Democratic and Republican staffers. 
But as soon as Trump announced that he was nominating Jackson, senators and veterans groups immediately questioned whether the doctor ― who has little management experience ― was qualified to run the massive, notoriously difficult bureaucracy.
Other questions then began popping up about Jackson's fitness for the job. On Wednesday, CNN reported that Jackson drunkenly banged on the hotel room door of a female employee during a 2015 overseas trip in the middle of the night.
Other findings from the Democratic document released Wednesday: 
Jackson wrote himself prescriptions. When caught, he would have his assistant do it instead. 

The White House Medical Unit, under Jackson, did not properly document pharmaceuticals, making it difficult to track them. Jackson would account for the pills after the fact in paperwork to account for shortages. 

Jackson was described as "the most unethical person I have ever worked with," "toxic," "abusive" and "incapable of not losing his temper."

Jackson was known to have a "kiss up, kick down" approach where he was "a suck up to those above him and abusive to those below him."
In March, Trump fired the previous VA secretary, David Shulkin, who was a holdover from Obama's administration. Major veterans groups and some senators, including Republicans, opposed ousting Shulkin. But he found himself facing conservative enemies who were upset that he wouldn't work on privatizing the VA's medical services. 
White House spokeswoman Sarah Huckabee Sanders defended Jackson on Wednesday to The New York Times, which first obtained the summary of the allegations. She said none of the new charges came up in "the four separate background investigations that have taken place."
"These are new," she added. "I can only speak to some of the personal accounts that those of us have, as well as the records that we have that are substantiated through a very detailed and thorough background investigation process."
Jackson also denied that he wrecked a vehicle in passing remarks to reporters Wednesday afternoon.
Marc Short, the White House director of legislative affairs, defended Jackson against the "Candyman" moniker Wednesday as well.
"Every year they come in and do a review of the White House physician's office on things like prescriptions, and every year they said that he's totally in compliance with what he's prescribing. So, no, it's totally unfair," he told reporters.
A spokeswoman for Sen. Johnny Isakson (R-Ga.), the chairman of the committee, said they had no new comment on the Democratic document.
Jackson was supposed to have his confirmation hearing before the committee on Thursday, but it was postponed over the concerns senators have had. 
"I don't want to put a man through a process like this," Trump said. "The fact is, I wouldn't do it. What does he need it for?"
This is a breaking news story and will continue to be updated. 
Calling all HuffPost superfans!
Sign up for membership to become a founding member and help shape HuffPost's next chapter