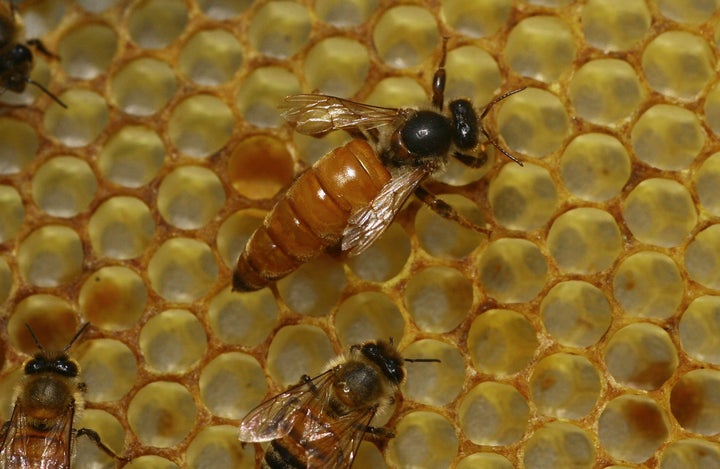 A little over a year ago, I started as Rooftop Farm Director at Uncommon Ground on Devon, a restaurant in Chicago's Edgewater neighborhood, blogging about the experience for the Huffington Post.
Of course winter gives most growers a little bit more time which we use not only to prepare for next season, but also to reflect on the previous one. I took a little time off, visited my family and started looking back through our farm log.
And how was the season? With my time off, I started crunching the numbers and here's what I found out:
• Last season we harvested a total of 659 pounds, essentially two-and-a-half times the harvest from the previous season.
• Tomatoes were our MVP (Most Valuable Produce) weighing in at 177 pounds which, at average market value, is worth about $485.
• About 1600 visitors checked out the roof in 2010, including 350 students from 20 schools, from as close as our neighborhood and as far away as the Netherlands.
All in all, we rate this a success. In particular, managing our fertility, coordinating with the kitchen and educating our interns seemed to work especially well.
But not everyone has the luxury of spending the winter cozied up, working on spreadsheets. While I was inside, our bees were up on our roof all winter long. This isn't unusual, actually.
Honeybees are hardy, and given good conditions, such as a large population, no disease, and plenty of honey storage, they generally make it through the winter. They do this by making a tight ball (think a rugby scrum, several thousand strong) inside the hive and shivering to create heat. The queen stays in the middle of the ball where even on the chilliest of January nights, it stays summer-warm.
At least that's how it's supposed to go. Inevitably some hives don't make it, since winter is a tough time for any animal. To encourage survival, we insulate the hives with tar-paper on the outside and a layer of natural fiber insulation on the inside, allow some ventilation, and construct a windblock around the hives.
One warmish day in February, I lit my smoker and headed up to the roof to check out our hives. Last year, looking after the bees was one of my favorite tasks and I was excited to see how they were doing. To my deep sadness, none of our hives made it through the winter.
And it was a tough winter. The combination of cold weather, wind, and an overabundance of moisture was too much. Indeed, bee keepers all over the US, from Michigan to Virginia had a very bad year. This is small comfort, of course. I called Liam, the beekeeper, and he was more philosophic about it, "Well, it is agriculture after all."
Now we're in the process of repopulating our hives (more on this in future posts) but, even more productively, we're planting the rooftop. This year we're doing some stuff the same, like tomatoes and beans and herbs. However, we're not doing peppers this year, in favor or salad greens like lettuces. You see, once I sat down and crunched the numbers, we realized that greens, which turn around relatively quick and are always usable in salads and sides, were a much more valuable use of our small space than peppers, which take most of the summer to produce.
After such a rough winter, it's nice to see the greenery on the roof. Spinach, peas and lettuces are going great. You should come by and see them!