On July 23, Bascombe popped the question to Jordan, his girlfriend of four years, atop the Citibank building in Los Angeles. At first, Jordan thought she was there for a romantic couple's photo shoot. But what her boyfriend had in store was even more romantic ― a proposal he had been saving up for for three years. During a special shot with rose petals, while Jordan's back turned towards him, Bascombe got down on one knee.
"She turned around, threw the flowers in the air and my heart dropped," Bascombe told The Huffington Post. "It was such an amazing moment because all I could do was think about how much I loved her and how much she meant to me."
"It would mean so much to me if you spent the rest of your life with me," he told her in the video. "I know you'll make a great wife and an even better mother."
Jordan accepted the proposal, of course. Then an elated Bascombe screamed at the top of his lungs, "She said, 'Yes!!!'" and literally swept his bride-to-be off her feet.
Jordan told ABC News that she is still in shock about the swoon-worthy proposal.
"But the great thing about him is [that] he shows me that level of love every day," she said. "He makes me a very lucky woman."
Afterwards, the couple took a helicopter tour over downtown L.A., dined at a rooftop restaurant and went out dancing with friends.
The pair first met at a pep rally at North Carolina State University in 2010.
"A lasting relationship doesn't happen overnight," Bascombe told HuffPost. "It takes obstacles and challenges to strengthen a relationship, and I believe the things that we've been through as a unit have prepared us for life together."
Wishing these two many more wonderful years together!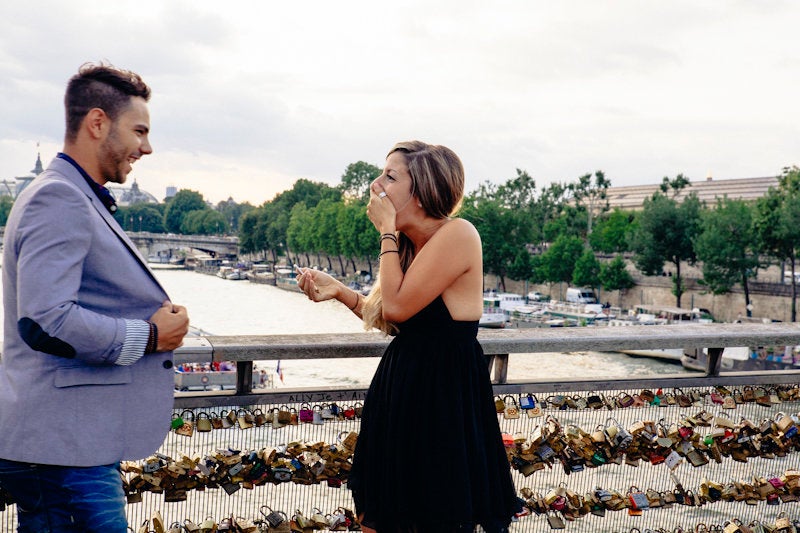 Surprised Proposal Reactions