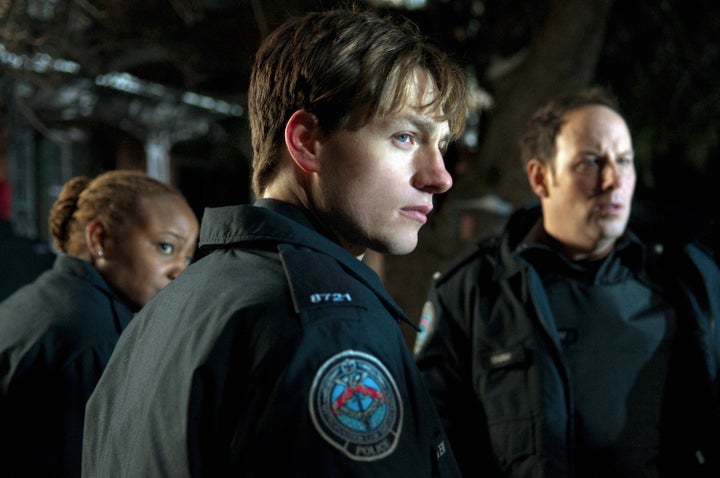 William Shatner may be best known for playing Captain Kirk, T.J. Hooker, Denny Crane and the dad that was notorious for saying a whole bunch of $#*!, but the actor is out to prove he's more than just his legendary characters (well, three legends and a one-season grump).
The Emmy winner guest-stars on the season 3 premiere of "Rookie Blue" as Henry McLeod, and as ABC's press release describes him, he's "a belligerent drunk driver with a haunting secret." Punching Dov (Gregory Smith) in the face, while reeking of whisky? Definitely. But there's so much more to his character. More on that in a bit.
I've loved "Rookie Blue" since it debuted two years ago. I have a real fondness for the stars, who I've spoken to on numerous occasions (whether it's on location or in a fancy hotel suite), but there's something about the series that makes me proud. Sure, it's a Canadian/U.S. co-production but the series' references to all things Toronto -- from the shots of TTC streetcars or landmarks, or its mentions of familiar streets -- gives us Canadians something to look forward to. Ultimately, what I like best is that the police drama has a real knack for being funny and bumbling, which provides a nice break from its more serious storylines.
The season three return kicks off with Andy (Missy Peregrym) returning to 15 Division after a three-month suspension -- for "conduct unbecoming an officer" -- and preparing to face a tribunal that will determine if she will be reinstated to active duty. That doesn't happen till the end of the episode, where -- SPOILER ALERT, and well, DUH ---all goes swimmingly on that front; it's the in-between that's meaty. When we last left Andy and Sam (Ben Bass), he asked her, "You want to try being normal together?" After both of them got suspended, her messy breakup with Luke, and the fact that Sam is her former training officer, Andy justifiably replied, "How are we going do that?"
Fast-forward three months (which Andy spent alone, presumably, in North Bay), Swarek picks her up from the airport, and he attempts to take her home and away from any drama when, BAM! They're involved in a multi-car collision. The cause? Henry McLeod. The injured? Himself, a random lady in another car, and the driver of a van (Pat Mastroianni, aka "Degrassi"s Joey Jeremiah). But it's what (or should I say, who) is in the back of said van that takes the multi-car accident into creepy territory: a girl, with whom Andy connects, of course. It's the kind of case "Rookie Blue" does so well -- suspenseful, but not too grim; a nice balance of gripping and entertaining without going gory. The show allows viewers to use their imaginations and it's up to us if we want to think the worst.
I won't divulge much more about "The First Day of the Rest of Your Life," but it's an up-and-down, roller-coaster ride, what "Rookie Blue" is noted for. For the next several episodes, it's clear Traci (Enuka Okuma) and Gail (Charlotte Sullivan) will both be vying for a detective role, though based on the photos and ads I've seen from Season 3, I don't think the show is keeping it a secret. Dov's insecurities surrounding his relationship with Sue (guest star Mayko Nguyen) continue to plague him, and Noelle (Melanie Nicholls-King) and Frank (Lyriq Bent) are on their way to parenthood. There's also a new rookie in 15 Division: Nick Collins (Peter Mooney, "Camelot") is an ex-soldier who spent four years in Afghanistan, but has ties to one of our favourite (or not-so-favourite) rookies. And, by the end of the episode, we find out if Andy and Sam can get back to where they once were.
But even with all that, it's Shatner who steals the show. Henry has a serious grudge against police, and the big reveal on why is not to be missed. Shatner proves why he's got a mantle filled with awards, but it's his "RB" character that will have people talking. I'm calling it now -- don't be surprised if Shat gets recognized by the Academy of Television Arts & Sciences (for Outstanding Guest Actor in a Drama Series). Then "Rookie Blue" can add "Emmy nominee/winner" to its resumé.
Related
Popular in the Community