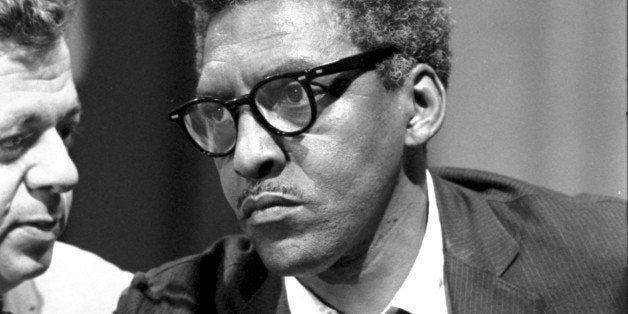 As the nation celebrates the legacy of Martin Luther King, Jr., it is an opportunity to also reflect on the broader impact of his iconic "I Have a Dream" speech in 1963, which remains one of our nation's most influential rallying cries for society to embrace diversity and seek equality.
Bayard Rustin, one of Dr. King's most trusted advisors, was born in 1912 and became an early Freedom Rider in the 1940s; he later organized the 1953 Montgomery Bus Boycott and the 1963 March on Washington for Jobs and Freedom, where King delivered the speech. He was also an openly gay African-American man.
Dr. King understood that a coalition of allies was necessary to advance the Civil Rights Movement. Dr. King's widow, Coretta Scott King, said in 1998, "I appeal to everyone who believes in Martin Luther King's dream, to make room at the table of brother and sisterhood for lesbian and gay people." Today, I want to echo her call, and note that Rustin's legacy is particularly resonant for those of us who seek justice and equality in the United States for LGBT people on everything from employment law to housing policies.
On issues of race, gender, and sexual orientation, it too often seems that achievements to promote equality are met with challenges and setbacks in other areas. As an African-American man, and as a gay man, Rustin faced discrimination from many fronts, including from within the movement he did so much to build. Controversies about his sexual orientation forced him to resign from the Southern Christian Leadership Conference, where he was a head organizer with Dr. King, in 1960. Having refused to closet himself to keep his position, he nevertheless continued to lead from behind the scenes. He was instrumental in the success of the Civil Rights Act of 1964 as well as the Voting Rights Act of 1965, and then he turned his attention squarely to gay rights, years before the Stonewall Riots.
Martin Luther King, III, in honoring Rustin at the inaugural Bayard Rustin Trailblazers Award presented by Logo last June, stated that, "instead of living an inauthentic life that may have allowed him to get the credit he deserved, he made the decision to remain outside the spotlight, but true to himself. I can't tell you how proud I am to be standing here tonight and paying tribute to the man who meant so much to my father." He delivered the remarks from the same pulpit at the Cathedral of St. John the Divine from which his father once spoke.
Just as Dr. King recognized that intersectional allies were invaluable to the Civil Rights movement, the modern LGBT movement is only strengthened when we recognize the many identities present in our community. In particular, the global business community has emerged as one of the strongest and most effective allies in driving LGBT equality forward.
Forward-thinking businesses understand that the impacts of discriminatory work environments are profoundly negative, which is why 89% of the Fortune 500 companies ban discrimination on the basis of sexual orientation. But policy alone doesn't translate to results.
Today, nearly 20 years after Rustin's death, you can still be legally be fired for being LGBT in 28 states. In carrying his legacy forward, we need to ensure that every person who works in the United States can bring their true selves to work every day. As noted in Edelman's 2016 Trust Barometer, being launched this week at Davos, "80 percent of the general public expect that businesses can both increase profits and improve economic and social conditions in the communities in which they operate."
Those who seek to build a world in which Rustin wouldn't have had to work behind the scenes, but is rightly celebrated for his unique contributions as an impactful leader in the fights for civil rights for both African-American and LGBT people, will need allies. When it comes to LGBT equality, business has been out in front of many other institutions in our society, as evidenced by the fact that 379 major American companies that signed the business amicus brief to the Supreme Court in advance of last year's marriage equality decision. Business has the opportunity to help lead the effort to secure equality in employment and housing policy as well - an opportunity that CEOs from Salesforce's Marc Benioff to Eli Lilly's John Lechleiter have already taken up.

Rustin once wrote: "Every indifference to prejudice is suicide because, if I don't fight all bigotry, bigotry itself will be strengthened and, sooner or later, it will return on me." As we remember his legacy, and Martin Luther King, Jr.'s, let those of us who seek justice for all people in America remember that we must pave the path forward together.
Support HuffPost
Every Voice Matters
Popular in the Community