This column originally appeared in Emily Peck's newsletter, a weekly email that looks at the convergence of women, economics, business and politics. Sign up here.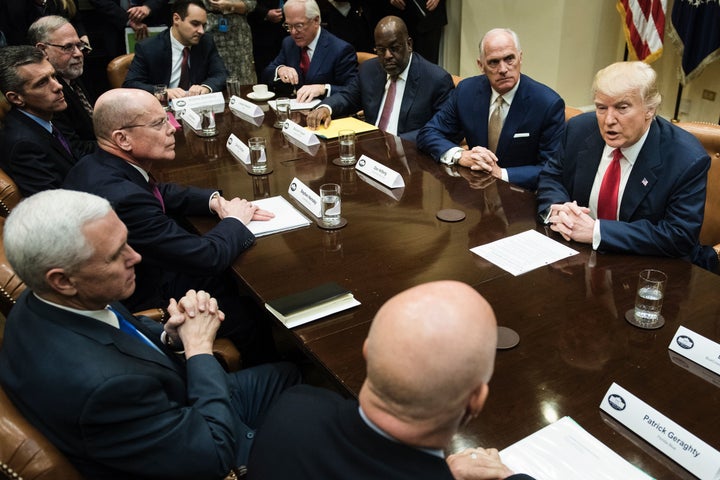 Nearly every day, there's an image like this coming out of the White House.
Men standing around the Oval Office, sitting at a table drinking iced tea, casually signing away reproductive health options for women around the world. 
The Trump White House is a world without women. Not since Ronald Reagan in 1980 have there been so few appointed to a president's first Cabinet.
Why this matters: When women aren't around, they're forgotten and left out. The remaining few get treated weirdly and/or badly. Things like this Kellyanne Conway incident happen.
That photo up top? That's Trump meeting with the chief executives of America's largest health insurance companies. Do you think they were engaged in a heated conversation about women's health or about how Trump can safeguard provisions in the Affordable Care Act that make birth control affordable? 
LOL.
Fun fact: Before the health care law passed, these guys used to charge women more money for health care than men. Why? Because vaginas are more complicated, apparently. Over and over, we learn that when women aren't at the table or in the room ― we lose. 
So, Tesla is this cool electric car company that everyone loves, but it's an almost entirely male shop. The C-suite is male (chief executive, chief technical officer, chief financial officer). There is only one woman on the board. This week, we got a little taste of how that plays out for the handful of women who work there.
A 33-year-old woman who works at Tesla as an engineer spoke to The Guardian about how she's been constantly harassed, is paid less than men doing the same work and is even retaliated against for complaining. She's been catcalled at work and passed over for promotions. When she complained, nothing happened. So now she's suing her employer.
Perhaps the biggest surprise though? She still works at Tesla. From The Guardian: "She is hopeful her lawsuit and public comments won't end her career at a company she loves: "I think they're a revolutionary and innovative company."
There aren't that many women at Uber, either. In fact, there are so few women, the company wouldn't buy them leather jackets with the Uber logo on them. Uber only bought jackets for the men, according to this horrifying blog post from ex-Uber engineer Susan Fowler. 
Missing out on a freebie is insulting, but that's just the little twist ending in Fowler's tale, which begins on day one of her job at Uber, when her new manager sexually propositions her. 
Fowler's post kicked off a huge public relations nightmare for Uber that kept going this week when a video leaked of Uber CEO Travis Kalanick fighting with an Uber driver. Apparently, this was when Kalanick hit bottom ― not when Fowler published her post, which paints a picture of a company purposefully and willingly ignoring and mistreating women. 
This is just sinking in with me today, actually. Kalanick's clear breaking point comes because he mistreated one man. Not because he ran an organization that repeatedly disrespected and ignored women. 
Here's what he says:  
"It's clear this video is a reflection of me ― and the criticism we've received is a stark reminder that I must fundamentally change as a leader and grow up. This is the first time I've been willing to admit that I need leadership help and I intend to get it."  
Kalanick is 40 years old.
But here's what happens when women ARE in the room:
There's no shortage of women working at Mattel ― and the company's been going all out in recent years to remake Barbie into a doll that more little girls (and their parents) can relate to.
Guess what? It's paying off. After revamping the line to include more diverse dolls with a range of skin colors and body types, Barbies are becoming more popular. My story: Barbie's surprising comeback.
REAL LIFE. REAL NEWS. REAL VOICES.
Help us tell more of the stories that matter from voices that too often remain unheard.