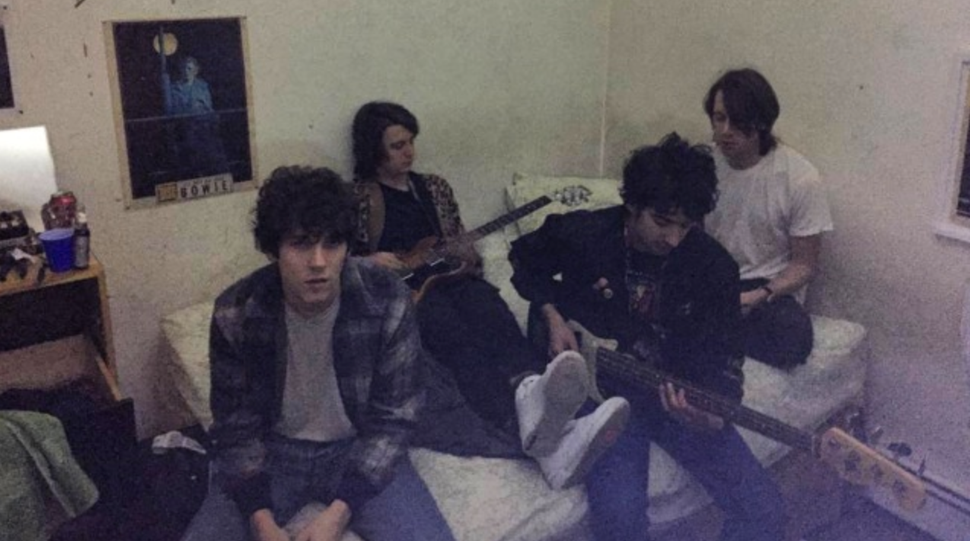 A rare seven-alarm fire burned through a block in New York City's East Village on March 26, 2015, killing two people, injuring at least 19 and reducing three buildings to complete rubble. The two deaths were almost immediate, as the initial gas explosion inside Japanese restaurant Sushi Park -- which caused the eventual fire -- emitted a blast that was in killing proximity to an employee and a customer who happened to be on a date.  
The fire down the block was first detectable in The Huffington Post office by the scent of smoke. Minutes later, staffers realized it was possible to see a seemingly dozen-story tall tower of flame from a window on the other side of the building. Texts to parents with presumably shaky handles on Manhattan geography began with assurances that our office wasn't physically affected by the fire. 
At the same time, across the country in California, John Eatherly watched his 123 2nd Avenue apartment burn on a friend's laptop. His band, Public Access TV, which is oft-considered The Strokes of this decade's New York, had just finished touring. They were about to head home to the loft they'd shared for nearly half a decade, when city friends with an unfortunately more damning grasp of the East Village area started sending their own texts and emails of concern.
Eatherly and the rest of Public Access TV, which is made up of childhood friends -- Xan Aird on lead guitar, Max Peebles on bass and Pete Star (who lived elsewhere) on drums -- were far away and they were alive. But they no longer had a direction home. As the singer and guitarist told HuffPost, "It didn't feel real at all."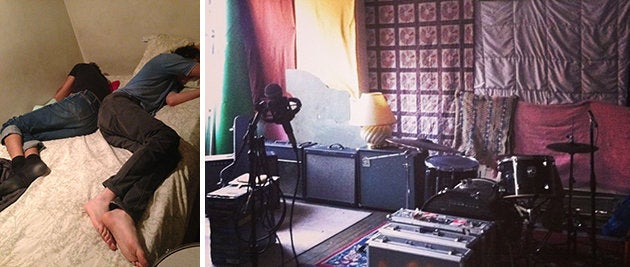 In January 2014, NME -- a traditionally British music publication -- named Public Access TV "New York's hottest new band" all the way from across the pond. Later that month, the band played their first ever live show at the East Village standout venue, Niagara, to a crowd filled with "it-girls" as the far more city-entrenched publication, Bedford + Bowery wrote. Even Lindsay Lohan was there.
"With people like that coming to the show, you never really know what you're going to get," Eatherly joked, perhaps wryly drawing on wisdom from the years he's been doing all of this since he dropped out of high school at 16 to pursue being a musician. Eatherly played the "hired gun" role for years backing bands such as Smith Westerns and The Virgins before deciding he needed a project he could call his own.
As NME reported in that initial heat-predicting article, the band initially posted their songs on SoundCloud sans artist or track names to build a sense of mystery. An unsourced quote, that NME presents as coming from the band claims -- in context of the publication's words -- there is "'no interest' in following the 'template you're supposed to follow' to make it in the Big Apple."
Since the Big Ben publication's unfortunately touristy-sounding presentation, the mystery has receded. Any "I'm walkin' here!" shouter can know that Public Access TV formed out of Eatherly recruiting friends he'd grown up and gone to high school with and inviting them to come inhabit his 123 2nd Avenue loft where he'd been since 2010. Although coverage shouldn't paint them as "I heart-shape NY" wearing, Public Access TV is undeniably a band of New York. "We all kind of ended up there," Eatherly said of the loft, then continuing, "and made that home base."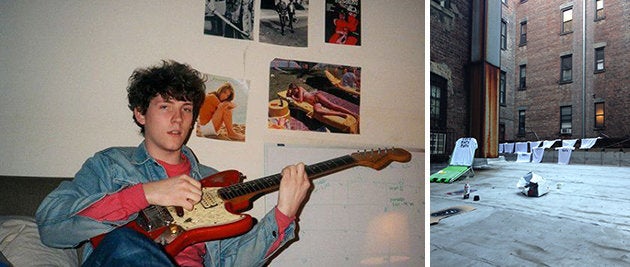 Although I'd inadvertently once managed their merchandise table -- which consisted of free T-shirts they'd presumably spray-painted themselves -- in late 2014 at the Brooklyn venue, Baby's All Right, I had no idea the band lived just down the street from the HuffPost office as I watched the fire. I kept thinking, "someone must be dead, someone must be dead," but as a New Yorker who characteristically only knows a few drops in the full ocean of New Yorkers had no guesses as to who.
And despite the loss of musical equipment, hard drives full of songs and the majority of their possessions, Eatherly and his childhood friends were also kept at a safe distance when the flames engulfed their apartment or "clubhouse" as Eatherly described. "I didn't know exactly what we were watching," the singer said.
This is a city of close calls, where the potential for a quick ascension or collapse to rubble is a normalcy all New Yorkers acclimate. With so many people packed together, it can only take one person's error or triumph to affect countless victims or spectators in proximity. The subway dancers yelling, "showtime!" can awe you one moment and kick you in the face the next. The Big Apple isn't about telling time like its Big counterpart, it's about relentlessly showing.
The last track on The Strokes album "Room on Fire" is called, "I Can't Win," in which Julian Casablancas sings, "One, two tries won't do it / You do it all your life and you never get through it / Everything they had to say / Had been erased in just one day."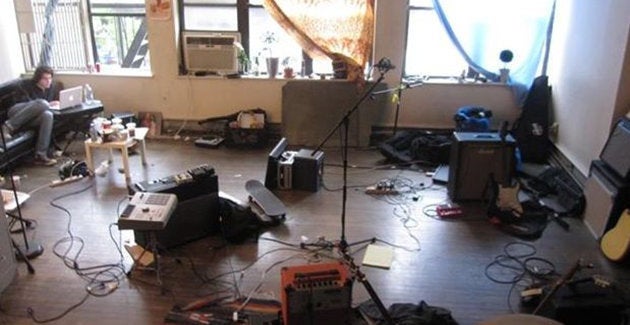 With the great erasure that came with their total loss of possessions, creative history and a home, Public Access TV told their agent "to book as many gigs as possible -- because we didn't want to deal with the reality of the situation. We actually had nowhere to go."
Eatherly and the band still haven't found a new permanent residence, but the Cooper Square Committee is helping them find affordable housing. "They've been helping us get back on our feet," as Eatherly gratefully explained.
But the band is finally releasing new songs, including the latest single "Patti Peru." The track begins with Eatherly singing, "I was ready to die," over and over and over until he pines the prospect of getting to experience something new.
Perpetual showtime is just the New York way.
PHOTO GALLERY
14 Music Documentaries Worth A Watch
Calling all HuffPost superfans!
Sign up for membership to become a founding member and help shape HuffPost's next chapter