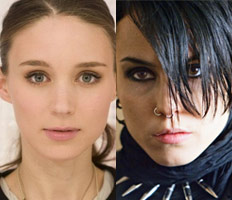 Rooney who? You're telling me that someone who seems to have mixed up her own first and last names gets to play the title role opposite Daniel Craig in The Girl With the Dragon Tattoo? And she beat out Natalie Portman, Kristen Stewart, Ellen Page and Scarlett Johansson? Okay, this was something that I just had to understand, so I tried to find out a bit about Ms. Rooney Mara. She was in the remake of A Nightmare on Elm Street, which is a start but I don't know if that cuts it. Turns out her family owns the New York Giants and the Pittsburgh Steelers. Quite the powerful, wealthy bunch. In the movie Mulholland Drive a director gets pressure from a cowboy to cast a particular actress. Pre-production is shut down and the director's bank account is frozen, until he finally relents. I can't help but picture that cowboy from Mulholland Drive visiting Tattoo director David Fincher and letting him know in his gentlemanly way who is really "driving the buggy." Of course, the reality is Fincher just directed Mara in the upcoming The Social Network, so he obviously has a good read on her talent. Reminds me of when Tim Burton cast Michael Keaton as Batman after directing him in Beetle Juice. I went, "Huh?" Yes, Keaton was already a big star, but he was the "funny guy." Burton however was certain he could get him to do anything, and in my opinion he was proved right.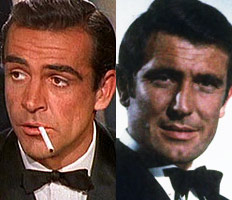 Big congratulations to Mara, and, as the saying goes, good luck, sucker. The aforementioned group of starlets-in-the-running would have been wise to run away from the role after seeing the outstanding original Swedish film. Noomi Rapace won the Swedish equivalent of an Oscar for playing Lisbeth Salander. She has starred in the three Swedish films based on the Stieg Larsson books, and these movies have grossed over $200 million world-wide to date. It's all a bit reminiscent of George Lazenby stepping into the Bond role after Sean Connery. Or even when Sydney Pollack remade Sabrina with Harrison Ford and Julia Ormond. Great director and great actors, but it's almost hopeless to follow Billy Wilder directing Bogart, Hepburn and William Holden. Rapace was phenomenal, maybe even definitive, in her Dragon role. She perfectly embodied that quiet outsider, sharp and curious, angry and lethal, a punk rocker with the skin of an onion, multiple layers shielding a broken and vulnerable soul. Mara may very well become a big star, but she has a tough act to follow.
So why remake this film if the first one was so great? Well, dollar signs. The books have sold more than 40 million copies to date; there are few properties hotter than this one. With Fincher directing, Scott Rudin producing, the second-best James Bond himself starring and, perhaps most important of all, Sony's mega-marketing machine, they have a likely hit on their hands. There is a catch, though: The international marketplace has become more important than the U.S. market for big Hollywood movies. Used to be that typically 60% of the gross derived from the U.S.; now that figure is closer to 40%. It'll be interesting to see how well the movie performs overseas in countries where the original Larsson movies are already big hits. For example, Tattoo did close to $5 million in Australia, $10 million in France and $14 million in Spain. Point of reference: The Dark Knight did $16 million in Spain.
I'd be curious to see how a film like the original Tattoo would have done here at the box office if Sony threw all of their marketing (i.e., financial) muscle behind it--something that studios often reserve for far inferior movies. Inspired by the original Tattoo, I ventured out to my local video store (miraculously there's still a vendor in my neighborhood who rents out actual physical copies of movies) to pick up two French thrillers -- Tell No One and Anything For Her as well as a French comedy titled I Do. Tell No One was absolutely fantastic. I couldn't stop thinking about it. Unfortunately, the other two films are not even available on video in this country, despite receiving excellent reviews and having won and/or been nominated for major awards. As it happens, Tell No One, Anything For Her and I Do are being remade by Hollywood, ensuring that they--like the remake of Tattoo--will draw a vastly larger audience in the U.S. than what the original special films had.
Which brings me back to Mara. Fincher is a master, and I trust that he'll put his own spin on the movie. If he does convincingly, perhaps even the notoriously fickle audiences in France will run out to see the new version. But if the movie falters overseas, Mara more than anyone might be blamed. I think it was the right decision to cast an unknown in the role--a star with an established Hollywood pedigree would have had a hard time conveying the essential rawness of the character--but they've put a big burden on such slight shoulders. Let's hope Mara is as resilient and fearless as the character she is about to play.

Calling all HuffPost superfans!
Sign up for membership to become a founding member and help shape HuffPost's next chapter