If someone prompted you to name the most famous political figures in U.S. history, chances are that you would bring up the trinity of Roosevelts: Theodore, Franklin and Eleanor. While you may know some of the more obvious facts about these complex figures (New Deal, anyone?), this illustrious family holds some fascinating -- and eyebrow-raising -- secrets.

Here are some surprising things you didn't know about America's favorite political family, created in partnership with PBS presenting the new film The Roosevelts: An Intimate History.

Check out Ken Burns' The Roosevelts: An Intimate History, airing for seven consecutive nights on PBS stations starting on Sunday, September 14. The star-studded cast features Meryl Streep as the voice of Eleanor, Paul Giamatti as Theodore, and Edward Herrmann as FDR.
1. FDR And Eleanor Were A Modern-Day Romeo And Juliet
Politically speaking, at least. FDR was a Hyde Park Democrat, while Eleanor hailed from the Republicans of Oyster Bay, Long Island. FDR's mother, Sara Delano, thought her only son was too young to marry (he was 22 and Eleanor was 19 when they got engaged in November, 1903). She also never found Eleanor to be particularly impressive or attractive: Eleanor's own mother called her "Granny." Sara asked the couple to keep their engagement secret for a year and even took her son on a foreign vacation hoping that would change his mind. It didn't.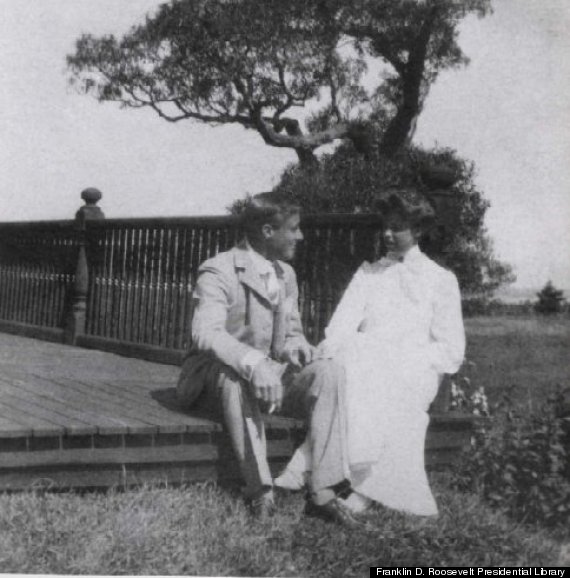 Franklin Delano Roosevelt courts Eleanor Roosevelt on Campobello Island, 1904. Image courtesy of Franklin D. Roosevelt Presidential Library.
2. Eleanor Once Went For An Airplane Spin With Amelia Earhart
The Roosevelts met the famed aviator at the White House State Dinner in April 1933, and Amelia and the First Lady quickly hit it off. That same night, Amelia offered to take Eleanor on a private flight. The two women, still in evening dresses, commandeered an aircraft and flew from Washington, D.C., to Baltimore.
Eleanor was so enthralled with flight that she soon obtained a student permit. Although Earhart promised to give the First Lady lessons, it was never meant to be, as her plane disappeared over the Central Pacific Ocean before she could help out her friend.
3. The Roosevelts Had A Number Of Famous Relatives (Besides Each Other)
Most people know that FDR and Theodore were fifth cousins, Theodore and Eleanor were uncle and niece and FDR and Eleanor were fifth cousins once removed.
But did you know about FDR and these other well-known relatives?
11 presidents (John Adams, James Madison, John Quincy Adams, Martin Van Buren, William Henry Harrison, Zachary Taylor, Andrew Johnson, Ulysses S. Grant, Benjamin Harrison, William Howard Taft)
Two confederate leaders (Jefferson Davis and Robert E. Lee)
A general (Douglas MacArthur)
A statesman (Winston Churchill)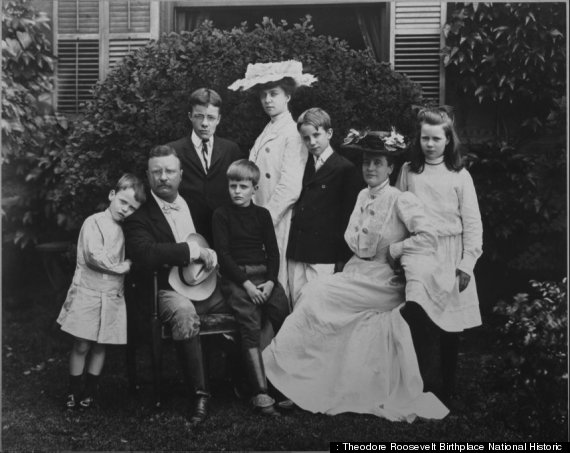 President Theodore Roosevelt with his family, 1903. Photo credit: Theodore Roosevelt Birthplace National Historic Site.
4. Then-President Uncle Theodore Gave The Bride Away
The happy couple married in a relative's parlor on March 17, 1905, 13 days after Theodore's inauguration. They picked the date specifically because the new president was scheduled to be in New York for the St. Patrick's Day parade, and his attendance hit all the front pages. This slightly annoyed Eleanor, who felt he was stealing her thunder... and she was right. As Theodore's own daughter, Alice, once observed: "My father always has to be the bride at every wedding, the corpse at every funeral, and the baby at every christening."
5. Theodore Never Got Over His Father's Lack Of Involvement In The Civil War
When the Civil War broke out in 1861, Theodore's mother, Mittie, a Southern belle, didn't want her husband to fight against her homeland. So Theodore Sr. reluctantly agreed and hired a substitute instead, a regular practice at the time. Theodore Jr. felt that was a giant failure on his father's part, and he spent his life trying to compensate for it.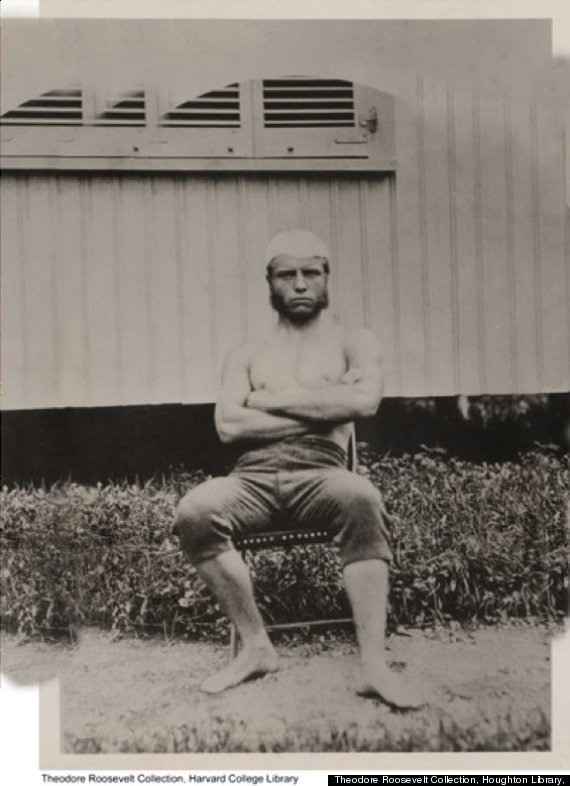 Freshman Theodore Roosevelt at the Harvard Boat House, 1877. Photo credit: Theodore Roosevelt Collection, Houghton Library, Harvard University.
6. The Roosevelts Suffered Some Heartbreaking Tragedies
Theodore's father died soon after Theodore entered Harvard College in the fall of 1876. He later met a classmate's sister, Alice Lee, and they married on October 27, 1880. Four years later, while Theodore was in the New York State Assembly, Alice died of kidney failure just as his mother died of typhoid fever. The saddest part? Both women passed away in the same house on the same day (Valentine's Day, 1884).
FDR's father, James, died when FDR was a teenager, and Eleanor's mother and brother both passed away from diphtheria when she was eight. Her alcoholic father died two years later. By age 10, she and her youngest brother, Hall, were orphans.
7. FDR Had Over 1.2 Million Stamps in His Collection
An avid philatelist since childhood, FDR was so fond of his stamps -- some of which had been created for him by foreign heads of state -- that he carried them in a special trunk when he traveled. He often met with Postmaster General James A. Farley to review upcoming releases. After he died, the collection sold at auction for three times its estimated value.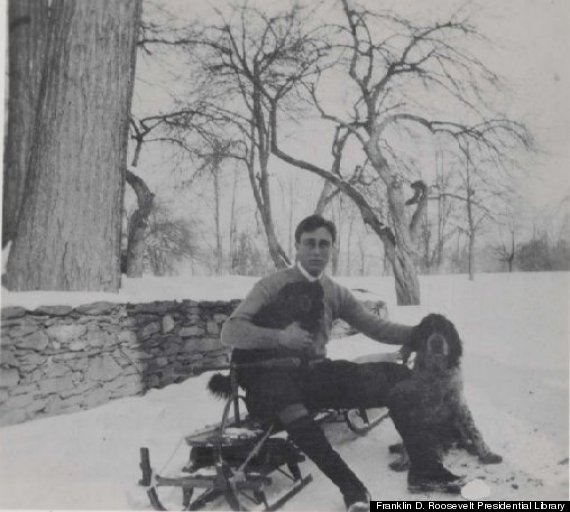 FDR at his home in Hyde Park, circa 1904. Photo credit: Franklin D. Roosevelt Presidential Library.
8. Theodore's Daughter, Alice, Was Quite A Character
Theodore Roosevelt's older daughter from his first marriage, Alice, was 17 when she moved into the White House. She was known for her vibrant wit; it was Alice who reportedly said, "If you can't say something good about someone, sit right here by me." The first daughter chewed gum, smoked in public, carried a snake to parties and ran up debts playing poker and buying clothes. She was so out of control that the president allegedly commented, "I can be president of the United States, or I can attend to Alice. I cannot possibly do both!"
9. Eleanor Was The First First Lady To Hold A Press Conference
And she didn't stop at just one. Eleanor held 348 of them between 1938 and 1945. In fact, she was so enamored with journalism that she wrote a daily syndicated column, "My Day," which lasted until her death in 1962.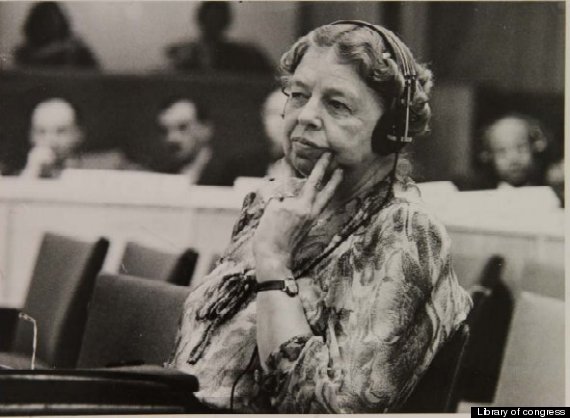 Delegate Eleanor Roosevelt at a meeting of the United Nations, 1947. Photo credit: Franklin D. Roosevelt Presidential Library.
10. FDR Was Essentially Responsible For Funding The Polio Vaccine
FDR contracted polio on August 10, 1921, the day he and his family went sailing on his boat, the Vireo. For several years after, he desperately tried to regain the use of his legs. He spent winters in Florida and summers with a Massachusetts doctor who had allegedly devised a set of exercises to treat polio patients. Nothing worked. Finally, FDR went to a run-down resort in Warm Spring, Georgia, which had pools of mineral rich waters. The water was so buoyant he could walk unassisted. He bought the resort in 1927 and converted it to a water therapy treatment center for polio patients. It became the Warm Springs Foundation and treated thousands of polio patients. The Foundation eventually became the March of Dimes, and was responsible for funding the research leading to the polio vaccine.
11. Theodore Was A Chatterbox
That Theodore could talk! Even after he was shot in the chest in 1912, he continued on with his speech, talking for over an hour before being rushed to the hospital. (His eyeglass case and stack of notes reportedly shielded him from the bullet.) He apparently asked so many questions in a college natural history class college that his professor, exasperated, exclaimed, "Now look here, Roosevelt, let me talk. I'm running this course!"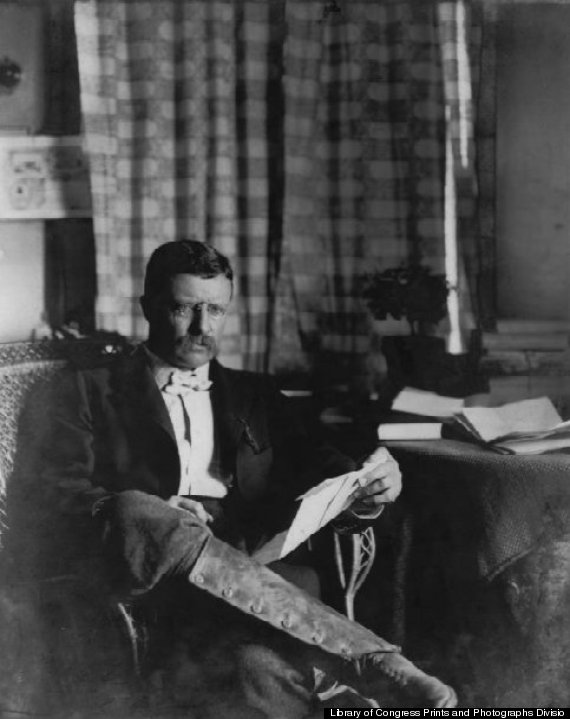 Theodore Roosevelt, 1903. Photo credit: Library of Congress Prints and Photographs Division
12. Theodore Almost Died On An Expedition To The Amazon
During a Brazilian jungle expedition in 1913, Roosevelt, and a group of explorers (including his 24-year-old son, Kermit), traversed the previously uncharted River of Doubt (Rio da Duvida). It was a dangerous journey, with turbulent rapids and dwindling food supplies. Roosevelt and his men eventually were forced to subsist solely on monkey meat. The men also battled fever and insect bites; Roosevelt nearly died from a high fever and leg injury. He told the other men to continue without him, but they refused.
They reached the end of the River of Doubt, later renamed renamed Roosevelt River by the Brazilian government, on April 27, 1913. Although the trek was a success in terms of scientific samples and analysis, Theodore was exhausted and plagued with recurring malaria for the rest of his life.
13. FDR Won The Presidency By 7 Million Votes -- The Greatest Democratic Victory In 75 Years
But what a country he inherited! When FDR was inaugurated in March 1933, banks in 40 of 48 states were closed, the Stock Exchange had suspended trading, nearly half of all American farmers faced foreclosure, and at least 40 million people had no dependable source of income.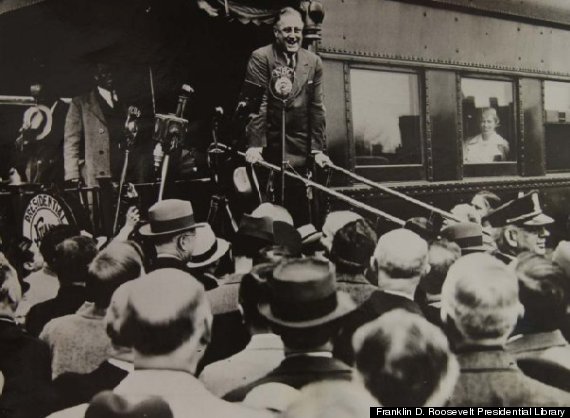 Congressmen welcome back President Roosevelt after a fishing trip, 1934. Photo credit: Franklin D. Roosevelt Presidential Library.
14. Theodore May Have Inadvertently Written Ad Copy
According to legend, a Maxwell House coffee executive asked Roosevelt what he thought of their coffee. "It's good to the last drop!" he supposedly exclaimed.
15. Theodore Roosevelt Would Have Been A Favorite In The Guinness Book Of Records
When he took office on September 14, 1901, Theodore was 42 years old, the youngest president in American history. He was also the first president to go down in a submarine, to be known by his initials, to leave the country while in office, to own a car, to win the Nobel Peace Prize, and to invite an African American to dine with him in the White House.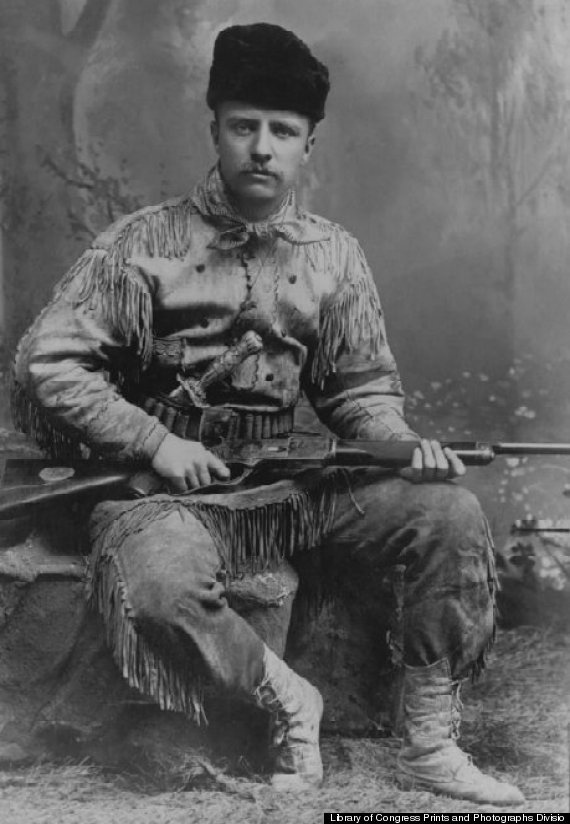 Theodore Roosevelt in his new buckskin suit, c. 1885. Photo credit: Library of Congress Prints and Photographs Division
16. Eleanor Roosevelt Had Her Own Special Friends
Eleanor came to rely on, confide in and love many people (both men and women) over the years. Toward the end of her life, she grew close to Dr. David Gurewitsch, a doctor 18 years her junior. When he became engaged to Edna Perkel, it took the two women a little time to adjust. But they worked through it, and eventually Eleanor and the Gurewitsches bought a house together.
17. Theodore Was A Major Conservationist
Theodore created 51 bird sanctuaries, four national game refuges and 18 national monuments. He also doubled the number of national parks from five to ten and set aside 280,000 square miles of land under federal protection of one kind or another.
Conversely, he was a passionate a Big Game hunter and went on exotic hunting trips. After leaving the presidency in 1909, he went on an 11-month, 2,500-mile safari through British East Africa and Anglo-Egyptian Sudan. Although the Smithsonian Institution commissioned it as a scientific expedition, it involved trapping or shooting over 11,000 animals, including everything from insects to the largest of game—elephants, hippos, and white rhinos alike.
Ken Burns' The Roosevelts: An Intimate History airs for seven consecutive nights on PBS stations starting on Sunday, September 14.
Correction: A previous version of this article stated that FDR was first inaugurated in November 1933. He was inaugurated in March of that year.
Calling all HuffPost superfans!
Sign up for membership to become a founding member and help shape HuffPost's next chapter