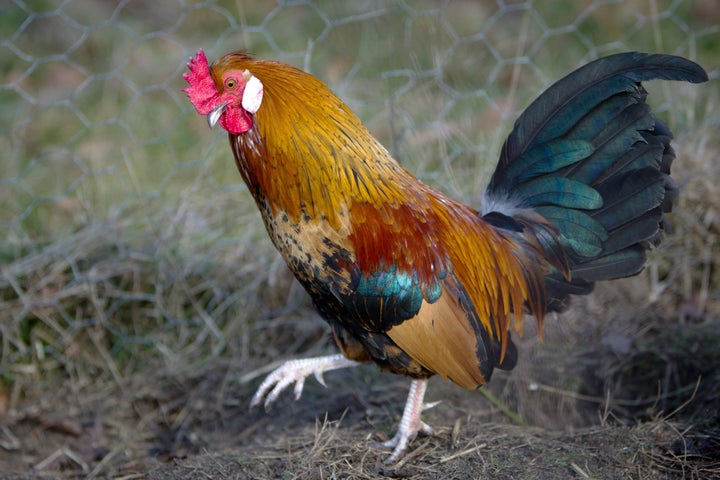 WASHINGTON -- Cock a doodle don't.
Stone profiles two roosters in the video. One, held by a young girl who says she received the bird as a gift, sleeps inside the house at night. The other rooster is owned by a boy named Ari, who says the bird protects his hens from hawks and crows about 10 times per day.
"I really love him," Ari says, petting his bird. "There's just so many other noises that are way louder."
"I think the roosters are too noisy," one annoyed neighbor tells Stone. "I think they're bothersome." This same neighbor says she wants the neighborhood to "come to a consensus" about the roosters before any new rules are imposed.
Stone revealed his own somewhat ambivalent feelings about roosters on Twitter:
This is not Takoma Park's first rooster kerfuffle.
For a decade, to the delight of some -- but only some -- a rooster named Roscoe lived in the neighborhood, "staking his territory on the lawn in front of and behind the apartment houses near Mark's Kitchen on Carroll Avenue," according to The Gazette:
An early bird, Roscoe cock-a-doodle-dooed at dawn while roving the main drag, loudly reminding some residents that it was time to get ready for work and others that they'd only gone to sleep a few short hours before.

Roosters don't come with a snooze button, and you can't program them to go off at 10 a.m. And this, Rubin said, is why the fowl was both friend and foe to the people of Takoma Park.
Roscoe, who avoided predators and animal control during his time in Takoma Park, met his end in 1999, when he was run over by a car.
"One day he decided to cross the road," [Larry] Rubin said. "Why? I don't know."
The neighborhood's feelings about Roscoe seemingly grew less complicated after the rooster's accident. According to The Gazette, a funeral was held, after which Roscoe was buried near the site of his death.
Related
Popular in the Community