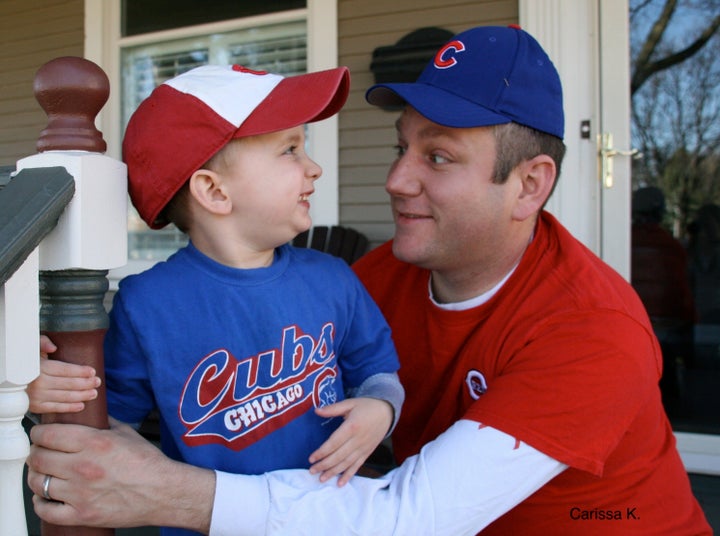 Baseball. America's favorite past time. Both in and out of the ballpark, baseball is special. The sights, sounds and smells of spring, followed by summer... and for a few fans, fall. The bat making contact with the ball and the roar of the crowd, either in person or over a crackly radio station, can evoke feelings of nostalgia, innocence and youth.
All over, we hear stories of how love for a team can cross generations. Bond father to son, grandfather to grandson, brother to brother. While I enjoy baseball and so do my daughters, I believe that for my husband, brother, son and father, it's something else.
Just the nature of the game forces an ease among these men that they don't often indulge in. With nine long innings they are lulled into the rhythm of a sport which gently unfolds, play by play. Still nursing their busted brackets at this early point in the season, April baseball is a welcome change of pace from the frenetic nature of March Madness basketball. Seasons aren't yet spoiled, injuries haven't yet happened, trades have not yet been made. Uniforms are bright and shiny. For baseball fans, April means beginnings, April means possibility and April means hope.
When our first child was born, both my husband and I would have been thrilled for the gift of either a son or a daughter. We had a son and I can't imagine it any other way now. As he grew from a newborn to infant during his first spring, I had huge, overwhelming moments of gratitude for his health and our newly -defined family. But I also had smaller, sweeter moments of gratitude over those first few months. One such moment was watching my husband quietly transform to a father. That's the thing about parenthood... it happens with one big birth moment, but it also happens with all of those subtle moments of nurturing, caring and sharing yourself with another.
As a new dad, my husband would sing to our little guy and coo him. Without a collection of traditional more mother-focused lullabies at the ready, my husband would offer "Take Me Out to the Ballgame" to our son.
Take me out to the ballgame.
Take me out to the crowd.
Buy me some peanuts and crackerjacks.
I don't care if we never get back.
Let me root, root, root for the home team.
If they don't win, its a shame.
For its one, two, three strikes and you're out
at the 'ol ball game.

My husband threw in a couple of little twists that always amused my son as he grew a bit older and as a young toddler, he knew which part of the song was coming next. My son's name is Jack, so of course there was always emphasis on the "cracker... JACK." Later, when we learned that Jack is allergic to peanuts, my husband would add a "yuck" after the "buy me some peanuts" part. And "root, root, root for the home team" was always replaced with "root, root, root for the Red Legs."
My husband grew up in Ohio as a Cincinnati Reds fan. His allegiance crossed generations and was one he shared with his maternal grandfather, his dad, his uncles and his brothers. As a child during the famous Big Red Machine era, he was just a year old when in a game 7 victory, the Reds won their first World Series in 35 years. Family legend has it that my in-laws and possibly my husband went to those games. We have a 1975 National League Cincinnati Reds pennant hanging in our basement, right next to the World Series pennant from the following year. More than 25 years later, my husband's buddies gave him a Reds hat with the team's autographs on it as a gift when we got married.
So, when we had a son, I knew my husband was excited to share his love of the Reds with him. On top of singing to Jack, I'd hear my husband whispering stories of the Reds championship games to him, or telling him about the famous Reds announcers, Marty and Joe. He talked a lot about the Big Red Machine and Sparky Anderson and just parts about Pete Rose. As a baby, Jack had pajamas covered with the Reds logos and a "Baby Reds fan" bib.
When Jack was just 15 months old, we moved to Chicago, and a little over a year later, when he was 2 1/2, my husband thought it'd be fun to take our toddler on an adventure. The Reds were playing the Cubs at Wrigley in an early September game and we could get reasonable tickets at the end of the season. What a historic and incredible ballpark for Jack to experience his first game... his first Reds game.
Caffeinated and energized, we took on a task that now seems rather daunting. Instead of driving, we decided it'd be more fun and authentic to take public transportation. Lets just say there's nothing easy about doing this with a 2-year-old, but again, my husband thought it was worth it for his son to see his first Reds game and this scenario was more realistic than a six-hour drive to Cincinnati.
Commuter BNSF line to the El red line; two train rides and we had arrived. The Friendly Confines gave us a hospitable welcome with warm fans and a sunny day. Jack ate two hot dogs and sat through seven innings. In Chicago, we declared a parenting victory as my husband's hometown team, the Cincinnati Reds, came up with an away game win.
Fall turned into winter and while "Take Me Out to the Ballgame" continued to be sung in our household, baseball wasn't such a hot topic anymore until six months later, the following April on Opening Day.
Six months on the developmental milestone scale of a 2-year-old is a quite a long time. In this time, our son went from toddler to preschooler. He had opinions and preferences of his own and was able to communicate those with us more and more as his vocabulary increased. Jack grew his passion for all things trains, spaghetti and the color red.
My husband interpreted Jack's choice of a favorite color as a sure sign that he was a Reds fan. When a unique opportunity came up for us to be in Cincinnati with my brother for the Reds' Opening Day, we hopped on it. We parked the car, and to say we were walking up to Great American Ball Park doesn't do it justice. My husband was absolutely giddy with delight. We skipped to Great American Ball Park. My husband hoisted Jack up on his shoulders, talking a mile a minute about the significance of this day, pointing out Cincinnati landmarks, and telling stories about how he listened to the Reds on the radio with his grandpa when he was a kid.
Like a scene from a baseball movie, it was a glorious, sun-soaked moment. One of those big parenting moments... the day you take your son to Opening Day and root, root, root for the home team! With a joking tone, my husband looked up at his son, perched on his shoulders and said, "Hey Jack, what's your favorite baseball team, Buddy?"
Without hesitation, Jack answered, "the Cubs! Go Cubs!" What!? Jack was reminded that Reds had the same name as his favorite color and that Daddy's favorite team is the Reds. 3-year-old Jack persisted with "the Cubs."
My husband laughed a bit nervously and asked, "Jack, remember your first baseball game... we saw the Reds play at Wrigley. Why do you like the Cubs?"
Confidently, Jack responded, "because the Cubs have trains."
"Trains? What trains, Jack?"
"At the baseball game, we took two trains. The Cubs have trains. The Reds have cars. I love trains. I love the Cubs."
And that was it. The big moment when my son gave himself a lifelong distinction as a Cubs fan. It was also one of those small, subtle parenting moment when you realize that this whole time while you've been singing "root, root, root for the home team" together, your child may have had an entirely different home team in mind.
It makes perfect sense. My husband grew up in Ohio. My son is growing up in Chicago. Of course, one might be a Reds fan and one is a Cubs fan. Today, many parents are raising their children in a different part of the world than where they grew up. While they might not share the love of a particular team, the love of baseball crosses generations.
Together, my husband and son attend at least one Cubs/Reds game every summer. Or one Reds/Cubs game... depending on who tells the story. My husband teases Jack when the Cubs lose and vice-versa. Over the years, its become a fun-loving banter and friendly rivalry in our family.
So, while I enjoyed seeing my husband make that transformation to fatherhood in those quiet moments so many springs ago as he'd sing a hushed "Take Me Out To The Ballgame" to our baby son, I realize now that the big transformation has happened quietly over the years. We give our children our roots to take hold, but they grow in their own direction. Because that's what parenthood is all about... teaching your child how to feel strongly about something, love something, have passion about it and celebrate it. The tricky part is to not tell them what that something is. That's the lesson for us parents: to simply trust that our children will discover their own something, in their own way.