Two things happened in theater yesterday that had me thinking -- The New York Times reported Sting was going into The Last Ship, which he wrote the score for, and The Country House closed. These two things are totally unrelated, but I'm going to write about both of them together.

I have looked upon the lackluster The Last Ship grosses with sadness. I also shook my
head when I read Michael Riedel's November 6 New York Post column essentially saying that, because the show isn't "fun," people aren't going. I went into the show not having liked Sting's Tony Awards performance and finding the original commercials horribly misguided. However I found the musical itself effective.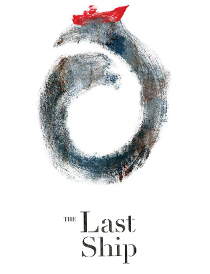 There are definite book problems -- the central romance/paternity tale is awkwardly stuck in a musical that seems to want to simply be about a town losing its identity -- but overall the show is touching. Sting has written a score that is at points haunting and at other points catchy. There is a beauty to the staging (and I say that despite my oft-stated dislike of Steven Hoggett's choreography). It is very ambitious in scope, and like most things that are ambitious, it doesn't always succeed. However it is always admirable in its striving. I left the theater telling people to go -- and I'm not one of those people who casually recommends almost anything. Is it fun? Well, there is a scene or two that is fun, but it's not Kinky Boots. But when did we start only pushing fun musicals? Is Les Miserables fun? Look at that title. As I wrote before I saw the show, I had been disheartened that the community wasn't supporting The Last Ship more. The Last Ship was the season's first musical to have an original score. It's not based on a movie. It is sweeping in scope. I'm happy that Sting is going in because hopefully tourists will go because of him. He deserves a tremendous amount of credit for supporting his show both by now becoming a member of its cast and, previously, simply by his constant presence and promotion. Those people going just to see Sting will also see a poignant musical, one worthy of support whether he is in it or not. I urge my readers to maybe go without Sting. The show needs to sell tickets beyond his guest starring appearance.
The Country House came and went without much fanfare. Most people didn't love it. I finally caught it Friday night and sort of enjoyed it, thanks mostly to the performances of Blythe Danner and Eric Lange. I ended up really feeling for their characters.

No, it's not a perfect play (by any means). But I'm always happy to see new plays. MTC doesn't get enough credit for using its Broadway house to, primarily, present new plays. No, they are not always the riskiest pieces, but the company is still at least trying to give new works a chance to shine. Currently three non-profits have Broadway houses: MTC, Roundabout and Lincoln Center. Lincoln Center also deserves applause for putting on a mix of revivals and rather ambitious new works in its one Broadway house. Roundabout has three Broadway houses. One it is renting out to Beautiful. One is housing a remounting of Roundabout's revival of Cabaret, essentially put on as a cash cow. (I know that is not what they say, but, come on. I don't really fault them for it -- times are tough -- but let's be honest about it.) The third, the American Airlines, is rarely home to new works. Clearly with this spring's mounting of On the Twentieth Century they are hoping for another semi-permanent resident revival, ala Anything Goes. (I personally wish the genius Machinal revival was given a longer life, but, that didn't happen.) So, while The Country House wasn't the most brilliant play ever written, I'm still happy I saw it, and I'm happy MTC produced it. The company's next Broadway play, Constellations, is a little more avant-garde than their typical fare. I'm looking forward to it. Importantly, the last Broadway revival MTC put on was two years ago. That is saying something. Hopefully if Second Stage does finally get the Helen Hayes they will use it as a venue for, primarily, new works. A revival every once and a while is fine, but without new works, the theater dies.
REAL LIFE. REAL NEWS. REAL VOICES.
Help us tell more of the stories that matter from voices that too often remain unheard.