When "Roots" first aired in 1977, millions watched as Kunta Kinte was hoisted up by his arms and whipped repeatedly until he unwillingly denounced his African name for his newly-given identity, Toby. Decades later, re-filming that poignant scene for The History Channel's remake of the program was as painful as ever for actor Malachi Kirby. 
The 26-year-old, who reprises the role of Kunta Kinte in the new reimagination of Alex Haley's tale, described the difficulty of depicting the scene in a recent conversation with The Huffington Post. He said that his emotions got the best of him while shooting the brutal beating, which aired Monday in the first part of the four-night miniseries. 
The day itself was tormenting, I remember getting to a point where I broke down. ...I remember, like physically, mentally, emotionally, like actually breaking down... I couldn't get up and I was never once hit, but I felt a pain unlike I've never felt before. My mind was tormented with the screams of what felt like every other person that had ever been through that. ...It was horrible and I couldn't get those cries out of my head. I wasn't prepared to go there. 
Kirby said his co-star, Forest Whitaker, helped him through the trying moment before he got himself together to attempt the take once more. 
"[Whitaker] was amazing. He just sat there and he was holding my hand while I was in tears and I was just out for like 15 minutes," he told Jacques Morel. 
Understanding the importance of the scene, Kirby said he wanted to portray his character's reaction to each searing lash with honesty. 
"I didn't want any of those cries to not come from a place of truth. It can't have just been a scream, it needed to come from somewhere else," the British actor said. "And to do that for a whole day was just horrible, but it needed to be. It needed to be that. It needed to be the truth."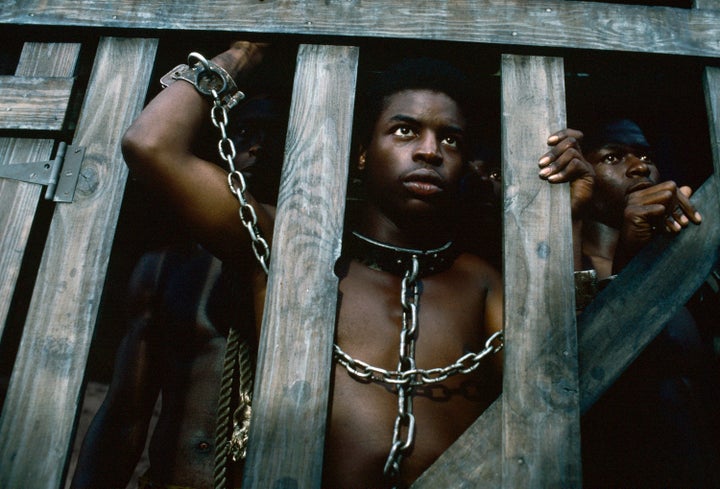 Although not much of the scene was changed for the remake, Kirby said there's one big difference between the 1977 version and newer one. The new script for that part of the film was "left open," allowing Kirby to stretch the scene much longer than the original. 
"There was no script really for that scene. It was like [keep saying Kunta Kinte, and] when you feel appropriate, say 'Toby,'" said Kirby, referring to the name that his character was forced to utter in order end his whipping session.
Kirby said that words of advice from LeVar Burton, who first played Kunta Kinte, pushed him to "resist" and elongate his version of the scene. 
"After ten [lashes], it was like, okay this is where you could give up, and LeVar's words rang from my mind. 'I am a mighty man,'" Kirby said. "And it caused me to resist longer than felt natural. But what I understood was [Kunta Kinte's] strength was not in his physical, but his spirit and he holds on to it." 
The end result was a longer whipping scene and a deeper understanding of Kunta Kinte's character. 
"We end up having 20 more lashes in this scene than we did in the original. I believe in the original there was maybe nine or 10 lashes. In this one, there was maybe 30 or 34 lashes," he said. "When he actually gives up [and says] that name Toby, it's a means of survival. It's not a means of submission." 
Part two of the four-night miniseries airs on Tuesday, May 31.
Hear more from Malachi Kirby in the video above. 
REAL LIFE. REAL NEWS. REAL VOICES.
Help us tell more of the stories that matter from voices that too often remain unheard.
BEFORE YOU GO
PHOTO GALLERY
"Roots" Premiere