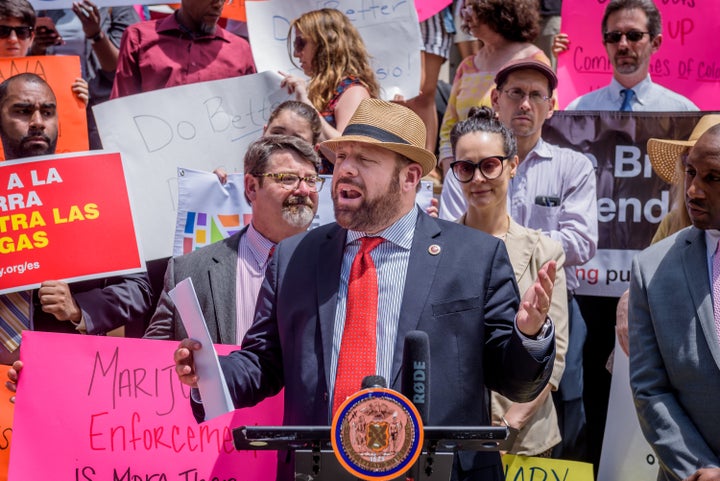 New York City Councilman Rory Lancman announced his bid for Queens district attorney Wednesday, making him the leading candidate to replace a seven-term incumbent who's gone unchallenged since the governor appointed him in 1991.
Nearly two months after floating his candidacy, Lancman launched his campaign with a video railing against racial and class disparities in the justice system critics in New York's geographically largest and most diverse borough say District Attorney Richard Brown, 86, inflamed with a heavy-handed prosecutorial approach. In the video, Lancman vows to "make it a priority to protect working people and immigrants preyed upon for their vulnerability."
"Justice isn't saddling young people of color with criminal records for the rest of their lives for some minor offense," Lancman, chairman of the city council's Justice Committee, says in the 100-second video, as the camera pans over a young black woman holding a basketball.
Lancman goes on to invoke the 2014 police killing of Eric Garner, a black man selling loose cigarettes in Staten Island, which went unprosecuted. "Justice isn't getting choked to death by the police in full view of the whole world and no one being held accountable," he says.
Gwen Carr, Garner's mother, subsequently endorses Lancman in the video.
The production of Lancman's cinematic video was overseen by Bill Hyers, a consultant for progressive candidates responsible for a number of famous viral campaign spots, including videos for U.S. House candidates Randy Bryce and Liuba Grechen Shirley; and U.S. Senate candidate Kevin de León.
In an interview with HuffPost, Lancman, 49, nonetheless insisted that he wrote the words in the video entirely on his own.
"There is a national wave of progressive, reform-minded district attorneys and that wave's about to crash in Queens," Lancman said.
The ripple of Krasner's election has reached some shores. In May, two progressive, black prosecutors won in North Carolina. In June, a spate of progressives lost in California's primary election. A progressive running for district attorney in Clark County, Nevada, fell short later that month.
Still, a change of prosecutorial leadership in Queens County, New York City's second-most populous borough, could be nationally significant. The county, which is home to about 2.4 million people, has a larger population than the entire city of Houston, Texas.
Queens is also one of the most diverse counties in the country, with a population that is mostly nonwhite.
Brown, who has Parkinson's disease, said he won't announce whether he'll run again until next year.
"My present term does not expire until December 2019 and I will make no decision about the future until sometime next year," he said in an email.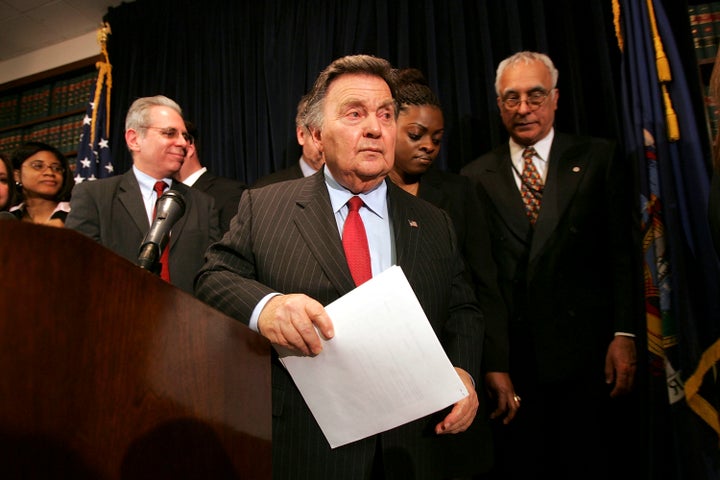 Activists argue that Brown, a Queens Democratic machine fixture first appointed to office by then-Gov. Mario Cuomo (D) to fill a vacancy, is a vestige of Queens' less diverse and more reactionary past.
"Brown's failure to evolve in regards to the key criminal justice reforms of his city and professional peers is both an embarrassment and a blight of on our community. We welcome the news of his departure," said Susan Kang, a Jackson Heights resident and leadership committee member for the New York City chapter of the Democratic Socialists of America.
"Queens in particular out of all the counties has a horrendous record that doesn't even belong in New York City," said Rafael Shimunov, a Flushing-based progressive. "I don't know any of my friends that I grew up with because they're all incarcerated ... I blame this squarely on the DA."
The Queens Democratic machine suffered a major setback in June when progressive insurgent Alexandria Ocasio-Cortez unseated New York Rep. Joseph Crowley, chairman of the Queens County Democratic Party and de facto machine boss, in the Democratic congressional primary.
Critics subsequently worried that the machine would work overtime to protect other sources of power by backing Queens Borough President Melinda Katz for the DA post when Brown retires.
If Katz enters the race, however, she will have to contend with Lancman's sizable campaign war chest. Lancman told HuffPost he has raised about $1 million.
Notwithstanding their criticism of Brown, both Kang and Shimunov declined to comment on Lancman's run.
Nick Haby, a pro-reform member of the Astoria-based Powhatan and Pocahontas Democratic Club, welcomed the city councilman's entry into the race as an opportunity to shake up the borough's Democratic politics.
"We need to challenge the establishment at every chance we get," he said.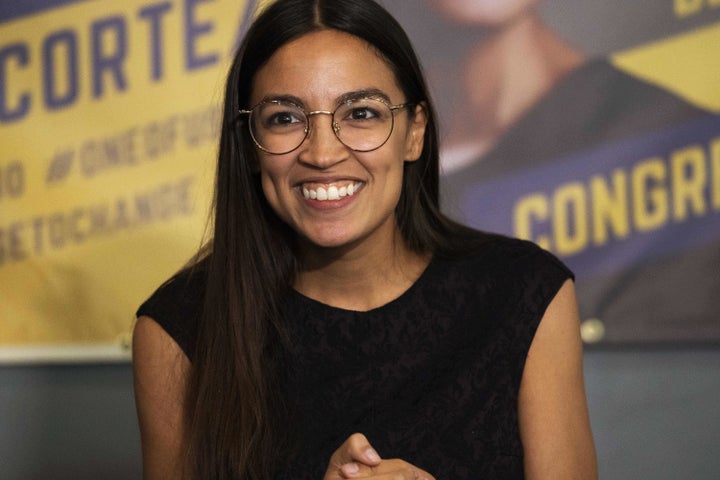 Lancman declined to personally criticize Brown.
But he offered a stinging indictment of Brown's office for continuing to prosecute low-level offenses like marijuana possession and subway fare evasion at a time when other boroughs have made strides to move away from punitive policing.
"Without a doubt, the whole criminal justice reform movement that is sweeping the country and that is present in all four other boroughs in New York City has just passed Queens by," Lancman said.
Lancman, like other criminal justice reform advocates, believes that this zero-tolerance prosecutorial style disproportionately burdens people of color and low-income New Yorkers who tend to be targeted more aggressively. (Lancman sponsored a 2017 law requiring New York City Mayor Bill de Blasio to reveal the racial and socioeconomic data of New Yorkers arrested for jumping subway turnstiles, and is now suing to force the mayor to comply with it.)
There is indeed evidence that the aggressive tactics of the Queens DA office are an outlier in New York City.
In the first half of this year, Queens arrested more people for misdemeanors than any other borough despite having the lowest overall arrest rate, according to city data.
"Some kid with a joint in his pocket is not my battle. My battle is the guy working 80 hours a week making sub-minimum wage and can't feed his family."
Lancman is running on an ambitious progressive platform that seeks to reorient Queens County resources away from minor infractions and toward the abuses of powerful entities that victimize working-class New Yorkers.
Among other reforms, Lancman said he would stop prosecuting marijuana smokers, turnstile jumpers and other low-level offenders; refuse to ask for cash bail from arrestees; use discretion to protect undocumented immigrants from deportation; and provide easier access to drug treatment.
Instead, Lancman plans to aggressively investigate and prosecute employers that do not pay their workers in full or violate workplace safety laws; landlords who illegally pressure working-class tenants to move out; banks that foreclose on homeowners unlawfully; and police officers who kill people without proper justification.
"Some kid with a joint in his pocket is not my battle. My battle is the guy working 80 hours a week making sub-minimum wage and can't feed his family," Lancman said.
"I don't understand why it's so hard for white people to not appreciate the fact that people of color have a different experience with law enforcement," he said.
Lancman, who represents a sizable Muslim population, mostly of Bangladeshi ancestry, also believes that the county has done too little to prosecute Islamophobic hate crimes.
"What we learn in the Jewish community is that every instance of hate has to be identified and has to be called out, because it is the small things that accumulate and create a culture where the anti-Semites or the homophobes or the Islamophobes think that there is room or space to act on their hate," Lancman said.
However, Lancman's candidacy garnered skepticism from some progressive organizers in Queens. In a series of tweets, Tia Keenan, an author and borough activist, said Lancman "is not the one." Keenan, who declined an interview request, recalled the councilman requesting a photograph with black activists at last year's Activism Fair in Queens' Forest Hills neighborhood and backing off when they demanded he proclaim his support for Black Lives Matter in exchange.
Louis Flores, an anti-corruption activist who campaigned for Ocasio-Cortez, criticized Lancman for voting to elect Crowley as the Queens Democratic Party chairman, allowing the defeated congressman to maintain his seat at the levers of the borough's machine.
"He's a very disingenuous candidate for Queens district attorney," Flores said of Lancman. "He's going to go along with whatever the Queens machine wants or will permit or will tolerate of reform."
Lancman's history of sparring with activists like Linda Sarsour, the Women's March organizer and former Arab American Association of New York executive director, could dent his progressive bona fides. In one contentious 2016 exchange, Lancman called Sarsour, a Palestinian-American Muslim, an anti-Semite over her support for the movement to boycott, divest and sanction Israel over its abuse of Palestinians and construction of settlements in the West Bank.
Last year, Muhammad Rahman, a former supervisor in the city Department of Social Services who challenged Lancman's council seat, blamed the incumbent for failing to secure public funding for youth programs at mosques, something he said "promotes Islamophobia." Still, Lancman called for "greater ties between the Muslim public and law enforcement" in 2016, and oversaw the renaming of a street after the Ahmadiyya Muslim sect earlier this month.
Lancman, who previously sat on the city council's environmental committee, could make environmental crimes a higher priority in New York's most ecologically diverse borough. He criticized de Blasio last year for failing to fill open slots in City Hall's sustainability office while calling for cuts to greenhouse gas emissions.
"If you look at the mayor's environmental policy team, it's depleted and unable to really effectuate any kind of grand vision of sustainability in New York City, let alone our unilateral adherence to the Paris climate change agreement," Lancman told The New York Times in June 2017. "The nuts and bolts of government are lacking."
"There's a significant disconnect between the policy goals the mayor announces and their actual fleshing out and implementation," he added.
This story was updated to include Brown's statement.
Before You Go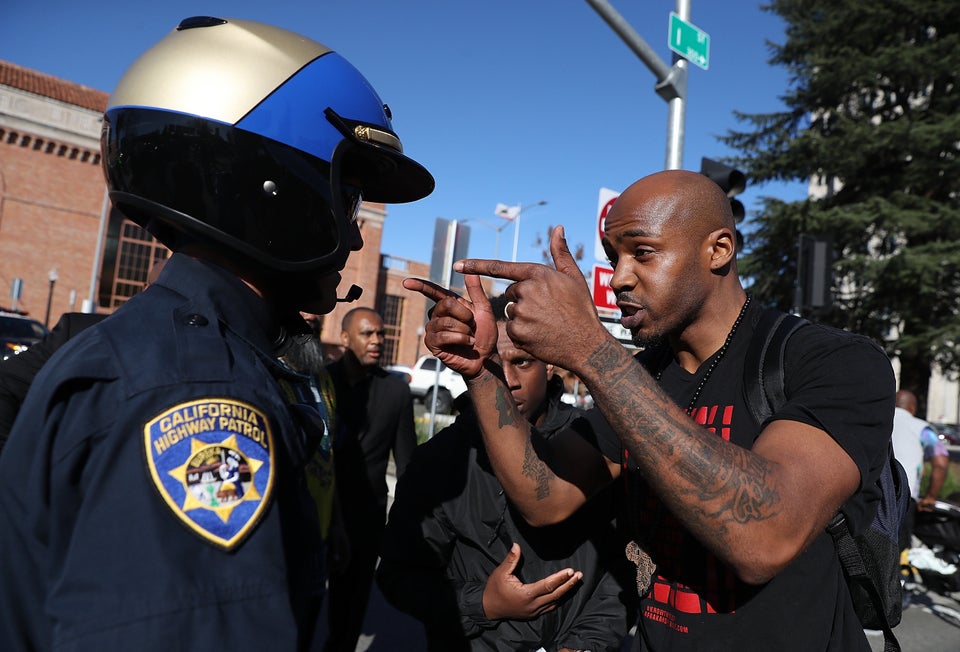 Black Lives Matter Protests After Stephon Clark's Death
Popular in the Community