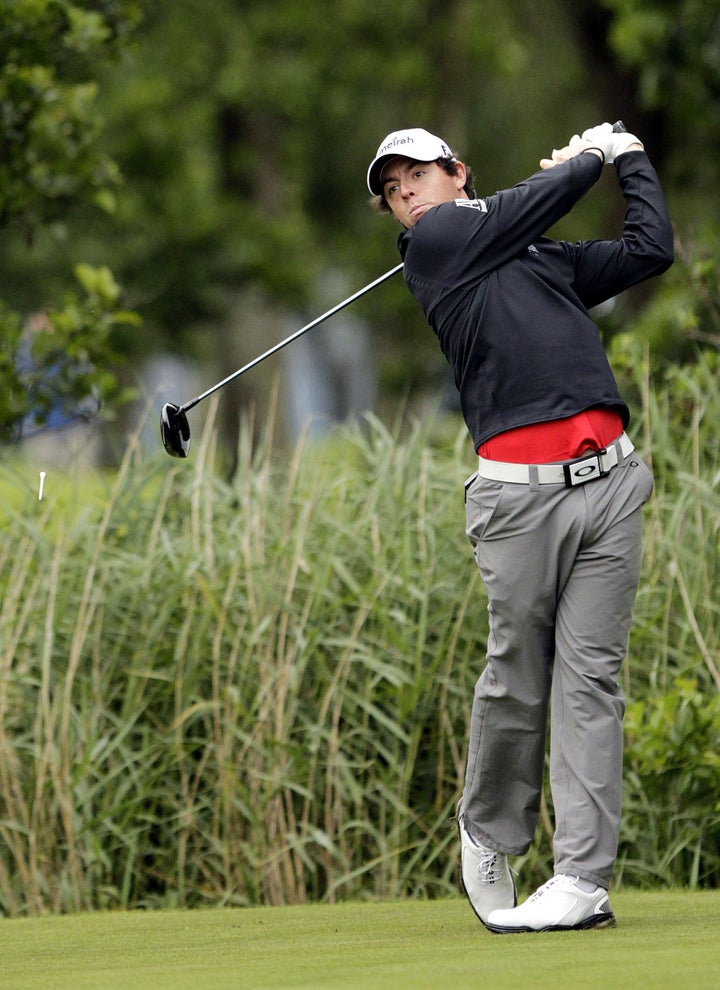 KILLARNEY, Ireland (Associated Press) -- Rory McIlroy showed his temperamental side after blowing an early lead and double-bogeying the 18th hole Thursday at the Irish Open, telling a TV commentator to "shut up."
After shooting a 1-under 70 to trail leader Jeev Milkha Singh by seven shots, McIlroy fired off a retort to the Twitter account of American analyst and former pro Jay Townsend.
"Shut up. You're a commentator and a failed golfer, your opinion means nothing!" wrote McIlroy, the winner of the U.S. Open.
Singh of India upstaged Ireland's major winners, shooting a career-best, 8-under 63 for a two-shot lead. He had an eagle and six birdies, the highlight coming on the 12th when a 20-foot uphill chip went in the cup.
Alexandre Kaleka of France had a 65, while Christian Nilsson of Sweden, Marcel Siem of Germany and Michael Campbell of New Zealand all shot 66s.
More than 20,000 fans were on hand in Killarney to watch homegrown stars led by British Open winner Darren Clarke, who shot 69, and McIlroy. He took an early lead of 4 under after the first 10 holes, but McIlroy's game grew erratic.
On the 18th, he drove into a bunker, then his attempt to find the green sailed far left into a pond.
Townsend, a former European Tour player providing live coverage for Irish broadcasters RTE, started blasting McIlroy's approach even before the ball hit the water.
"That's why you don't hit it in the bunker. Watch this," Townsend said, pausing for the splash.
Noting that other commentators had been describing McIlroy's play as refreshingly loose, Townsend said: "He plays silly, several times already today."
McIlroy came off the green with his head bowed and looking unhappy.
"To finish with a 6 at the last was tough to take," he said.
As he walked to the practice range, McIlroy was told of Townsend's criticisms both on RTE and on his own Twitter account. Townsend used the social media site to blame McIlroy's caddy since 2008, J.P. Fitzgerald, for overseeing "some of the worst course management I have ever seen beyond under 10's boys golf competition."
McIlroy fired back by Twitter. Townsend replied that he stood by his criticisms, and McIlroy that he stood by his caddy.
Later, McIlroy told reporters said he'd insulted Townsend in defense of his caddy, not himself.
"He's been having a go at J.P. every now and again. This was the first time I've responded. It was the straw that broke the camel's back," McIlroy said. "Now I've blocked him on Twitter so I won't be reading anything more."
Meanwhile, Irishmen Graeme McDowell had a 72, and three-time major winner Padraig Harrington finished with a 73.
Singh seemed to tame the course at Killarney, a resort town backed by stunning views of Ireland's largest mountain chain.
"I think it's one of the best putting rounds I've ever had. I nearly holed everything today," said Singh, 39, who is making a comeback after back problems last year.
McIlroy, who fizzled at the British Open two weeks ago, looked early on like the man to beat, making birdies on four of the first 10 holes. Then the accuracy of his drives deserted him, leading to a bogey on the 12th.
On the 14th, he struck a nearly impossible shot, hooking a ball around a large oak and on to the green to salvage par, and his touch appeared restored. McIlroy estimated it hooked 50 yards within a 125-yard distance.
"To be honest, I didn't really think I could get it on the green. I just wanted to get it up short. I caught it really nicely. It was definitely one of the best shots I've ever hit," McIlroy said.
But his gambling ways produced two mistakes on the 18th.
Several commentators and former players called McIlroy's reaction on Twitter immature and unwarranted, in part because they felt the criticism was accurate.
Former European Tour pro John McHenry said analysts should say "when a guy is making a (mess) of his round."
He said McIlroy's back nine featured "very, very loose shots, some of which were unforced errors. ... They were really a lot of poor decisions."
The 42-year-old Clarke of Northern Ireland admitted he spent much of the weekend in bed recuperating from his epic post-British Open partying, his first major win in a 20-year career. His drinking had been the talk of the nation for much of the past week.
Earlier this week, Clarke told those criticizing him to "get a life," but conceded Thursday that he'd done himself some damage.
"My self-inflicted man flu hasn't quite gotten that much better yet," said Clarke, who frequently paused to cough and sniffle. "But I'm feeling strong enough to play well."
The strongest Irish performance Thursday came from unheralded Colm Moriarty, ranked 536th and a regular on the second-tier Challenge Tour. He shot a 67, the same as defending champion Ross Fisher of England and several others.
Related
Popular in the Community