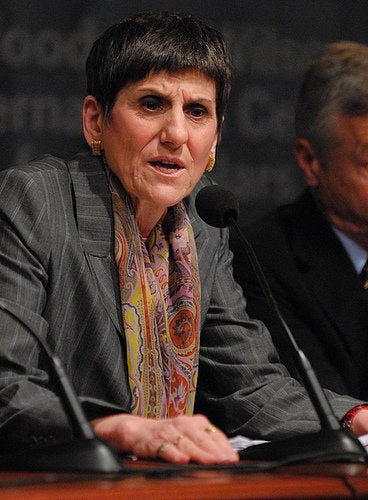 UPDATE: Several sources have chimed in to say that DeLauro is not likely to get the nod for Labor Secretary. No explanations were offered, but the sources were well positioned to know about the discussions. One person noted that her pick would have restored a bit of gender balance to the cabinet appointments, which have included men for Interior, Energy, and Agriculture.
In the past day, word has begun to surface that Rep. Rosa DeLauro is one of the finalists to fill out Barack Obama's last big cabinet pick: Secretary of Labor.
Sources in Democratic circles and the labor world aren't making definitive proclamations but they have confirmed that DeLauro, a veteran lawmaker from Connecticut, is in the running. Though, it should be noted, there are conflicting reports. Harley Shaiken, a Berkeley professor, is also an oft-discussed potential labor secretary.
Either way, a decision seems likely to come soon. The absence of an appointment to the position has been a slight irritant to the labor and progressive communities, which have watched as the president-elect staffed his economic team with a variety of pro-free-trade officials. The incoming Labor Secretary, moreover, will have a daunting set of challenges to tackle, from the rising unemployment rates to the passage of the Employee Free Choice Act. A head start, labor officials say, would be helpful.
At this point, there is enough surrounding evidence to see why DeLauro has vaulted -- without much anticipation -- to the top of Obama's list. The Connecticut Democrat has incredibly strong pro-labor credentials earned from her perch on the labor, health and human services committee. She is the second highest-ranking female in the House and is extremely popular in that body, having headed the Steering Committee, which oversees other committee assignments. In New Haven, her hometown, she has taken up the cause of labor and unions routinely, including protesting the treatment of workers by the food service giant Aramark earlier this year.
More importantly, she is close with Obama and his staff. DeLauro was the first member of the Connecticut delegation to endorse his presidential bid during the Democratic primary -- setting the way for her former boss, Chris Dodd, to do the same. Having worked in Democratic leadership in the House, alongside incoming chief of staff Rahm Emanuel, she has sufficient ties to key players in the new administration to ensure that labor has a seat at the White House table.
DeLauro's staff is pretty much in radio silence when asked about her prospects -- perhaps the truest indication that she is being discussed. The congresswoman was, it has been reported, recently in Chicago, home of the president-elect.
Calling all HuffPost superfans!
Sign up for membership to become a founding member and help shape HuffPost's next chapter