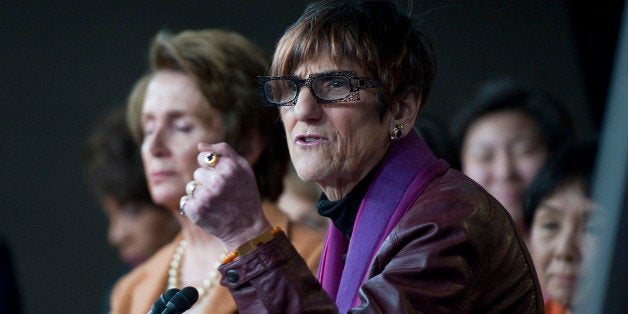 WASHINGTON -- Mary Lowe's description of her unemployment was hard for Rep. Rosa DeLauro to hear. The Connecticut Democrat winced as she listened to Lowe's story during a conference call with reporters on Monday.
Democrats had invited Lowe, of Irontown, Ohio, to speak about her experience on the call, which was organized to pressure Republicans into supporting a reauthorization of federal jobless pay. Lowe said she'd lost her job as a restaurant's general manager in February. She has a bachelor's degree in health administration and had previously worked for 15 years in management for a medical center.
"I'm indescribably thankful that the federal unemployment benefits were there when my state unemployment benefits ended in late October this year," Lowe said. "My husband had a sound and music business that had already fallen off before I became unemployed. He had already started having health issues, and two weeks ago he suffered a stroke."
Lowe is one of 1.3 million Americans whose longterm unemployment insurance will expire next Saturday. When the economy sours, Congress typically gives extra weeks of benefits to workers who run out of state funding, which usually lasts six months. Republicans have been reluctant to keep these benefits, which would cost $26 billion for another full year, but Democrats say the economy's too weak to let them go.
Congress adjourned for its Christmas break without taking action on longterm unemployment insurance. If the House and Senate approve the benefits when they return in January, Lowe and people like her would retroactively receive checks for whatever they'll miss during the lapse. Lowe credited the benefits with keeping her current on her mortgage.
"Our American dream, our good life seemed to be a reality. To have a Christmas with a few small gifts, because I squirreled away about $50 ... I'm sorry," she said, as her voice filled with emotion.
"Oh, gosh," DeLauro said. While it's common for Democrats to have unemployed people share their stories, it's less common for them to blurt things out in the middle of the person's remarks.
DeLauro had already spoken on the call, along with House Minority Leader Nancy Pelosi (D-Calif.). Both discussed the effects of failing to extend unemployment insurance.
"This hurts the dignity of the family, of the worker, one who has worked hard, played by the rules, lost his or her job through no fault of their own," Pelosi said. "Imagine the devastation that causes for a family."
"When a parent, especially a single parent loses a job, it can be a catastrophe for the entire family," DeLauro said. "It's hunger and poverty, it's stress, it's sickness and above all its despair, all follow in the wake of joblessness.
Lowe, who described herself as a registered Republican, said unemployment insurance had helped her family stay afloat. She said they'll sink if their assistance is cut off.
"When [Congress] left for the holiday recess before renewing this, they deliberately shut down my lifeline for my family," Lowe said. "The degree of callous indifference displayed by some of the lawmakers, it's beyond comprehension."
Listen to Lowe and DeLauro on the conference call here:
REAL LIFE. REAL NEWS. REAL VOICES.
Help us tell more of the stories that matter from voices that too often remain unheard.
BEFORE YOU GO
PHOTO GALLERY
Economic Predictions That Were Blatantly Wrong (Or Have Blatantly Yet To Come True)