At International Pow Wow 2012 in Los Angeles last week, Brand USA unveiled a new website, DiscoverAmerica.com and a theme song written by Rosanne Cash called "Land of Dreams" written to evoke a feeling about what America represents. A free download of the song is available on the website. (Brand USA was created by an act of Congress in 2010 to promote travel to the United States, which declined after September 11, 2001. International Pow Wow is a travel trade show where various U.S. destinations market themselves to international travel buyers and meet with international and domestic journalists.)
After exploring DiscoverAmerica.com, I think it may help Americans discover new destinations both across the country and in their own backyard. Visitors can "Explore" by clicking on pictures, searching by states, territories or major cities as well as using filters (including beaches, history, natural wonders, shopping and great drives) to sort possibilities. For those who prefer to daydream by reading travel journals, there are road trip reports from three international visitors. (Hopefully, in the future, female travelers will also contribute travel tales -- and perhaps even an American woman. Yes, I am available.)
By providing an email address to the DiscoverAmerica.com site, users can save info into a "suitcase." I found several items on the website that I wanted to save into a suitcase but couldn't. I wanted to find out more about the Indianapolis Zoo and save that to my suitcase, but I could only save info about the Indianapolis 500. (Although Los Angeles, Honolulu, New York, Dallas and Las Vegas are listed under major cities, Indianapolis and Houston aren't.)
Good News for Chinese and Brazilian Visitors
President Barack Obama addressed the International Pow Wow delegates by videotape, stressing the importance of international tourism to America and the efforts we are making to expedite the visa process while protecting our borders. Wait times for visas for Chinese and Brazilian visitors that once took weeks is now often accomplished in days. And visitors from 36 countries, including Britain, France, Switzerland, Spain, New Zealand and Australia, aren't required to have a visa.
Next year, International Pow Wow is set for Las Vegas, and presentations from Las Vegas made delegates eager to blow on some dice long before June 2013.
All photographs: Terry Gardner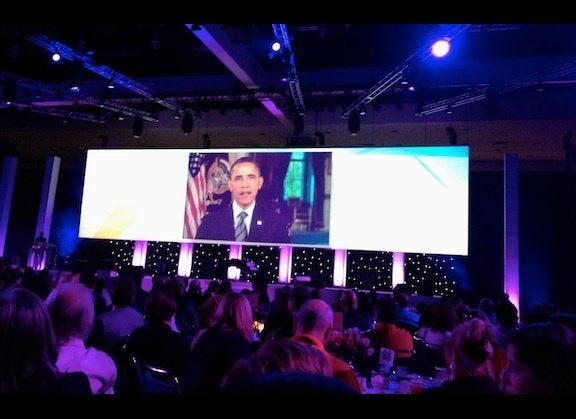 Scenes from the International Pow Wow