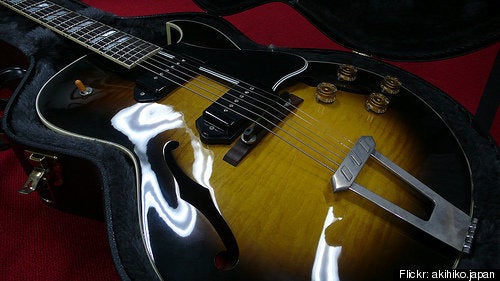 Finally, at the age of 54, Rosanne Cash has become a cover girl.
The eldest daughter of the late Johnny Cash, Rosanne is releasing her 12th studio album, The List on October 6 (Manhattan Records). But it's the first time she has covered other singers' songs on an entire album, getting a little help from her late, great, country-singing dad, of course.
In 1973, the Man in Black decided to educate his teenage daughter, giving her a list of what he considered 100 "essential" country songs. The Southern California girl who back then had a penchant for pop now says they should be considered classic American songs.
"This list is not only a personal legacy, but I have come to realize it is also a cultural legacy, as important to who we are as Americans as the Civil War, or the Rocky Mountains," she wrote on her website's blog.
Maturing into a prolific songwriter and Grammy-winning performer who has been in the business for more than 30 years, Rosanne Cash figured the timing was right to pass along this lesson in American history. After losing her stepmother, June Carter Cash, and famous father within months of each other in 2003, her mother, Vivian Liberto, died in 2005. Then Rosanne experienced a health scare that necessitated brain surgery on November 27, 2007, delaying her music career and giving her a chance to reflect on the family legacy.
Now, thankfully, she is back, and the result is a satisfying, if not totally riveting, record of country comfort. Cash's cozy vocals and the production/instrumental work of her husband, John Leventhal, provide just the right touch on this all-too-brief collection that is being marketed as a "contemporary interpretation," perhaps to reach out beyond the hardcore country masses. Some songs were written by country legends such as Hank Williams ("Take These Chains From My Heart" was the last song he ever recorded), Hank Snow ("I'm Movin' On") and Merle Haggard ("Silver Wings"). Others were turned into Nashville gold by classic artists such as Patsy Cline ("She's Got You"), Jimmie Rodgers ("Miss The Mississippi and You") and Don Gibson ("Sea of Heartbreak.")
Leventhal is a gifted guitarist and excels throughout, also playing drums, organ, piano and anything else with strings. Combined with Rosanne's sultry alto, this makes for easy listening in the best possible way. After hearing her slower but lovelier takes on "I'm Movin' On" (sounding like the Cowboy Junkies' Margo Timmins) and "Take These Chains From My Heart" (turned into a rowdy rave-up by John Doe and the Sadies earlier this summer), it's easy to understand why these are meant to be enjoyed in front of a crackling fire watching the first snowflakes of the season fall.
(Hear Ray Charles perform "Take These Chains From My Heart" on the country music/comedy show "Hee Haw":)
Rosanne, who was scheduled to appear on the Today show October 6 and the next night on the Late Show With David Letterman, does manage to break loose a time or two, though. She teams up with do-it-all duet-meister Elvis Costello on the album's jauntiest tune, Harland Howard's "Heartaches By The Number," which has been covered by everyone from Bing Crosby to Waylon Jennings.
Other formidable artists such as Bruce Springsteen ("Sea of Heartbreak"), Rufus Wainwright ("Silver Wings") and Wilco's Jeff Tweedy ("Long Black Veil") also appear but, like Costello, only in limited roles as some of the most illustrious backup singers ever to perform on one album.
(Johnny Cash recorded "Long Black Veil" several times, including for his groundbreaking live album At Folsom Prison in 1968, and again in a duet with Joni Mitchell on The Johnny Cash Show on ABC:)
Unfortunately, Bob Dylan, who recorded his "Girl from the North Country" as a duet with Rosanne's father back in 1969, isn't among the all-star cast.
(Dylan appeared as a guest on Johnny Cash's ABC network show in June 1969 and the two performed three duets, including "Girl From The North Country":)
Nor are there any of the many Country Music Hall of Famers still making music today. Again, the intention may have been to appeal to a broader audience, but consider the hidden gems that might have been uncovered by digging deeper into those royal roots.
Well, now there are 88 more songs remaining on the list (make that 86 after Neko Case assisted on an iTunes bonus selection of Porter Wagoner's "Satisfied Mind" and Chris Thile was featured on "Sweet Memories," which appears only on CDs sold at Barnes & Noble). This is the time to Cash in on a perfect opportunity.
In fact, Rosanne could make this a yearly tradition. She's passing on the legacy (and the list) to her children, including Chelsea Crowell, Rosanne's 27-year-old daughter who is getting ready to release her debut album. Chelsea, whose father is straight-talkin' hard-rockin' country artist Rodney Crowell (Rosanne's first husband), is already lending a hand here, providing harmony on "500 Miles."
Rosanne is also bringing her past into the present on another website dedicated to showing photos and other memorabilia from her family's rich history at thelist.tumblr.com/. (About an early picture taken with her sister Kathy, Rosanne, shown at left, says, "My mother passed on to us our love of a good handbag. Unfortunately, she did not pass on to me the ability to sit like a lady.")
Rosanne offers other humorous, and often insightful, comments throughout the site, which is a virtual open scrapbook. She also invites anyone with a story to tell about a family heirloom or parts of their past to pass them along. Maybe they could even add to Johnny's essential "A" list.
As long as the suggestions from Rosanne's fans aren't listless, Cash has a chance to cover all the bases.
Credits
Rosanne Cash publicity photo by Deborah Feingold.
Calling all HuffPost superfans!
Sign up for membership to become a founding member and help shape HuffPost's next chapter