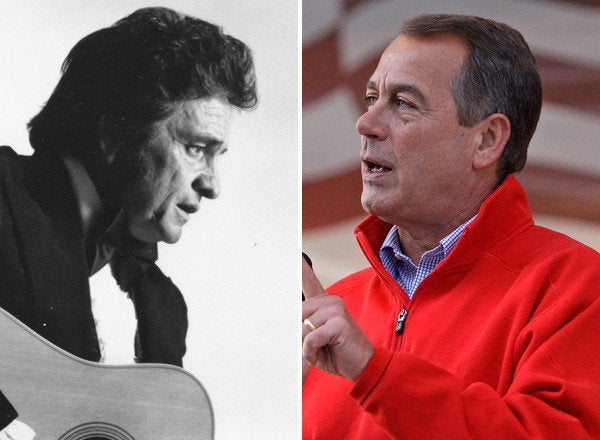 House Minority Leader John Boehner has been walking the line on the campaign trail, conjuring up American icons who may or may not agree with his message in order drum up support from his base. Rosanne Cash, daughter of the legendary singer Johnny Cash, a name frequently brought up by the GOP leader, apparently thinks that line has been crossed, as she recently tweeted a demand -- and an insult -- to Boehner asking him to cut it out.
"John Boehner: Stop using my dad's name as a punchline, you asshat," Cash wrote in a tweet Monday.
The New York Times reports on a joke that has become a staple of Boehner's campaign trail repertoire:
At each stop he draws on nostalgia for the Republican glory days of the 1980s, by telling the same joke. "Remember when Ronald Reagan was president," he said. "We had Bob Hope. We had Johnny Cash. Think about where we are today. We have got President Obama. But we have no hope and we have no cash." It draws hoots of laughter and applause every time.
Gauging the twitter dialogue, the response to Cash's defense of her father seems largely positive, though some appear to have taken offense to the slight at Boehner. To one detractor, Cash responded:
"[H]e didn't sign on to be punchline for some politician; he's not here to defend himself. He deserves more honor. Think what you will."
As Johnny Cash, who didn't usually wear partisanship on his sleeve but was renowned for his politically charged lyrics, once sang in "The One On The Right Is On The Left":
"Don't go mixin' politics with the folk songs of our land

Just work on harmony and diction
Play your banjo well
And if you have political convictions keep them to yourself"
Popular in the Community