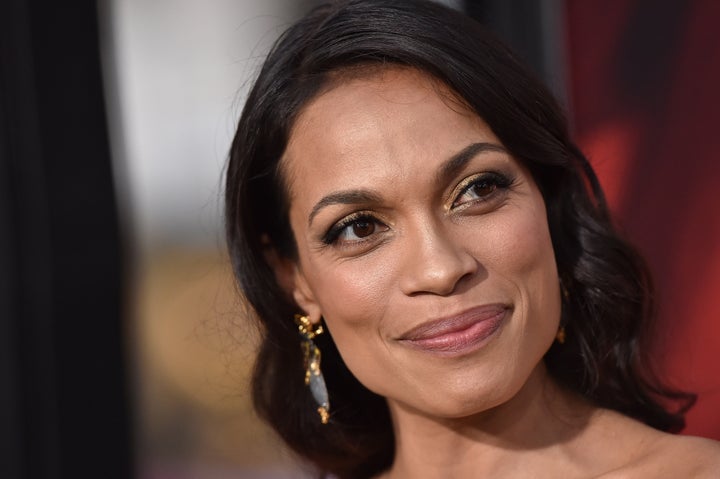 Actress Rosario Dawson spoke candidly about the sexual assault she experienced as a child in a recent interview on the feminist podcast "Morado Lens."
Discussing the movement to denounce sexual harassment in the workplace and beyond, the "Daredevil" star said she believes society is becoming more conscious and that younger people are more likely to feel that their voices matter. This is particularly important when creating change, Dawson added, since people who feel discounted in one aspect of their lives are often less likely to speak up when they're discounted in other areas.
"I was raped and molested as a child, so for me the world was like that since I was a child," she told hosts Cindy Rodriguez and Nathalie Farfan in the podcast episode, which was published Wednesday. "So when I saw it at the workplace, it wasn't foreign to me. It was like, well, that even happens within family. It happens with people that are supposed to take care of you when you're a child."
Dawson said that although she's spoken out against sexual harassment in the past, the issue is "insidious" and harassment is not a "binary, man/woman thing," but about people abusing power. 
The 38-year-old actress also spoke to Morado Lens about her spiritual journey, including what changed after finding her 26-year-old cousin Vaneza Ines Vasquez unresponsive in her Los Angeles home in May. Vasquez was pronounced dead at the hospital. 
"[When] my grandma died at 75, it put this really gloomy future ahead of us, like wow, we only have but so many years left if you live as long as Mima did," she explained. "But when Vaneza died, it was like, oh my god, regardless of how well I've spent these years, I've already got 12 more years of life than Vaneza will ever have. And I think what it really did was give me back my gratitude."
She continued: "Whenever my moment comes, I wanna know that it's been a good life. I don't wanna be marinated in the upset ― because I have a lot trauma and sadness to dwell on if I want to ― but there's so much beauty and so many things to be grateful for. And I don't want to waste my time not being dedicated to that."
"I've been dealing with a lot of loss lately and reconnecting with my family and my friends in a different way," she said at the time. "I'm realizing how much I've pulled myself back, and I've been just really humbled by this opportunity tonight."
Calling all HuffPost superfans!
Sign up for membership to become a founding member and help shape HuffPost's next chapter