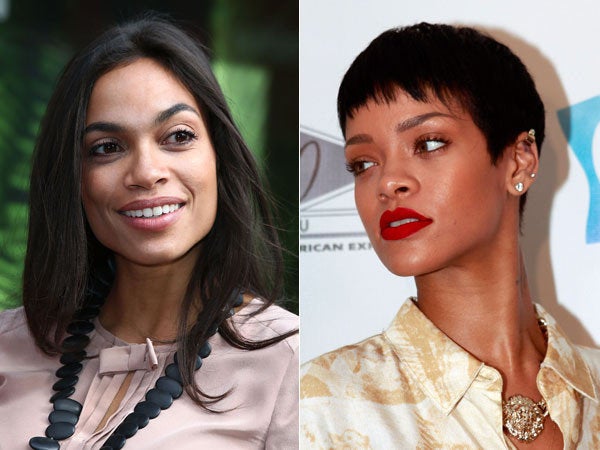 "She shows classic signs of battered woman's syndrome. In her eyes he's weak and needs her love and protection from the meanies out here saying he's abusive. They don't know him like she does," one reader wrote. Another said they were quitting Rihanna altogether: "Love is great - especially when you repeatedly get punched in the face. So sad. Good Luck Rihanna - I'm not in your corner anymore."
This harsh pseudo-psychoanalyzing of Rihanna isn't helping anyone, says actress Rosario Dawson, perhaps unsurprisingly. Dawson has teamed up with the Allstate Foundation for October's National Domestic Violence Awareness Month. The 33-year-old actress said that readers should lay off blaming Rihanna for any steps that she does or does not take with Brown.
"Had Rihanna not been a victim of domestic violence, we probably wouldn't be holding her feet to the fire to stand up for it," Dawson said. "Support is the critical part of it, not giving criticism, not being judgmental towards people. I'm not going to blame the victim in this situation and say you should be doing something. I'm sure being berated for not doing something is not necessarily going to make it happen better or more. It prevents other people in the future who might be publicly exposed for being in a domestic violence situation -- that's going to prevent them from stepping up as well."
A survey released by the Centers for Disease Control and Prevention last year showed that one in four women in America has been the victim of domestic violence. According to Dawson, 145 women every hour are affected by violent behavior from their partner, while three women die per day as the result of domestic violence.
Dawson, who has starred in some terrifically violent films, like 2007's action-horror flick "Grindhouse" and 2005's "Sin City," thinks that each person is accountable for their own actions. In other words, Dawson doesn't buy that Hollywood plays a helping hand in influencing violent behavior at home.
"People have to take responsibility for what they're choosing to do in their own lives," she said. "There's a big difference in me growing up loving 'Conan' and 'Die Hard' and 'Rocky' and not becoming a violent person. There's a difference between entertainment and actually throwing acid in someone's face or raping a woman or abusing a child."