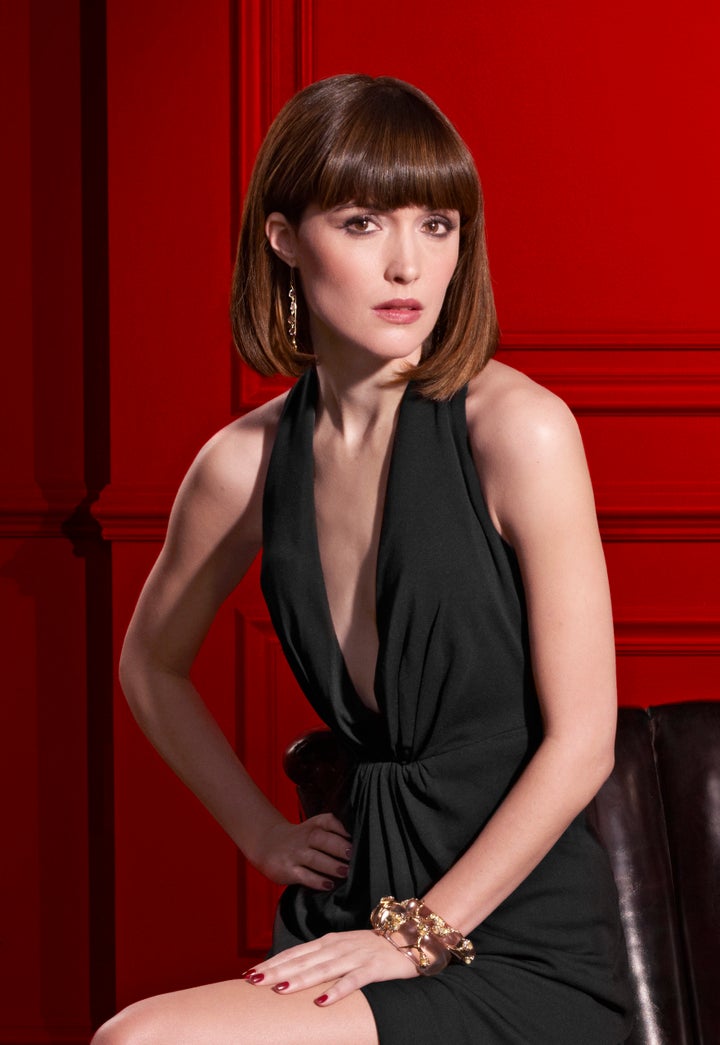 For Rose Byrne, the journey of her "Damages" character Ellen Parsons has been a very personal one. As "Damages" enters its fifth and final season (premieres Wed., July 11, 9 p.m. ET on DirecTV's Audience Network), Byrne said she is letting go of Ellen "bit by bit."
"I'm very protective of her," Byrne told me on set while filming the series finale in March. "For me, it's someone who has been entirely changed by an experience from start to finish."
The experience she's referring to? Life with Patty Hewes, the villainous lawyer co-star Glenn Close has made iconic.
When viewers first met Ellen Parsons, she was fresh out of law school and looking to make her mark in the legal world. Enter Patty Hewes (Close) who had motives of her own for hiring, mentoring and then attempting to kill Ellen.
"This relationship changed her in every single way that could be possible," Byrne said.
After years of backstabbing, manipulation and talks on the dock, Season 5 sees Ellen going up against Patty once and for all in court. From the looks of the trailers, it's not a happy ending for Ellen.
It's the last season. Patty vs. Ellen, finally. What else do fans need to know?
For fans of the show, I think it's a very satisfying experience to watch this unfold. There's no better opponent than Ellen for Patty because Ellen was taught by her, knows her best tricks and her moves before Patty does. It's really more what Ellen is willing to do, whether she's willing to go as far as Patty does. It's a very cool thing to set up for the fans because it's very sort of satisfying.
What does Ellen Parsons mean to you after all these years?
I'm very protective of her. For me, it's someone who has been entirely changed by an experience from start to finish. This relationship changed her in every single way that could be possible. And yeah, on a personal level for me for the last five years, it's something very hard to let go of and to really understand and have a perspective of somebody that you've been involved with for that long.
How are you saying goodbye to Ellen?
Bit by bit, I guess. It's been really fun this season because she's been pushed and she's done a lot of compromising things and a lot of fun things, things that I haven't gotten to do before. She's slowly become tougher and tougher and tougher. [Laughs.]
So Ellen will be doing some Patty-esque stuff?
There's some stuff that we're trying to play with -- a little bit of that.
And you have a new lieutenant in Janet McTeer.
Yes, Janet is kind of my lieutenant in defending Ryan Phillippe. We have great supporting cast and guest stars this season. We always have incredible actors come on -- we've just been spoiled.
Was there one you didn't want to say goodbye to at all?
I loved Timothy Olyphant. He played Wes in Season 2. We had a lot of fun and good chemistry. He was great.
What will you miss the most about the show?
Working with Glenn. She's just incredible and having her as a scene partner is just so fun as an actor.
Yeah -- she said your growth from when you first started on the series has been similar to Ellen in some ways.
Yes, oh yeah! Very parallel. It's crazy. The passage of time -- it's a very strange thing to have it documented, these five years of your life, like even physically how you change from season to season, you get older, it's bizarre. But yeah, I'll miss doing a season with Glenn, for sure.
Do you feel like you were on a journey of growth with Ellen?
Yeah, and I think the ages of 27-32 are huge years in terms of changing. It did really parallel a lot of my own life with Ellen's life -- except I wasn't killing or murdering people [laughs] ... or getting people out of prison or putting them in.
Do you think this is it for you and the character? Would you reprise the role?
Uh, I can't see it at the moment, reprising her, but you never say never. This show has had many lives.
What have you learned from Ellen as a person yourself and in acting?
She doesn't sweat the small stuff. She's not neurotic, she lets things slide. I can be very neurotic, worried and panicked, and Ellen's not really like that. She's far more kind of cool about things, which I think is something I really admire. There's a toughness and a steeliness about her.
Even when she's almost getting murdered ...
Yeah, she doesn't sweat it and that I really admire. I'm just so hung up about what people think, such superficial bullshit, and she's very above that in a way that's not very pretentious or arrogant, but just kind of at peace in a way.
What's the biggest unanswered question you have about Ellen?
My sister was put in jail in Season 3 and I'm not sure where she is. [Laughs.] We've never discussed it again -- she's vanished! Carrie Parsons!
Would you ever do series TV again?
Absolutely, I think the way the material is, I'd be open. TV is so great at the moment and there's hardly any movies being made as well. [Laughs.]
"Damages" Season 5 premieres Wed., July 11, 9 p.m. ET on DirecTV's Audience Network.
For more on the final season of "Damages," click over to my Q&A with Glenn Close and check back with HuffPost TV after the season premiere for more with the cast and crew.
PHOTO GALLERY
Damages Season 5
Calling all HuffPost superfans!
Sign up for membership to become a founding member and help shape HuffPost's next chapter
BEFORE YOU GO