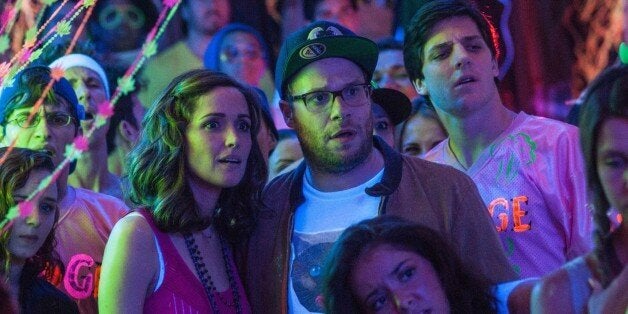 "I worked with her on 'Get Him to the Greek.' I think she's literally Meryl Streep," director Nicholas Stoller told HuffPost Entertainment at SXSW on Sunday, one day after Universal debuted a work-in-progress cut of the comedy. "She can do every kind of character and none of them are like who she is exactly. From the very beginning, when we were talking about this couple, she was at the top of our list."
Byrne and Rogen star as that aforementioned couple, Kelly and Mac, new parents who have their lives thrown into further disarray when a fraternity house run by Efron and Franco moves next door. "Neighbors" tracks the escalating war between the two residences, as well as Byrne and Rogen's slow realization that they are no longer young and cool. (A hilarious conversation between Rogen and Efron's characters about whether Batman is most associated with Michael Keaton or Christian Bale puts the generational divide in pop-culture context.) Within that setup, Byrne's character is allowed to express just as much immaturity and confusion as her onscreen husband, yanking "Neighbors" out of the familiar pool of male-driven, arrested development comedies which have risen to prominence in the last decade.
"When I had my first baby, I had a nervous breakdown. As did my wife," said Stoller, who also directed "Forgetting Sarah Marshall" and "The Five-Year Engagement." "It wasn't like she was fine with it. When I asked all my friends, they said the same thing: everybody has a nervous breakdown. Usually in movies, just the guy does. It's unrealistic."
Eschewing those expected norms, however, may have an unintended consequence: exposing how audiences are now conditioned to expect the worst when it comes to the portrayal modern-day wives and girlfriends in studio comedies.
"There was a funny thing where we had a test screening, and there was a focus group afterward. Rose's character always tests really high. We were talking to the focus group and asked, 'Why do you like Rose?' And this guy was like, 'Because she was, like, not just yelling at her husband,'" Stoller said before breaking into laughter. "That's the lowest fucking bar. Rose does a great job, but we could do anything. Just be nice to Seth and we would get accolades."
As Stoller recalled, crafting Byrne's character was a collaborative effort, one that started with Andrew J. Cohen and Brendan O'Brien's script and extended to the actress herself.
"Rose helped us, too," Stoller said of making sure that Kelly was never, in his words, a "shrew." "There was still even a little bit of that in the draft as we got closer to shooting. It was actually when they go over to the frat on the first night. We only had Seth sneaking out and lying about it to Rose. She was like, 'I think I would go.' We were like, 'Okay, you're right. Of course!' It takes you a while to figure very obvious things out."
"Neighbors," which Stoller said was mostly locked in beyond some sound mixing and finalized end-credits, is out in theaters on May 9.
Calling all HuffPost superfans!
Sign up for membership to become a founding member and help shape HuffPost's next chapter
BEFORE YOU GO
PHOTO GALLERY
"Neighbors" At SXSW