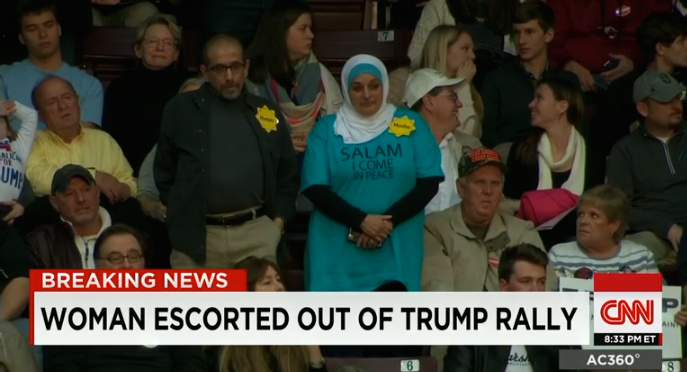 ROCK HILL, S.C. -- Rose Hamid, a 56-year-old flight attendant, was removed from Donald Trump's rally Friday night while silently protesting, one of several disruptions to occur during the Republican presidential candidate's event.
Hamid, who wore a shirt reading "Salam I Come In Peace" and a yellow "Muslim" star, a reference to the persecution of Jews in Nazi Germany, told CNN later that she attended the event with peaceful intentions.
"I have this sincere belief that if people get to know each other, one on one, that they'll stop being afraid of each other and we'll be able to get rid of all this hate in the world, literally," Hamid told CNN's Don Lemon. "So that was really my goal, was to let people see that Muslims are not that scary."
Trump, who has called for a temporary ban on Muslims entering the United States, spoke Friday night about how President Barack Obama refuses to acknowledge "radical Islamic terrorism" and suggested Syrian refugees may have terrorist ties.
Disruptions are commonplace at Trump rallies, and supporters typically wave signs and shout "Trump! Trump! Trump!" or "U-S-A! U-S-A!" as protesters are escorted out, as several were on Friday.
Hamid said some attendees used hateful rhetoric, with one asking if she had a bomb.
A Huffington Post reporter, seated in a different section of the Winthrop Coliseum, heard no anti-Islam rhetoric during the incident. Loud cheering could be heard as Hamid and other protesters were removed by police.
Hamid said on CNN that the Trump supporters seated near her "were lovely." She said they had conversations throughout the evening and even shared popcorn. But Hamid said a "hateful crowd mentality" took over after she stood up.
"It was really quite telling and a vivid example of what happens when you start using this hateful rhetoric and how it can incite a crowd where moments ago were very kind to me," Hamid said.
After the incident, Hamid said a woman told her she was sorry for the treatment from some in the crowd.
"I never felt truly threatened," Hamid added. "I was not afraid of these people because I think -- I truly believe that decent people would have stood up and not permitted that."
Hamid was seated behind Trump, so it's unclear if he saw much of what happened. But Trump fed off the crowd's energy following each disruption, remarking how his events are a better alternative to sleepy candidate appearances.
"Isn't a Trump rally more fun than all these others?" he asked, to cheers from the crowd.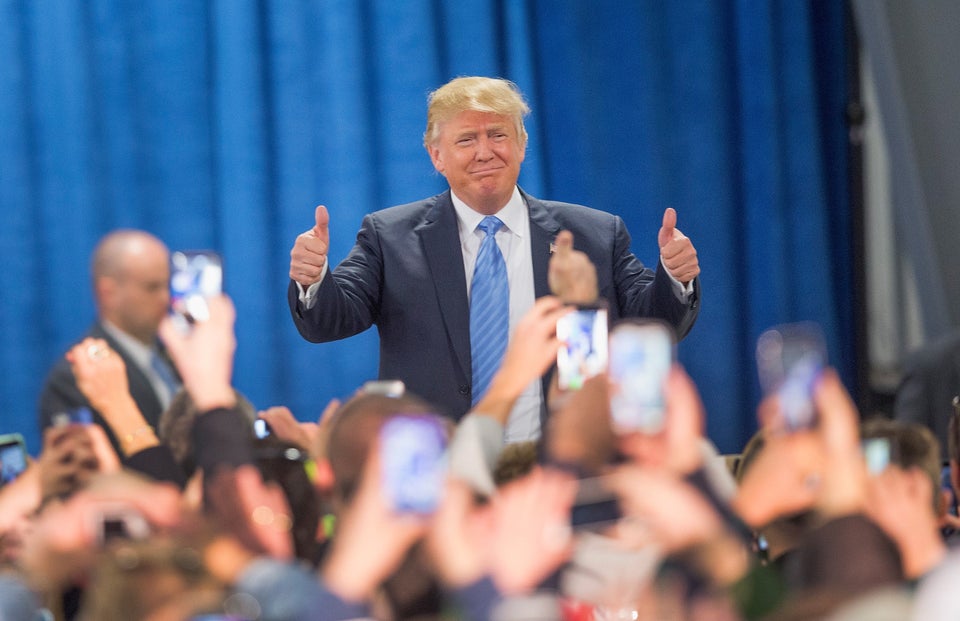 Donald Trump On The Campaign Trail
Popular in the Community