"I was surprised at the many party goers celebrating Bianca's birthday at Studio 54 in 1977, when she rode that great white horse for a minute or 2. I had to be fast and capture a moment that would be sent around the world..." - Rose Hartman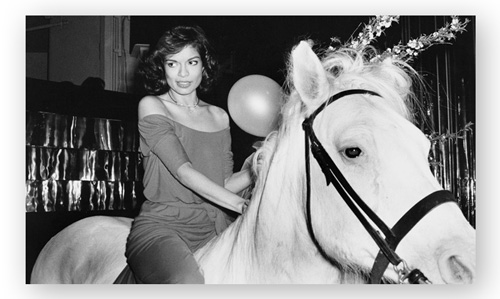 Bianca Jagger rides into Studio 54 on horseback for her birthday, 1977
'It takes a few seconds to get the image," Rose Hartman likes to say, "Plus 35 years of work to produce the results that I can in my best pictures."
Results that are in evidence in the exhibition "Incomparable Women of Style: Selections from the Rose Hartman Photography Archives, 1977-2011," including more than 60 photographs. Extended to February 1st, 2012 at the Fashion Institute of Technology's Gladys Marcus Library Department of Special Collections and FIT Archives, it celebrates Hartman's gift of her entire photography archives to FIT. The show also documents in words Hartman's journey from English teacher to magazine writer to pioneering female photojournalist in the 60's and 70's.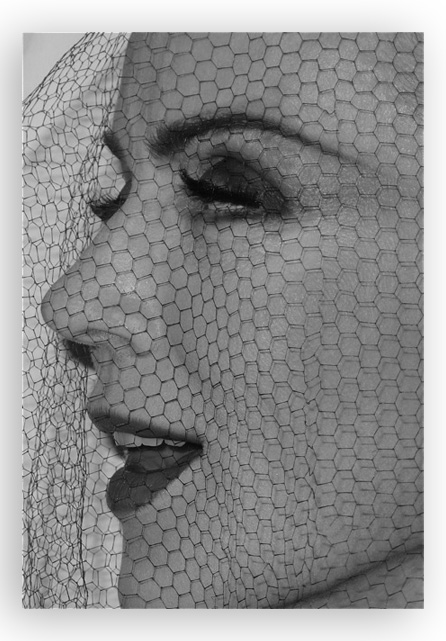 Daphne Guinness at a private dinner following the opening of David LaChapelle's show, 2011.
"When I began competing to get that perfect candid shot, there were very few women," Hartman told us. "Needless to say, the male photographers were and still are mercenary. I managed to hold my own in some very challenging situations."
Rose also found herself in novel situations as a result of her individual point of view about her art and ability to be present without disturbing the scene. "I fitted seamlessly into the room to capture them at their best. I was a fly on the wall!"
She was given behind-the-scenes access for an intimate look at the world of fashion models at a time when that just wasn't how they were covered, for her book Birds of Paradise (Delta Books).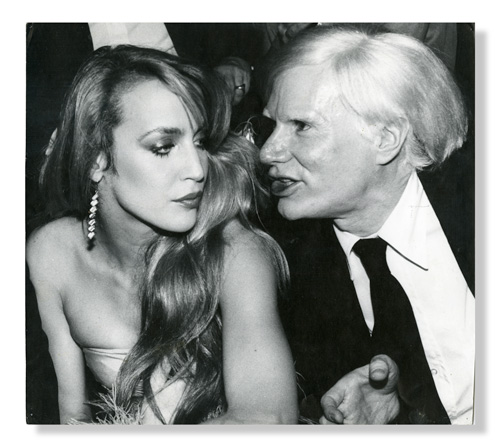 Jerry Hall and Andy Warhol at Studio 54, 1977 (from "Birds of Paradise")
Rose described her approach to a wedding assignment: "I would think of a documentary film with 4 parts -- getting ready, portraits of the happy couple, the ceremony, and a loosening up at the wedding party highlighted by high-energy dancing! I tried to take free-spirited images, opposite to those tight-lipped, highly-constricted and overly-posed photos that are so prevalent."
On gender, Hartman told us, "I have gotten a certain expression by complimenting or making an amusing remark so that my very famous subjects would let down their guard. Perhaps they were more responsive to me as a woman."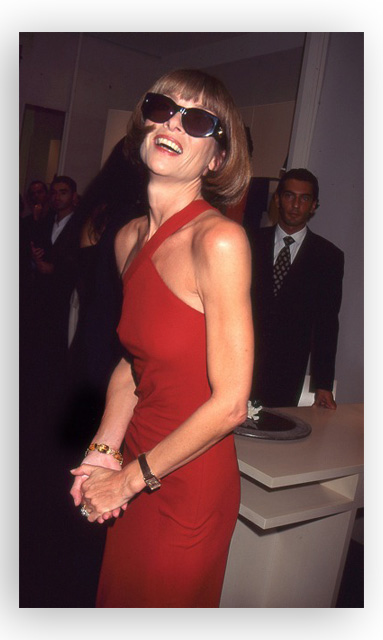 Anna Wintour at Christies, 1990's
Rose acknowledges one role model, "Anna Wintour, because she personifies both style and extraordinary dedication to her profession... No matter who I've shot, capturing style is my passion."
All photographs by Rose Hartman. Courtesy of the Gladys Marcus Library Department of Special Collections and FIT Archives.

Calling all HuffPost superfans!
Sign up for membership to become a founding member and help shape HuffPost's next chapter