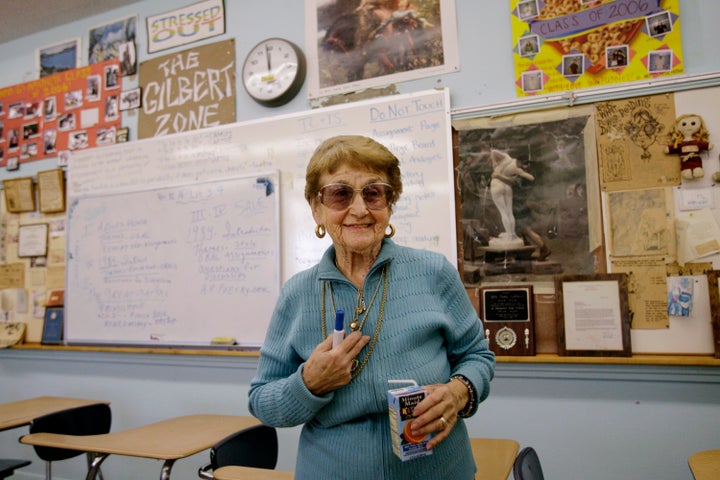 Update: In the original version of this story, we wrote that Rose Gilbert became a teacher when the "Berlin Wall still stood strong." In fact, Gilbert started teaching in 1949, years before the wall was built. We've corrected the story to reflect how very long Gilbert has been teaching.
When Rose Gilbert became a teacher, colored televisions had not yet entered the homes of Americans. The Berlin Wall had yet to be built, and President Truman was just creating NATO.
Gilbert, who has been called a "dynamo" by admirers, is 92 years old and L.A. Unified School District's oldest full-time teacher. Her dedication to teaching extends over half a century -- and continues today at Palisades Charter High School in Pacific Palisades, Calif.
"Mama G," as she is called by students and colleagues alike, has seen it all. She remembers when segregation plagued America's classrooms. She recalls when the Vietnam War haunted the halls of schools, and how students anxiously awaited the Draft.
"At least they didn't care as much about grades then," she says reflectively in an interview with The Huffington Post.
Though she has watched American culture change in the students that come through her classes each year, she remains consistent in her dedication to engendering students with a love of literature -- and has not lowered her expectations with declining school standards.
"I have not changed my expectations. They are still going to read 23 books. If you have Mama G you are gonna read. If you have Mama G you are gonna write," she exclaims.
It is this tough-love attitude that makes Gilbert a legend at the school, where she still teaches AP Literature. "Everyone knows who she is. I definitely knew who she was before I had her," says former student Jeff Megee.
Kevin Orbach, who not only took Gilbert's class but also chose her as his faculty adviser for his graduation speech, told HuffPost, "The thing I most remember about her is when we were discussing 'Oedipus Rex', she clenched her fists and yelled 'Hubris!' while making a point. That pretty much summed her up."
He added, "She was always extremely motivated and never forgot a single thing. Multiple members of my family had her as a teacher when they went to Pali, and she remembers all of them."
Her legacy is even more remarkable than her reputation. Students who enter her class to learn more about literature say they leave ready to cope with the challenges of college.
"That class was more like a college class than any other I took before it," says Megee of the AP Lit class he took with Gilbert. "What was expected was harder in some ways than some college classes I took, but that made (college) easier to manage."
Megee, who is now in law school, elaborated on the lessons he learned that went beyond grades and tests. "She introduced us to a way of looking at literature that was so far beyond the way we got it in other English classes," he explained. "She brought out the emotion in these books in a way I had never experienced before."
Mama G sometimes dons costumes and uses props in her lessons. She also engages students on what is happening in their lives, which helps them relate to the material.
"I love it because of the response of the kids. Their response to my enthusiasm is enthusiasm for learning. They don't moan and groan," she says proudly.
Former student Jasmine Daghighian remembers, "What sticks out to me the most about Mama G was not her spot on intuition looking at the characters in her books, but for the characters sitting in her classroom," she explains.
She recalls how Gilbert zeroed in on her disappointment after being cast in a small part in the school play.
"From the second floor I heard, 'Jazzy! Is that you? Smile!'"
She remembers looking up to find Mrs. Gilbert, who shouted down, "Jazzy! I want to see you smile! You have no reason to be upset! Please, it would be unjust to be walking around not smiling when you are such a lucky person."
Daghighian says she continues to use the lessons she learned from Mrs. Gilbert, both in and out of the classroom.
"In a time of development and growth, when you are learning so much about who you are, Mrs. Gilbert was such an important teacher to have," she explains. "She taught me the meaning of being authentic and generous, through her books and lectures, but more importantly by setting an example of living 92 years of life and living everyday abiding by the guidelines of authenticity, passion and generosity."
Gilbert shares her ideology not only with students, but with new teachers as well. When giving advice to teachers, she focuses more on resiliency than on teaching techniques.
"I always tell 'em prepare for a lot of hard work. Can't expect things to be perfect. There will be a lot of bumps."
Gilbert has experienced these bumps first hand, both in and out of the classroom. She says that she never lets the small stuff get in the way of her unwavering optimism. This is how she hopes to inspire the next generation of teachers and students alike. "I measure everything in terms of life and death. It's not life. It's not death. Some people get into a tizzy."
Gilbert understands the difference, as she has outlived both her husband and her daughter.
Her daughter Maggie died in 2004, at the age of 54. Gilbert decided then, that rather than quit teaching, she would resolve to preserve Maggie's legacy and continue dedicating herself to her students.
"I have always been enthusiastic, always been optimistic. When my daughter died I knew she would want me to go on," she says.
Gilbert, who inherited millions from her late husband, has given more than her time. She has donated millions to Palisades Charter High School to establish a pool in the name of her daughter, and has set up scholarships for UCLA students -- her alma mater.
Though she is currently the oldest teacher in L.A. County, Gilbert has no intention to quit anytime soon.
Despite her age, she embraces each class with excitement, energy and enthusiasm. "When I lose my enthusiasm I will quit," she says with a laugh, "which means as long as I can stand on my own two feet I will be here every day."
Can't get enough Mama G? Several years ago, former student and CBS correspondent Michelle Miller returned to the teacher's classroom.
Popular in the Community