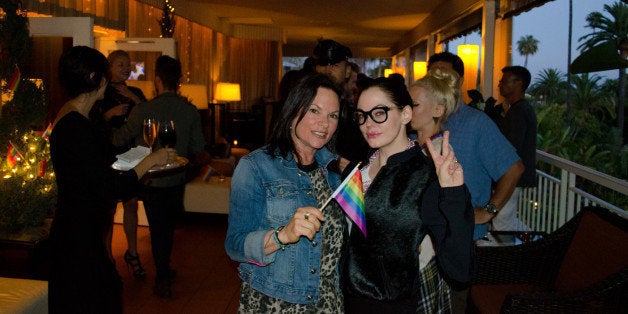 As the sky dimmed to periwinkle on Wednesday evening, the bright pink Beverly Hills Hotel, normally resplendent around sunset, looked deeply melancholy. The American flag out front still flew at half-mast two days after Memorial Day. The earth in front of the entrance sign was torn up for spring landscaping and ringed with ominous caution tape.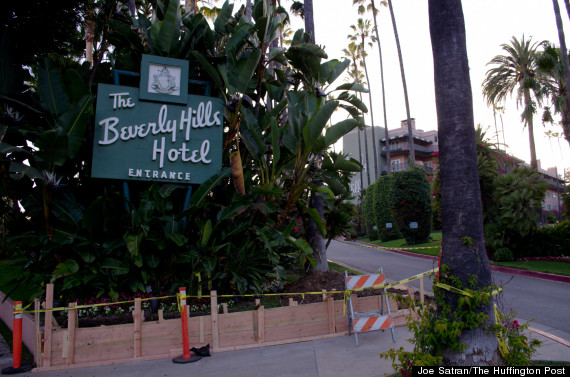 The exterior of the hotel, deserted because of a boycott.
Most of all, the century-old hotel felt empty. Though the parking lot brimmed, as ever, with Bentleys, Porsches and Mercedes-Benzes, few guests could be seen sitting on their balconies or walking down the red carpet at the front entrance. Silence reigned.
Clearly, the celebrity-endorsed boycott of the hotel, over its owner the sultan of Brunei's implementation of harsh Sharia law, which punishes homosexuality and adultery with death, in his small island nation, was a success. Large organizations have canceled major events at the hotel, bookings have plummeted and the management has gone into crisis mode. Jay Leno, Ellen DeGeneres and Anna Wintour told people to stay away, and most have fallen in line.
But not everyone. A few devoted supporters of both gay rights and the Beverly Hills Hotel, convinced that the boycott was counterproductive, decided to host a party on the balcony of the hotel's Bar 1912 to show support for the hotel staff and to thumb their noses at the sultan of Brunei.
The party's ringleader was the actress Rose McGowan, who once lived at the Beverly Hills Hotel for five months. She invited dozens of friends and acquaintances to the event in an email on Tuesday, explaining that she thinks the boycott is unlikely to succeed in changing the sultan's mind, but is guaranteed to hurt the livelihoods of hardworking hotel employees.
"I want to assemble a group of men and women (and hopefully some adulteresses,) that would be stoned in Brunei but that will be welcome at the BH," she wrote.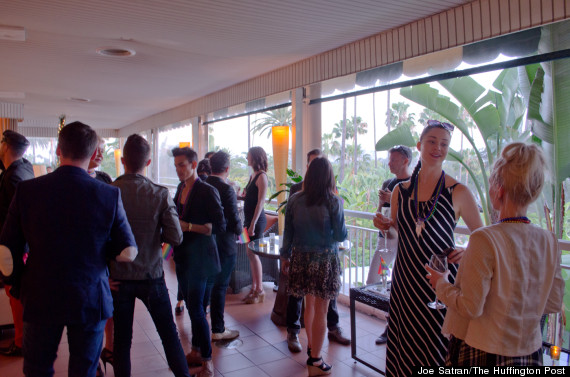 Attendees at the party included actors, producers and fashion designers.
At 7:30 p.m., when the event was scheduled to start, McGowan was nowhere to be found, but her friend Amanda Goodwin -- like her, an actress and director -- was welcoming people to the party.
"Rose and I came up with the idea for this whole thing together," Goodwin said. "We were talking on Facebook about what was going on here, and we just thought, 'Wouldn't it be great if we got together some fabulous people, gay and straight, and responded to this hate with love instead of ignoring it?'"
"Listen," Goodwin continued, "I'm gay. I'm married to a woman. I hate what the sultan is doing to people in Brunei. But I don't think that responding to what he's doing with more hate is the answer. I really feel that way. I think it's great that we're here, being gay, sitting on his sofa. I really want to gay this place up.
"A lot of people have asked me whether I'd go if it were Hitler," she said.
"Probably. I think I would. I'd go, and I'd say, 'I'm a Jew.'"
A group of nattily-dressed men arrived and started handing out multicolored beads and miniature rainbow flags. "Protest!," one yelled, to laughter.
One of the newcomers, Brian Wolk, a designer and co-owner of the fashion label Ruffian, compared the party with demonstrations in the civil rights movement.
"Would you have told Rosa Parks not to get on that bus?" Wolk asked. "That she should just boycott because they didn't like her?"
When McGowan arrived a few minutes later, the party had swelled to about 25 people. McGowan ordered a glass of rose and started explaining the idea behind the party. She emphasized her loathing of the sultan's enforcement of Sharia, noting that she had been walking in gay pride parades and advocating for marriage rights for decades. But she said she felt that the boycott was misguided.
"Boycotts only work when they hurt the target's bottom line," McGowan argued. "We are never going to affect the sultan's bottom line. He's worth $20 billion! This is a vanity project for him. It could sit empty for 100 years and he wouldn't even notice. But meanwhile, we're hurting all the wonderful, struggling people who work in the hotel."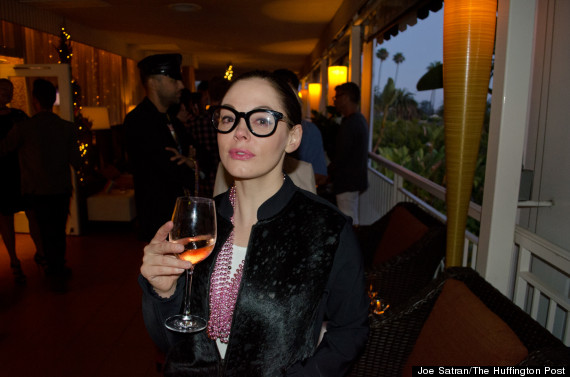 McGowan, the host of the gathering.
McGowan said that the hotel management had agreed to pick up the tab for the night's drinks, so their gathering wouldn't be lining the coffers of the sultan. But she said they would tip the staff handsomely to help make up for gratuities lost due to the boycott. The hotel has committed to not laying off any employees, and to paying them above and beyond their salaries to compensate for lost business. But many have said they're still making far less than normal.
"Trust me -- the person who's suffering right now is not the sultan," McGowan said. "It's my friend Ruth, who's been working in the diner downstairs for years, and can barely pay her rent."
At one point, photographer Andrew McLeod approached McGowan with his iPhone open, and showed her a photo of the party he'd just posted to Instagram. "The hashtag we decided on was #takebackthebhh. Do you like it?" he asked.
McGowan shrugged. "I was hoping for #9021gay," she said.
"Or what about #CampBeverlyHills," Goodwin suggested with a laugh.
"Too subtle," McGowan said. "I don't think people would get it. And not everyone here is camp ..."
Goodwin nodded, chastened. "True," she said. "I'm glad about that. I was worried a bunch of people would come dressed up in latex knee-highs, or assless chaps or something -- the type of thing people are always wearing in photos of Gay Pride ..."
"I didn't want that," McGowan said, "I specifically asked people not to do that."
"This is much better. It shows we're people, not freaks. We come in all shapes and sizes," Goodwin said.
"I think that's the message I'd like to get across to the sultan with this event," McGowan responded. "I'd like him to see that gays are real people. I think that's the only thing that would change his mind -- not a boycott."
McGowan admitted, though, that the chances of getting the sultan to capitulate on Sharia were slim.
"I think the sultan of Brunei would ideally evaporate. And that the Beverly Hills Hotel would return to the city," she said. "But I don't think a boycott is going to make that happen. And there's just too much collateral damage."
"That's why we're doing this; to support the staff," Goodwin said. "This has nothing to do with the sultan."
McGowan nodded enthusiastically in agreement. "That's true," she said. "Really, it's about the opposite of everything he stands for. It's about love, not hate. Given the choice between boycotting and helping people, I'm always going to choose the latter."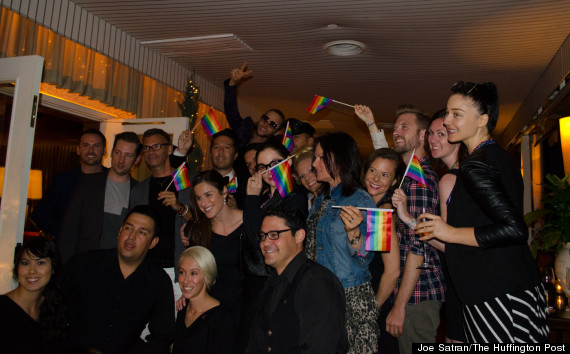 Attendees of the party, with several employees of the hotel.
Support HuffPost
Every Voice Matters
Before You Go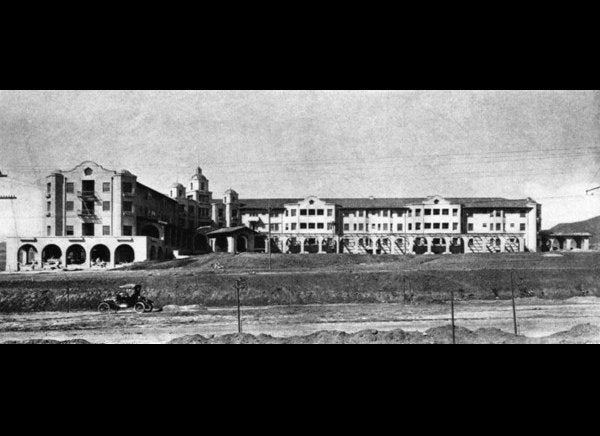 100 Years At The Beverly Hills Hotel
Popular in the Community