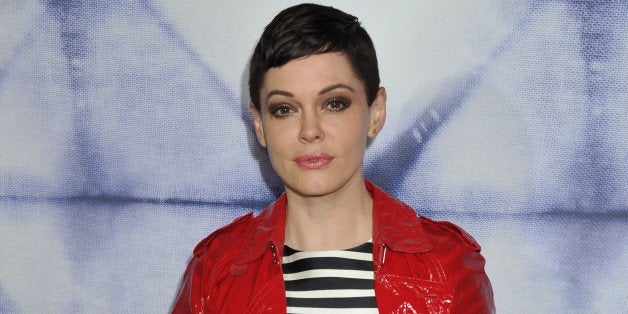 Rose McGowan says her agent "fired" her for speaking out against sexism in Hollywood.
Last week, the 41-year-old actress and director pointed out a ridiculous casting note attached to an audition script for an unspecified Adam Sandler film that encouraged those auditioning to wear form-fitting clothing that showed off their cleavage, and to wear a pushup bra.
But the casting notice and her agent's response is just par for course when it comes to sexism in Hollywood, according to the "Jawbreaker" star.
"When I did my first film, I was told by my agent that I would need to have long hair so men in this town would want to fuck me and hire me. That was said to a 17-year-old," McGowan told Entertainment Weekly.
Similarly, she told i-D, "What gets said and done in that town, especially towards women, is disgusting. There's an omnipresent ownership of women. Once, I had an agent who told me not to speak very much in meetings, because it was intimidating to men -- and she was a woman!"
She added, "Another example, three years ago: I was considering coming back to Hollywood when I met my husband, and was about to sign with a new manager -- and that guy stuck his tongue in my throat after the meeting."
McGowan was represented by Sheila Wenzel and Steve Muller at Innovative Artists, who have yet to respond to request for comment.
UPDATE: Rose McGowan clarified that talent agent Sheila Wenzel was not responsible for "firing" her after she took a stand again sexism in Hollywood. On Wednesday, she tweeted:
Calling all HuffPost superfans!
Sign up for membership to become a founding member and help shape HuffPost's next chapter