Rose McGowan spoke out in an impassioned open letter on Monday on behalf of Anthony Bourdain's girlfriend, Italian actress and activist Asia Argento, urging people affected by his suicide to not place blame on those left behind — specifically those closest to Bourdain.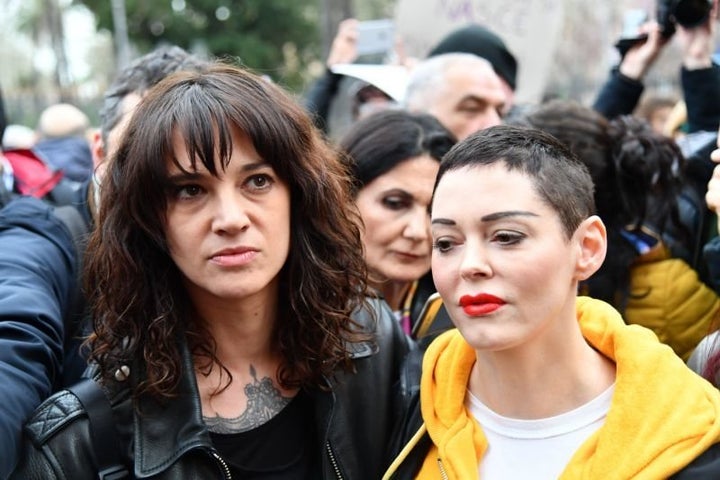 "I know so many around the world thought of Anthony Bourdain as a friend and when a friend dies, it hurts," she wrote. "Many of these people who lost their 'friend' are wanting to lash out and blame. You must not sink to that level. Suicide is a horrible choice, but it is that person's choice."
McGowan continued, writing that Bourdain and Argento — who, like McGowan, has accused disgraced film producer Harvey Weinstein of rape — shared mutual emotional struggles: "In the beginning of their relationship, Anthony told a mutual friend, 'He's never met anyone who wanted to die more than him.' And through a lot of this last year, Asia did want the pain to stop. But here's the thing, over their time together, thankfully, she did the work to get help, so she could stay alive and live another day for her and her children.
"… Do NOT do the sexist thing and burn a woman on the pyre of misplaced blame," McGowan wrote. "Anthony's internal war was his war, but now she's been left on the battlefield to take the bullets. It is in no way fair or acceptable to blame her or anyone else, not even Anthony.
"We are asking you to be better, to look deeper, to read and learn about mental illness, suicide and depression before you make it worse for survivors by judging that which we do not understand, that which can never fully be understood.
"… We must do more and be better," McGowan concluded. "Anthony, our friend, would want it that way. … I'd like to think he would want us to have the collective conversation that needs to be had about depression. Blame is NOT a conversation, it is the shutting down of our collective growth."
McGowan included a list of various countries' suicide prevention hotline numbers, as well as a U.S. crisis text line to contact in case of any emergency.
Bourdain met Argento in 2016 while shooting an episode of "Parts Unknown" in Rome. After she posted a statement on Instagram Friday, calling him "my love, my rock, my protector," she was photographed leaving her home over the weekend with one of her two children. 
Bourdain, 61, died last week in a reported suicide.
Read more from Yahoo Entertainment:
Calling all HuffPost superfans!
Sign up for membership to become a founding member and help shape HuffPost's next chapter