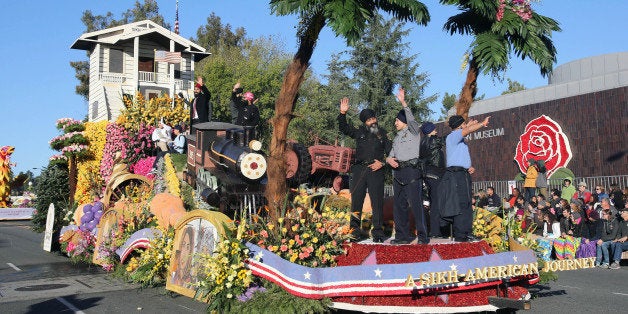 Every year on New Year's Day the Pasadena Rose Parade hits the streets to showcase the history and culture of Southern California and the country at large. This year, for the first time ever, the parade hosted a float that celebrated the important and little-known history of Sikhs in America -- and it couldn't have come at a better time.
In the midst of hate crimes and verbal attacks, the float told another side of the roughly 125-year history of Sikhs in America. A collaboration of United Sikh Mission, SikhLens, Khalsa Care Foundation, SALDEF and a team of dedicated Sikhs around the country, the float aimed to raise awareness about Sikhism in America, both past and present.
"The theme of this year's Rose Parade is inspiring American stories," Rashpal Dhindsa, founder of United Sikh Mission told the Huffington Post. "That is why the Sikh American story was such a great fit for the parade organizers this year."
The float was modeled after the Stockton Gurdwara, the first Sikh house of worship established in the United States 102 years ago, SALDEF said in a press release. Also included in the design was a cornucopia and a locomotive to represent Sikh laborers and farmers like Didar Singh Bains, known as the 'Peach King of California' for growing the largest number of peaches in the country.
Twelve community members, including members of California-based police forces, the national Army, a film student and civil rights advocates, were also featured on the float to display the diversity and values of the Sikh community.
"It's not what we believe in," Rashpal Dhindsa, who came up with the idea of the Rose Parade float, told Los Angeles Times. "It's about who we are."
The float arrives at a time when misperceptions and antagonism run high against Sikhs in the United States. In 2013, SALDEF teamed up with researchers from Stanford University to conduct the first public perception assessment of Sikh Americans -- entitled Turban Myths -- which revealed discouraged results. Seventy percent of Americans could not identify a fellow Sikh American and one out of every five Americans experienced anger or apprehension when they saw a Sikh stranger with a turban and beard.
It is because of these misconceptions that activist and PhD candidate Simran Jeet Singh said the float's ability to raise awareness was "a life and death proposition." Writing in TIME about his decision to fly to Los Angeles to stand on the float, Singh continued:
The story of Sikhs in America is compelling because it is the quintessential American story. Sikhs came to this country in the late 1800s to make a better life for themselves and their families. [...]

Like every other immigrant community, Sikhs persevered through bouts of xenophobia and discrimination. The first race riots targeting American Sikhs occurred in 1907 in Bellingham, Washington. Despite serving with the U.S. Army during World War I, Bhagat Singh Thind was denied U.S. citizenship because of his ethnicity.

The Sikh community persevered through these challenges and has become an integral part of the American fabric. American Sikhs have made a number of notable contributions to the global society, including the invention of fiber optics, the defense of human rights violations, and the production of world renowned devotional music.

It's time we start telling this story.
"By bringing our shared American history to the forefront at the Rose Parade, we are addressing bias and generating major Sikh American awareness," Jasjit Singh, Executive Director of SALDEF, explained.
"This New Year's Day, we are celebrating our Sikh American ancestors and our ongoing commitment to ensure that America is a land in which all Americans can pursue their unalienable rights, including life, liberty, and the pursuit of happiness."
Scroll down to read a brief timeline of Sikh American history, provided by SALDEF:
1899-1917: Sikhs begin to migrate to California working as laborers and farmers; migration was severely curtailed by Immigration Act of 1917 (a.k.a. Asiatic Barred Zone Act). Legal migration from Asia ended with the National Origins Act of 1924.
September 4, 1907: A lynch mob of several hundred attack and rob the homes of Sikh millworkers in Bellingham, Washington.
October 24, 1912: The first Sikh American Gurdwara is founded in Stockton, California.
1913: The Ghadar party—an independence movement from British colonialism—was founded in Astoria, Oregon; California Alien Land Law of 1913 bars South Asians and other groups from owning property.
1920: Sikhs march in New York City's St. Patrick's Day Parade wearing green turbans and carrying signs that read: "300,000,000 of India with Ireland to the last" because "our cause is a common cause," demanding unconditional independence for India and Ireland.
1923: In United States v. Bhagat Singh Thind, the U.S. Supreme Court rules that Thind— a U.S. Army veteran who sought naturalization— was "not white" and could not become a U.S. citizen. Asians were barred from citizenship until the Luce-Celler Act of 1946 is signed into law allowing Indians to naturalize and become citizens.
January 3, 1957: Dalip Singh Saund from San Joaquin, California (C.A.'s 29th Congressional District) becomes the first Sikh American and APIA elected (in 1956) to the U.S. Congress.
1965: The Immigration and Nationality Act of 1965 lifts restrictions and exclusions, allowing Asians to immigrate more freely to the U.S.
1981: Sikhs are barred from serving with their articles of faith in the U.S. Military—despite the extensive participation of Sikhs in both World Wars— ending a long-standing religious accommodation. As of today, three Sikh American soldiers have been given exemptions to serve with their articles of faith.
September 15, 2001: Balbir Singh Sodhi, a Sikh American gas station owner, was shot five times and killed, becoming the first American to lose their life as a result of a hate crime after September 11th.
October 2008: Jaspreet Kaur Saini becomes the first Sikh American female lawyer in the Armed Services (Navy JAG).
May 2012: Washington, D.C. becomes the first major city in the U.S. to allow Sikh American police officers to serve with their articles of faith.
August 5, 2012: A white supremacist gunman, Wade Michael Page, attacked a gurdwara in Oak Creek, Wisconsin, killing six Sikh American members, and injuring four others, in the deadliest attack on a place of worship since the Jim Crow Era.
Related
Before You Go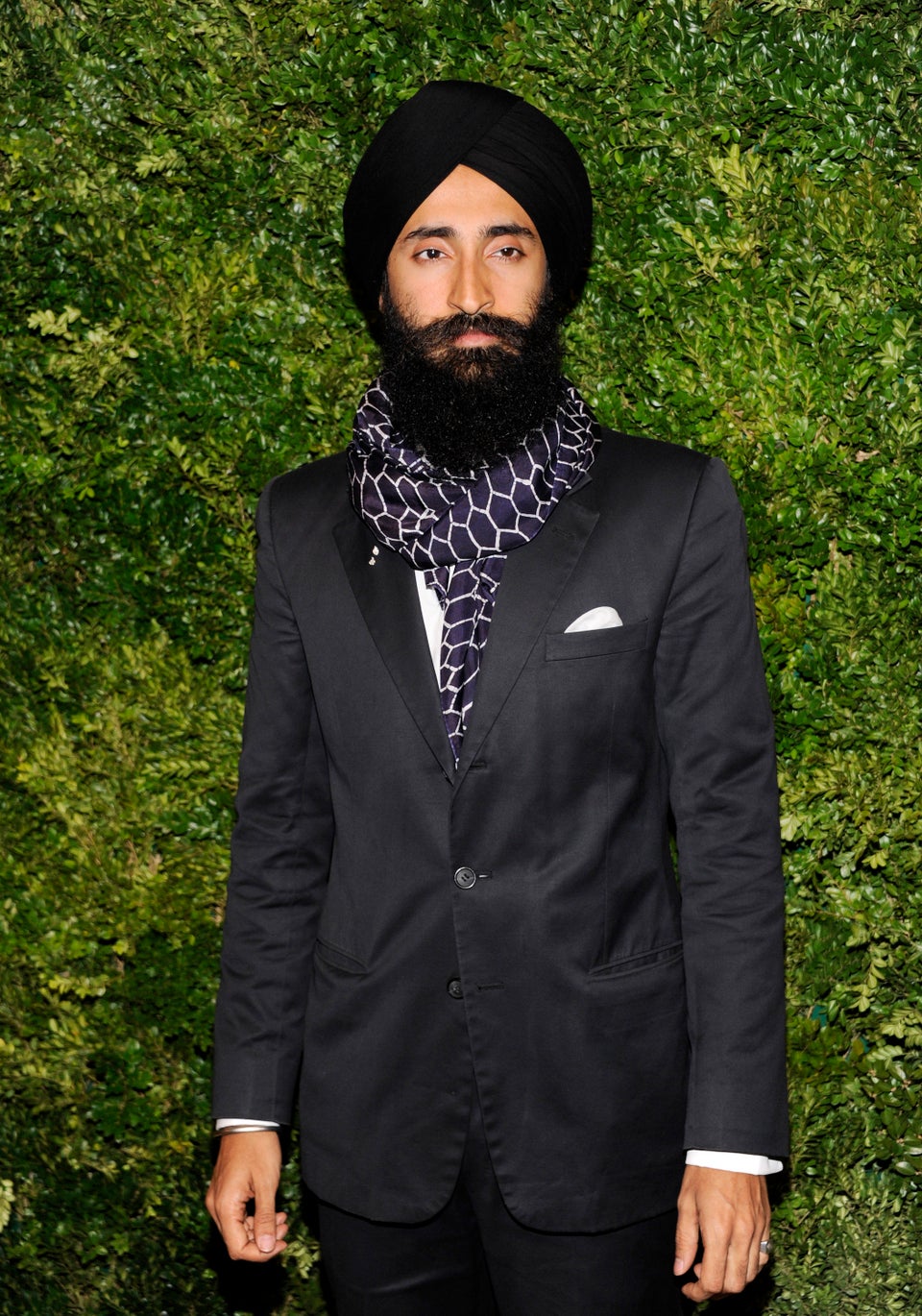 Sikh Americans We Admire
Popular in the Community