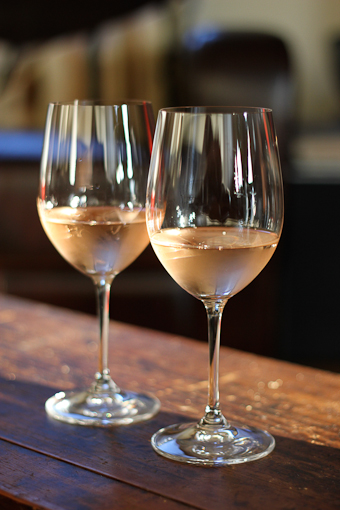 Photo by Brandon Carl
I'll admit it: I have a bit of an obsession with rosé wine. Perhaps it's the color (what's not to love about pink wine?) or the fact that it's one of the most refreshing drinks on the planet. It also happens to be extremely food-friendly. But most of all, I love rosé because it reminds me of summertime. It's perfect for all my favorite warm weather activities: rooftop-sipping, poolside lounging, barbecuing, and picnicking in the park.
(Scroll down for several rosé-friendly recipes!)
I look forward to rosé season all year. I prefer pale, dry rosés, (preferably from France) though I've tried some delicious ones from Austria, Spain, and South Africa. Closer to home, Wolffer Estate (on Long Island, N.Y.) makes some nice pink wines, and I've tasted a few from Willamette Valley, Oregon that -- were I blindfolded -- I would swear came from France.
To get you through the last few weeks of summer, I've put together a list of my favorite affordable rosés. These are all delicious as an apéritif or served with a meal. And best of all, these bottles are all under $15! Where to find them? If you live in New York City, you're in luck -- these can all be ordered (with free delivery) from Astor Wine & Spirits. Non-New Yorkers, you can order these from Astor (for a fee) or else check your local wine store to see if they carry any of these labels. (Scroll down for a few summery recipes that pair well with rosé!)
Côtes de Provence Rosé "MiP" Domaine St. Lucie 2011
Super-pale, super-dry, with wonderful floral aromas, this is my all-time favorite rosé (so much so that my husband and I served it at our wedding two years ago).
Minervois Rosé, La Tour Boisée 2011
This pale, refreshing wine from the Languedoc-Rousillon region of France is slightly herbal and is a total steal for $8.96. Made mostly from grenache grapes, it's a perfect choice for beach and picnic excursions. Try this with grilled seafood or hors d'oeuvres.
Markowitsch Rosé, Carnuntum 2011
This Austrian blend of Zweigelt, Blaufränkisch and Cabernet Sauvignon is fresh and minerally, with rich fruit flavors. Perfect for a rooftop barbecue.
Wolffer Rosé 2011
Whether you're on Sunset Beach in the Hamptons or grilling out at home, this is a perfect, food-friendly rosé for all occasions.
Muga Rosé - Rioja 2011
Made from Tempranillo, this rhubarb-scented Spanish wine has more body than the other rosés, while still maintaining a delicate pale color. Great with charcuterie or grilled meats.
Rosé-Friendly Recipes
Garlicky Shrimp with White Wine and Tomatoes
Seared Halibut with Fava Bean Puree
Chicken Feta Sliders with Chimichurri
Yellow Tomato Gazpacho with Cumin-Rubbed Shrimp
REAL LIFE. REAL NEWS. REAL VOICES.
Help us tell more of the stories that matter from voices that too often remain unheard.