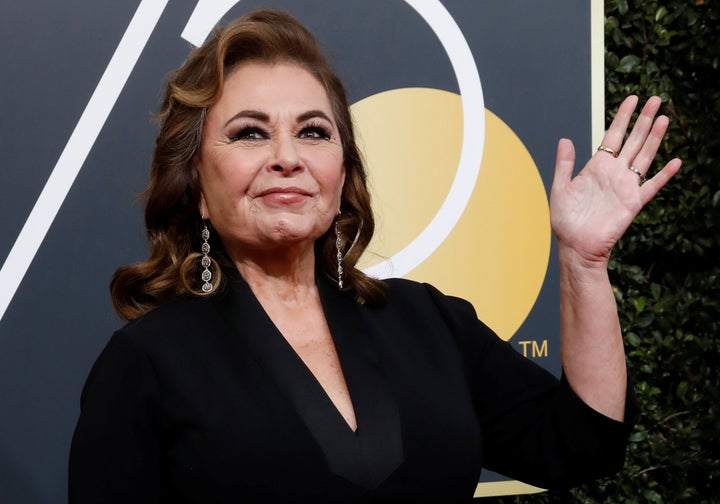 Roseanne Barr apologized Monday for calling billionaire George Soros a Nazi in late May.
"His family was persecuted by The Nazis & survived The Holocaust only because of the strength & resourcefulness of his father," she tweeted.
Barr recycled a popular right-wing conspiracy theory about Soros ― namely that the 87-year-old Jewish Holocaust survivor was actually a Nazi sympathizer who helped send his coreligionists to the gas chambers ― last month in a series of offensive tweets.
Barr also attacked former first daughter Chelsea Clinton and former Obama White House adviser Valerie Jarrett. Her racist comment about Jarrett ultimately led to ABC canceling Barr's sitcom, "Roseanne," and the actress apologized to Jarrett hours later.
In his biography written by Michael T. Kaufman, Soros describes assuming a Christian name to hide in plain sight during the German occupation of Hungary. He also recalls once accompanying a Christian government official to take an inventory at the mansion of a Jew who had fled the country.
When asked about the experience during a 1998 interview with "60 Minutes," Soros said he didn't feel particularly guilty about the incident because he was there as a "spectator."
"You went and helped in the confiscation of property from the Jews," asked host Steve Kroft. "Was it difficult?"
"Not at all," Soros responded. "Maybe as a child you don't ... see the connection."
Kaufman, however, noted in Soros' biography that the financier spent years in therapy "dealing with the impact that his temporary, necessary, and pragmatic denial of Jewishness at the age of fourteen had had on the development of his personality."
Support HuffPost
The Stakes Have Never Been Higher
Popular in the Community