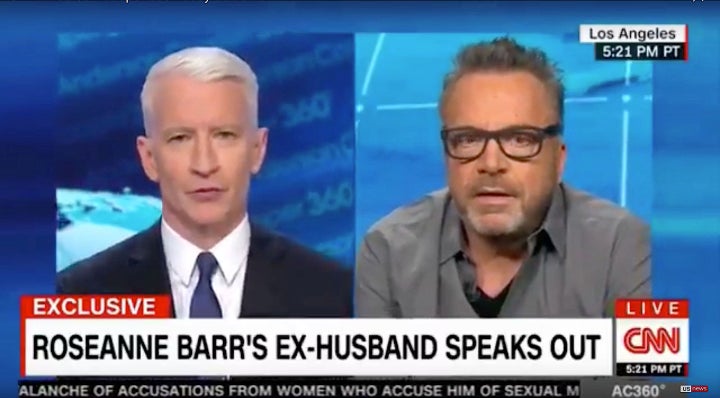 "It had to happen," The Hollywood Reporter quoted Arnold as saying of the abrupt end to the hit ABC show. "And I am going to tell you the truth, she wanted it to happen."
Arnold, who was a writer and sometimes actor on the original "Roseanne" TV show in the 1980s and 1990s, was married to the comic actress for four tumultuous years. They divorced in 1994 after Barr fired him.
"I was not surprised that what went down and that the show was canceled," Arnold told Anderson Cooper on CNN. "I had a feeling this was going to happen when I first heard it was coming back ― that there was a reboot."
Arnold said that Barr's support for President Donald Trump and her belief in conspiracy theories ― such as "Pizzagate," a debunked theory about child sex rings associated with pizza parlors, and claims that Obama was not born in the United States ― were indications to him that something would go seriously wrong.
"I just knew that this would not end well," Arnold said.
Arnold, who has a TV show on Viceland called "The Hunt for the Trump Tapes with Tom Arnold," faulted ABC for failing to keep Barr away from social media.
"ABC lost maybe $1 billion from this; this show was grinding out money hand over fist and they lost it all because somebody didn't say, 'Get that phone out of her hand,'" Arnold told The Hollywood Reporter. "She's not going to go on TV and say these things. But you put that phone in her hand and she is a loose cannon."
But he wasn't going easy on Barr, either. "This monkey thing is something she's tweeted before about black people," Arnold said.
Popular in the Community